Sex Education Series 4 – Gatwa Returns
There are plenty of changes up in the air for the Sex Education series 4. From new characters to departing actors, it seems like we're getting an almost entirely new cast. Thankfully, though, one fan-favourite cast member is staying on for the series – Ncuti Gatwa.
In the show, Gatwa plays the role of Eric Effiong, and he has appeared since the first episode. It seemed a little uncertain if Gatwa would return for the Sex Education series 4. This is because he had a ton of other acting gigs under his belt. After all, he's going to appear in the new live-action Barbie movie and the upcoming miniseries Masters of the Air. Additionally, Gatwa will be swapping out the school uniform for Time Lord clothing when he stars as the 14th Doctor in Doctor Who.
So, with Gatwa being so booked and busy, fans were uncertain if he'd have enough time to come back. Thankfully, Netflix recently put these fears to rest and announced that Gatwa would be back in the Sex Education series 4. He will stay as one of the main characters.
Netflix: Sex Education series 4
Image: Netflix
In Sex Education series 4, Gatwa plays the role of Eric Effiong, and he has appeared in all three seasons of the show so far. He is Oti's best friend, who Asa Butterfield plays and is another one of the main characters. The series happens in a fictional school named Moordale Secondary School, and the show depicts as they try to work their way through relationship issues and sex. Critics and fans have praised the series for focusing on important problems and for having a diverse range of cast members. At the end of season 3, we saw Eric become Adam's ex-boyfriend, who Connor Swindell plays. In the finale for this season, Eric ended things with Adam after admitting to cheating on him. This wasn't the first of their problems, as they had had many issues as a couple for a while.
Originally, it seemed like this could've been the end of their storyline. However, the confirmation that Gatwa is returning to the Sex Education series 4 means there's a greater possible storyline at play. Perhaps we'll see the pair grow as individuals and learn to stand on their own. We'll see Eric dealing with the consequences of his actions and come to terms with this breakup. Additionally, knowing that Gatwa is returning means, we'll get some proper closure on the story between Adam and Eric.
Although we'll see Gatwa return for the Sex Education series 4, there are plenty of characters who are departing. Rakhee Thakkar, who plays Moordale's English teacher Emily Sands, said she would not appear in the newest series. Additionally, Simone Ashley, who plays Olivia Hanan, has also bowed out, along with Tanya Reynolds and Patricia Allison.
Doctor Who Ncuti Gatwa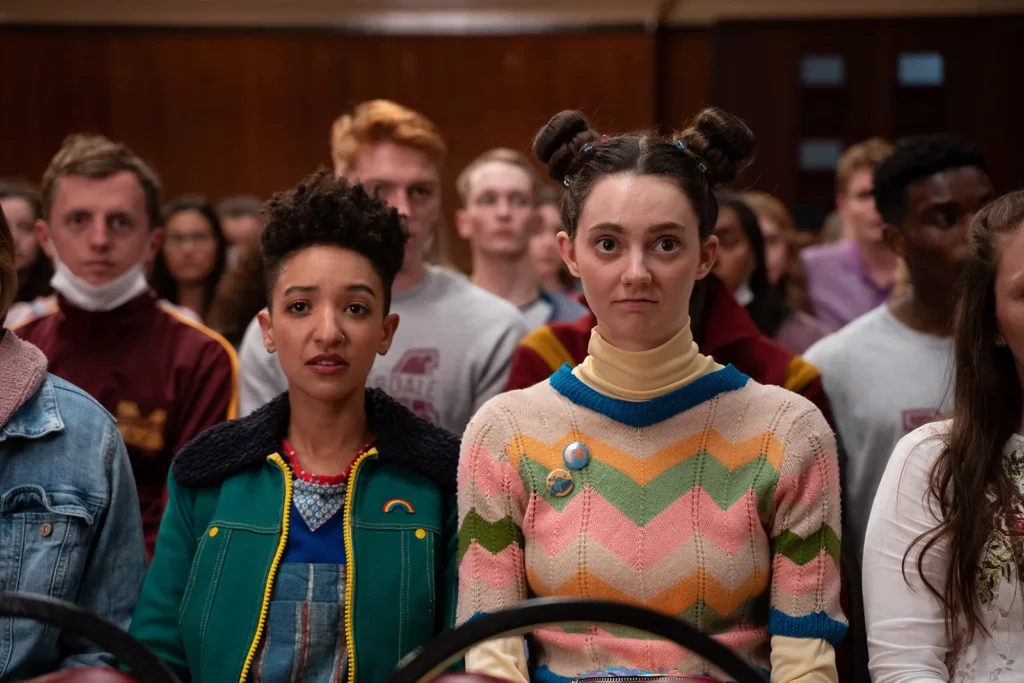 Image: Netflix
Clearly, there are lots of big shakeups ahead for the Sex Education series 4, and it's not clear how the plot will deal with these. The writers could address how so many students have left the school, or they could ignore it completely. However, a plot element in Season 3 could explain some of these absences. In this season, Moordale was forced to close its doors. Perhaps the season 4 absences will be explained away as some of the students and teachers have left prematurely.
Either way, we're happy to see that Gatwa will be back for the Sex Education series 4. Apparently, the cast and production company were able to work around Gatwa's busy schedule. According to rumour, Netflix will start production on the show in the fall of this year, so we expect the company to release it in 2023. This will give Gatwa the ability to take on his biggest performance ever as the Doctor in Doctor Who season 14.
Currently, we don't know a lot about his role in the show, aside from the fact that he'll be the first lead black actor to play the Doctor. Another Netflix star, Yasmin Finney, will appear as part of the 60th-anniversary specials for the show. Knowing so many amazing actors will star in Doctor Who and the Sex Education series 4 has us very excited!
What are your thoughts? Are you excited to see Eric back in the Sex Education series 4?
Hi! I'm Arvyn, and I'm an English teacher from the UK. I've been teaching English online for over 4 years to students from all across the world and all ages. Outside of work, I'm a huge fan of reading, video games, and playing with my adorable kitties. See ya!
Leave a comment