Sex Education Season 4: Another Character Won't Be Back For The Netflix Show
Tanya Reynolds, who plays the eccentric Lily Iglehart, reveals that she won't be coming back for Sex Education Season 4.
Since 2019, Sex Education has been giving us both the feels and the laughs as it features a bunch of teenagers navigating their way through life. We got rather sad news for fans with its fourth season currently in development. We lost another fan-favorite character as Lily Iglehart will be out of the next season.
Tanya Reynolds, the actress who portrays the alien-loving character, confirmed her exit from the show. This news follows the departure of co-star Patricia Allison in the show. Allison plays Ola Nyman, the pansexual character who once was Otis and Lily's love interest.
Patricia Allison and Tanya Reynolds leave the show
Allison broke the news of her departure during an appearance on the radio show Breakfast with Yinka and Shayna Marie. When she was asked about what fans would expect from her character in Sex Education Season 4, Allison said that she "won't be joining the team for Season 4." She continues by saying, "I'm so sorry to have to break that to you guys. But some other opportunities have come up. I've been doing it for three years, and I've genuinely loved it so much."
Allison has been in the show since its first season, and the news surprised many fans. In the previous season, we've seen how Ola impacted the lives of many characters, especially Adam Groff. Her relationship with Lily also matured in the span of this season, which delighted many fans.
Allison shares that her departure from the show was not easy. "Absolutely, but I guess I have to say goodbye at some time, which is kind of sad, but other things are coming and that's really exciting." Despite her absence in Sex Education Season 4, we might see more of her in future projects.
Now, going back to our favorite futuristic-erotica writer, Reynolds broke the news of her departure from the show in her guesting in Radio Times. She mentioned that her character was written off the story to help the show's narrative focus more on the older characters. 
"It's just the natural progression of these shows – when you have such big ensemble casts and so many characters, I think you have to let a few older characters go to make way for newer ones, which is absolutely the right thing, the way it should happen."
Despite her leaving the show, she has nothing but love and appreciation for the whole show and, of course, her character. "I loved every minute of it and I loved Lily with my whole entire heart. Three seasons was just a really perfect amount for me."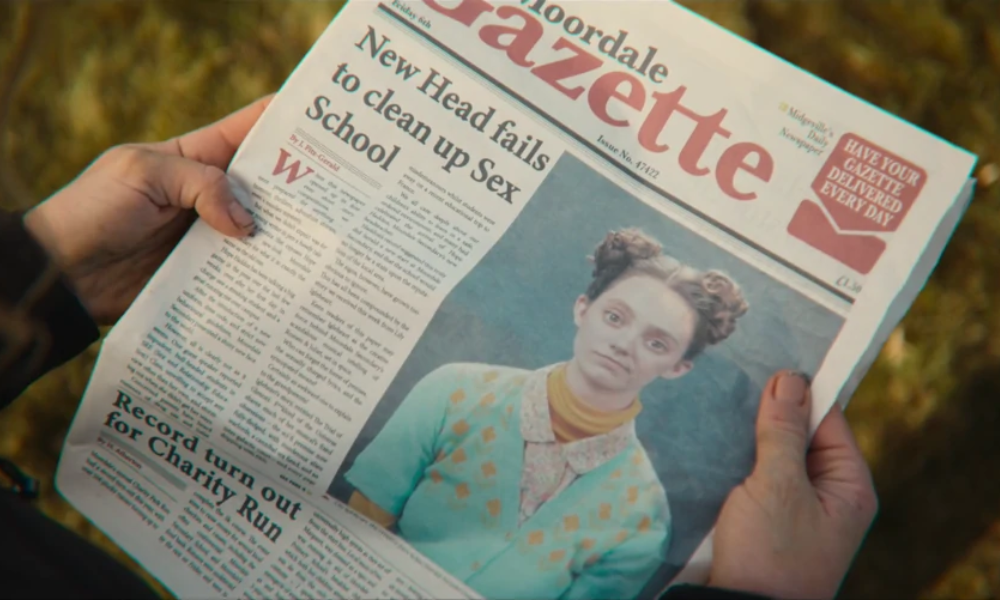 Netflix
What to expect in Sex Education Season 4?
So, what would we expect from the show's next season? In Season 3, we were left hanging with the development of Otis and Maeve's love story. Maeve left for the United States, effectively putting a pin to their budding romance. 
Meanwhile, Moordale Secondary School is closing its doors. The goal of new headmistress Hope Haddon to salvage the school's image as a "sex school" has failed miserably after the students rebel against her backward policies. However, upon seeing the students' commotion online, the school's investors decided to pull out of the institution. This leaves the juniors and the seniors to find a new school.
Last but not least, the previous season also revolved around Jean Milburne's pregnancy. While last season started with Jean and Jakob's awkward interactions, the two have settled that they will co-parent the baby. However, at the end of the season, we were left hanging as Jean discovered something about her newly born daughter. Is Jakob really the father of Joy, or is it someone else?
We'll have to look forward to resolving these story arcs in Sex Education Season 4. Netflix has yet to announce when the show's next season will be available for streaming. For now, you can rewatch the past three seasons of the show via Netflix.
Paul is many things. He's a fan of anime, superheroes, and everything in between. He dedicates his downtime to annoying the heck out of his cats and dog.
Leave a comment