Sex Education Season 3 Review – Netflix Reminds Us What They Do Best
It's never easy making a new season of a television series. The debut is simple enough as long as you have an exciting premise and something to encourage viewers to keep watching. But as time goes on, expectations go up. By the third season of a show, you don't just have people ready to consume the writer's latest ideas. Instead, you've got hundreds of thousands of eager viewers who come onto streaming services with a list of things they want to see and knowledge of what's worked in the past (and what hasn't.) So, a review for season 3 of Sex Education isn't just judging the new episodes alone; it's looking at whether or not it was worth the lengthy wait in a post-COVID world. We think that it was, and we're here to share why.
Season 3 of Sex Education Review – We've Always Loved It
Creating a series about high schoolers and their fascination with sex sounds predictable enough. I mean, how many teen movies have tackled the same subject in repetitive ways? But the Laurie Nunn-created Netflix comedy-drama exceeded expectations almost immediately after the first season premiered in 2019. The premise is simple: Otis Milburn (Asa Butterfield), the son of acclaimed sex therapist Jean (Gillian Anderson), finds out that he isn't so bad at giving sex advice (despite his inexperience.) But plenty of things can go wrong when a high school student starts offering life-changing advice. And sure enough, they do.
Things are only complicated by Otis' feelings for his "co-worker" at their "sex clinic." Emma Mackey's Maeve Wiley is an unapologetically independent badass. The second season saw her develop further as a character that is far more than just a love interest for the lead. She's got complicated family history, serious dreams of her own, and a take-no-shit attitude.
Viewers had a lot to wait for with the latest season. The finale of season two saw various cliffhangers, including Otis' pesky voicemail that Maeve's suitor, Isaac, deleted. Jean also finds herself unexpectedly pregnant after a heartbreak. Everybody else was either coupling up, breaking up, or figuring out their identities. This leads us to season 3.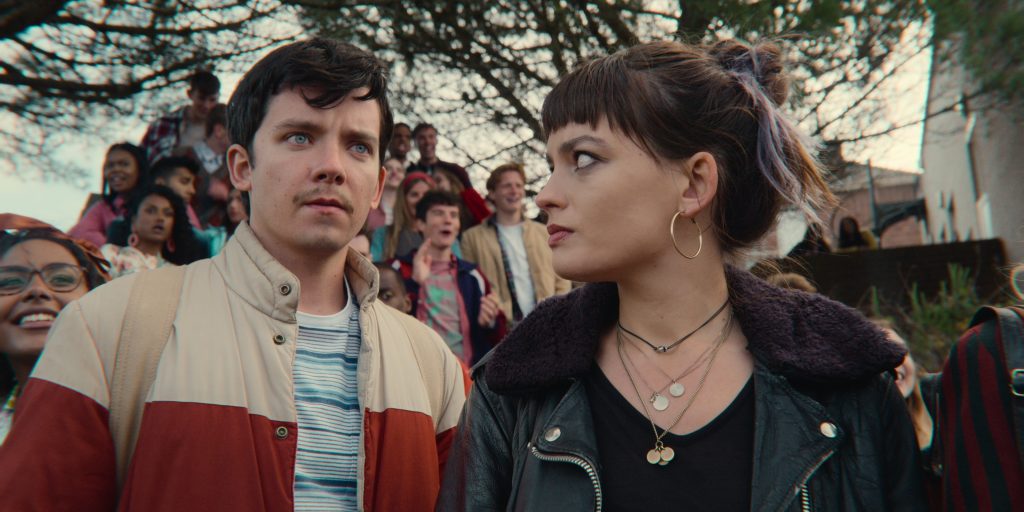 Image via Netflix.
What Is Happening In Moordale Now?
The latest episodes of Sex Education start as strong as ever. An expectedly raunchy montage leads us into a new school year after a summer of orgasmic bliss. Viewers and students alike head into Moordale with high expectations. After all, the final moments of the last season saw the dismissal of Headmaster Groff. And nobody could be worse than him… Right?
Headmistress Hope Haddon (Jemina Kirke) seems instantly promising. She looks hip and is young enough to sympathize with the struggles that the students are going through. Moordale needs a change, and she's the one to do it. But sometimes, changes can send institutes backward, and this is one school that has no intention of dropping its wild streak.
Where Are All Of The Lovers?
We aren't all watching this series for its authentic portrayals of intimacy. Instead, we've been hooked on the future of each relationship. The will-they-won't-they approach of Maeve and Otis is especially captivating, especially in a new series where they're both coupled up with new beaus. Otis starts the new season in a partnership with Ruby, which we would never have anticipated a season ago. But Otis' never-ending attempts to get people to open up provides a refreshing look on the snobby fashionista.
Meanwhile, Maeve has eyes for Isaac. While we may have hated him a little bit during his last appearance, actor George Robinson forces us to give the boy another chance. The portrayal is so well-executed that it's hard to believe it is Robinson's first on-screen role. His approach to Maeve lacks the intimidated wonder that Otis has held with her, and we finally get to see Maeve at her most vulnerable. It works perfectly, but the looming desire for Otis to come back into her life is undeniable.
And that leads us to the main event: Do we even want to bother with Maeve and Otis anymore? The development of their characters has lead them to lose some of the perfect chemistry from earlier episodes. A slow-burn romance is always welcomed in our books, but there is such a thing as waiting too long. We aren't here to spoil the ending of the season, but you'll need to go into this one with eyes on other couples if you want to be fully satisfied.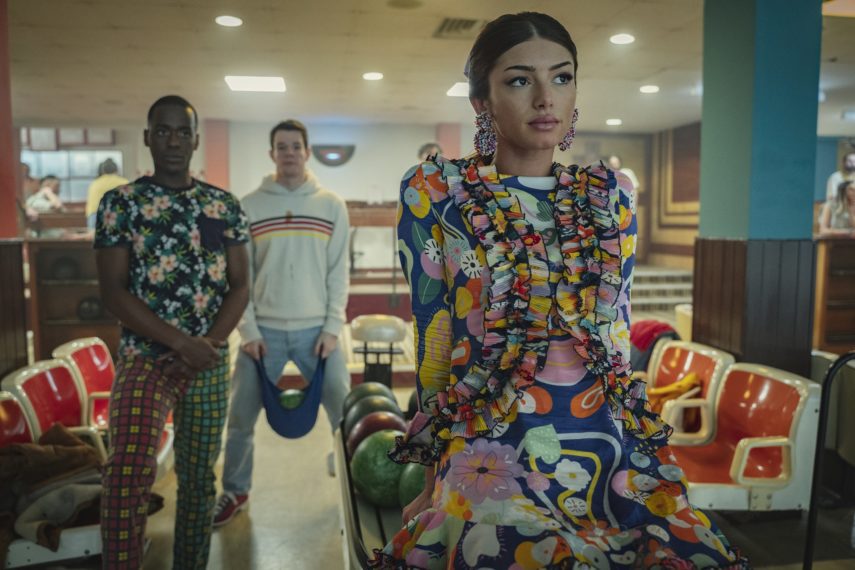 Image via Netflix.
Speaking Of Other Couples In This Review Of Sex Education Season 3…
Another focus heading into season 3 was the controversial pairing of Eric (Ncuti Gatwa) and Adam (Connor Swindells.) Adam is ready to be out and proud (at least to his school), and Eric is pleased to see him opening up. But personalities can only change so much in such a short amount of time, and the new season gives both characters plenty of opportunities to grow and decide what they want in their relationship. Of everybody's character development, Adam's is one that we were looking forward to seeing more of. We aren't left disappointed.
Other moments in season 3 leave us thinking that characters are developing backward. But take some time to remember your own personality in high school. We all made mistakes. How could you not when you've barely escaped puberty? It is frustrating to watch characters, including fan-favorite Eric, make decisions that make our heads spin. But if they're going to be honest about the teenage experience, they've got to show the slip-ups.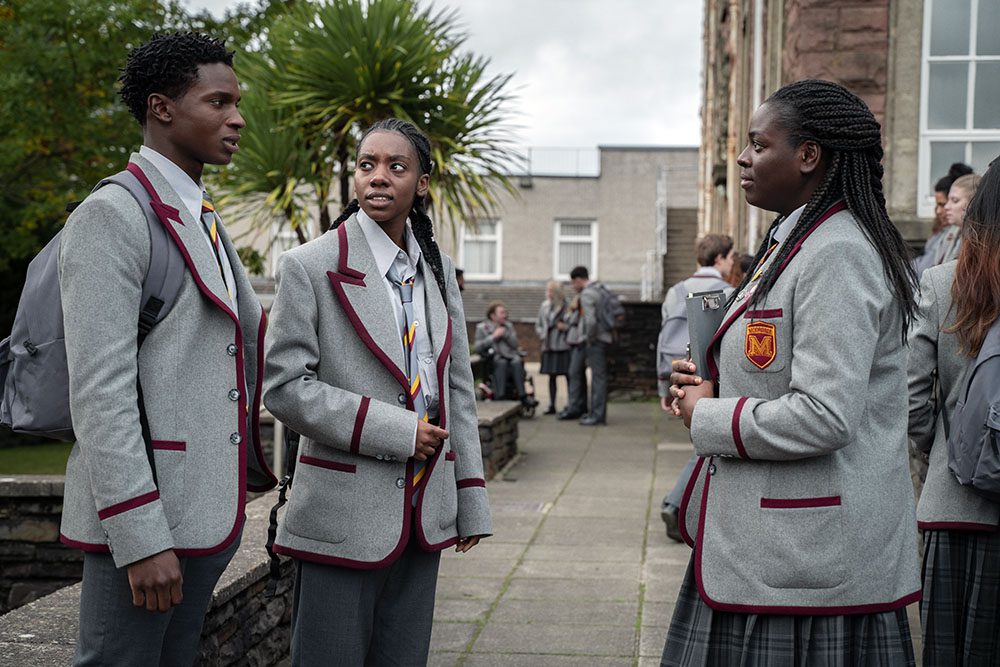 Image via Netflix.
Does The New Season Keep What Makes It Great?
There are few shows out there that are worth binge-watching without taking breaks (other than for snacks, of course.) But this has always been one of them. What has made us fall in love with the series is how comfortable it has been telling things that are rarely done correctly on screen. It treats topics like queer identity, racism, self-harm, and sexual assault with a perfect blend of sensitivity and honest humor that makes viewers feel like they're back in high school themselves.
Season 3 keeps all of these pieces of perfection inside. The first half of the season feels like its best yet. There is a boost in production value, acting abilities, and sensibilities. The second half starts to feel like we're running in circles with a few of the plot lines, and it doesn't finish as strongly as the last two seasons. But fortunately, the door is still left wide open for a fourth season. We just hope that we don't have to wait as long as we did for this one.
Readers, do you agree with our review of Sex Education season 3? If you haven't binged it as quickly as we did, it's never too late to head over to Netflix and start streaming it today.
Featured image via Netflix.
Meghan Hale is the kind of movie lover that has a "must watch" that is a mile long... and growing. When she isn't talking about the latest film and television news she is writing one of her many in-process novels, screaming film trivia at anybody who will listen, and working as a mental health care professional. Follow her on Twitter @meghanrhale for some fun theories and live reactions to all things entertainment.
Leave a comment