Riri Williams, the teenage Iron Man known as Ironheart, is getting a Disney+ Show!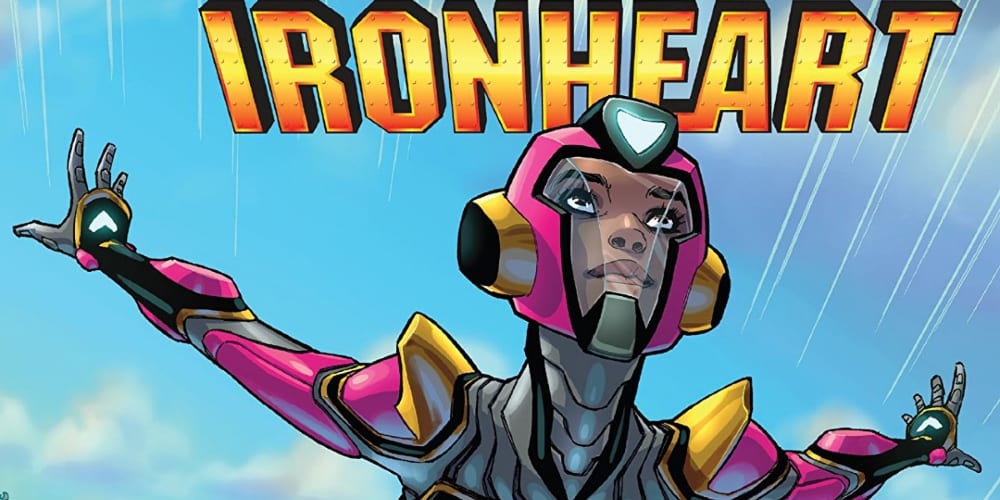 Even though the Coronavirus put all production on Marvel properties are in a state of limbo, Disney is still planning the future of the MCU. And it looks like they have a lot of faith in their upcoming Disney+ shows. Even though they haven't aired a single episode, they've added several titles. Originally, we had The Falcon and the Winter Soldier, WandaVision, Loki, Hawkeye, and What If…?. Soon after, Disney added She-Hulk, Moon Knight, and Ms. Marvel. Kamala Khan will be the first teen hero to get a Disney+, but, according to a new report, a fellow Champion will join her: Riri Williams A.K.A. Ironheart.
Ironheart is Much More than a Different Iron Man—She's a More Relatable Character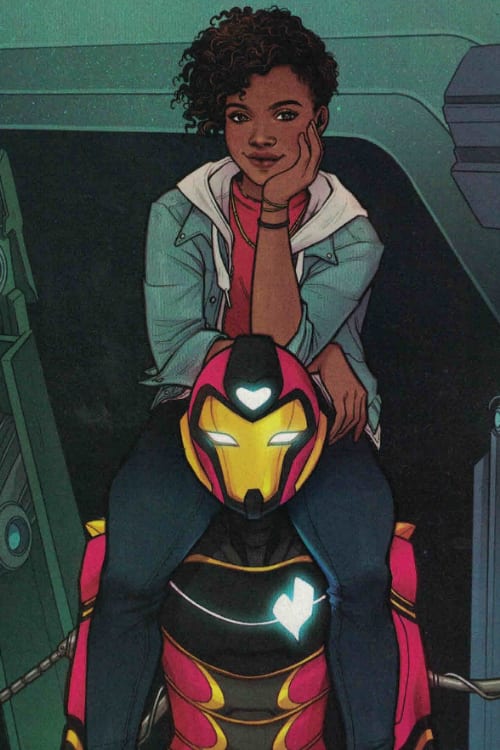 (Image: Ironheart #1 Variant Cover, Marvel Comics)
Created by Brian Michael Bendis and Mike Deodato Jr, Riri Williams first appeared in Invincible Iron Man Volume two, #7. She is a 15-year-old student attending the Massachusetts Institute of Technology (MIT) for a degree in engineering. Of course, Riri a genius. She develops her own Iron Man suit by collecting scraps of Tony's suit after his battles. After Tony Stark goes into a coma in Civil War II, Riri takes over the Iron Man mantle—at the same time Doctor Doom attempted to do the same. However, before he was sidelined, Stark actually met and encouraged Riri to pursue her superhero dreams.
Tony Stark is a great character, but he's not the easiest to relate to. He's abundantly wealthy and starts out as a womanizing, narcissistic alcoholic who learns humility, becomes a superhero…and for a long time, remains a womanizing, narcissistic alcoholic. Riri Williams is as opposite from Tony Stark as possible. Tony is a middle-aged white man, Riri Williams is a black teenage girl. Tony is rich, Riri's family is like most American families—barely getting by.
With Riri Williams and Ms. Marvel, Disney+ and the MCU are Staying Current with Culture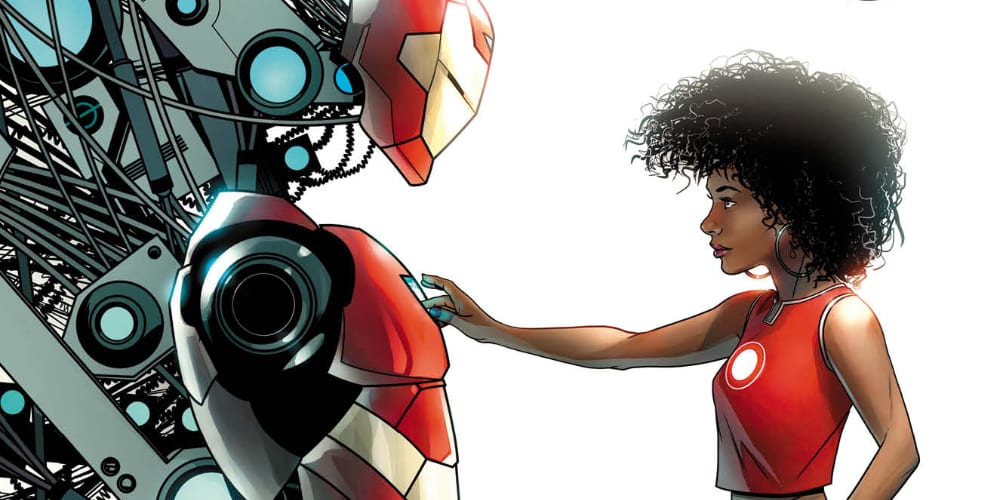 (Image: Invincible Iron Man Vol 3. #1 Variant Cover, Marvel Comics)
And she's part of a new wave of young female heroes that captured some kind of zeitgeist. It started with Ms. Marvel, and then Squirrel Girl came back, more popular than ever. Even more surprising, debuting around the same time as Ms. Marvel, is Moon Girl and Devil Dinosaur. All of these characters study STEM (Science, Technology, Engineering, and Mathematics) in some way. For over the past decade, more young women have gone into STEM than ever before. These are the heroes we need to see. Looking at Marvel's slate of upcoming shows and movies, it looks like they know that we don't need any more Tony Starks, Stephen Stranges, or Bruce Banners. Or even Steve Rogers's. We need a Riri Williams
 Why Riri Williams is Perfect for a Disney+ Series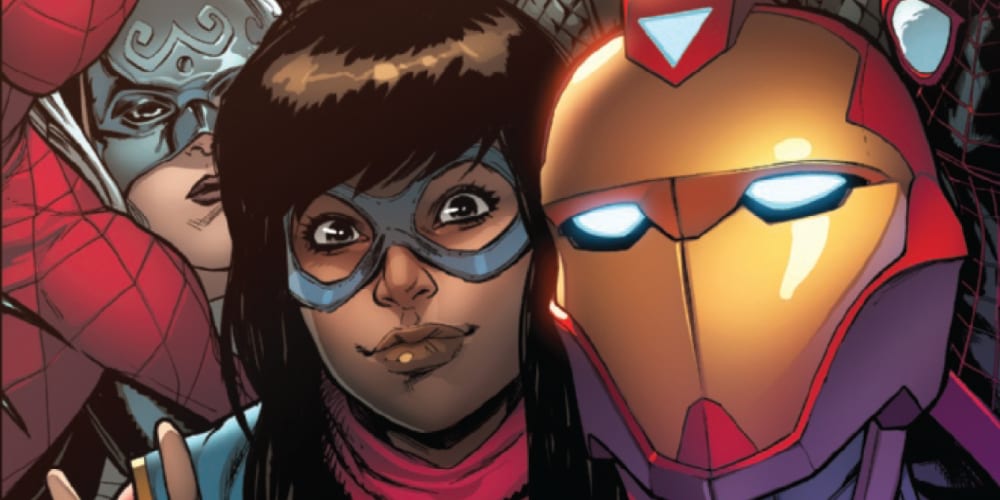 (Image: Invincible Iron Man Vol 3. #5, Marvel Comics)
Some characters make more sense for Disney+ than they do for movies, and Riri Williams is one of those characters. This doesn't mean she doesn't deserve a movie. If the Daredevil series on Netflix taught us anything, it's that even A-list, legacy characters can work better as a tv drama with cinematic quality. The reason Riri Williams works better with a Disney+ series is that an Ironheart movie would be too much of a rehash of Iron Man, the film that started it all. We'd see her building the armor and then fight with it for the first time, learning the power of her new suit.
With a series, we can focus on much more than a familiar origin story. The creators can focus on the armor as an A-plot while developing strong B- and C-plots that focus on Riri in school and her own struggles. Daredevil, the series, was an origin story. However, it was also a law drama and focused on Murdock's relationship with Foggy and Karen more than it did on his war with Kingpin. We can get a lot more of the Riri Williams story on Disney+ than we can in a movie.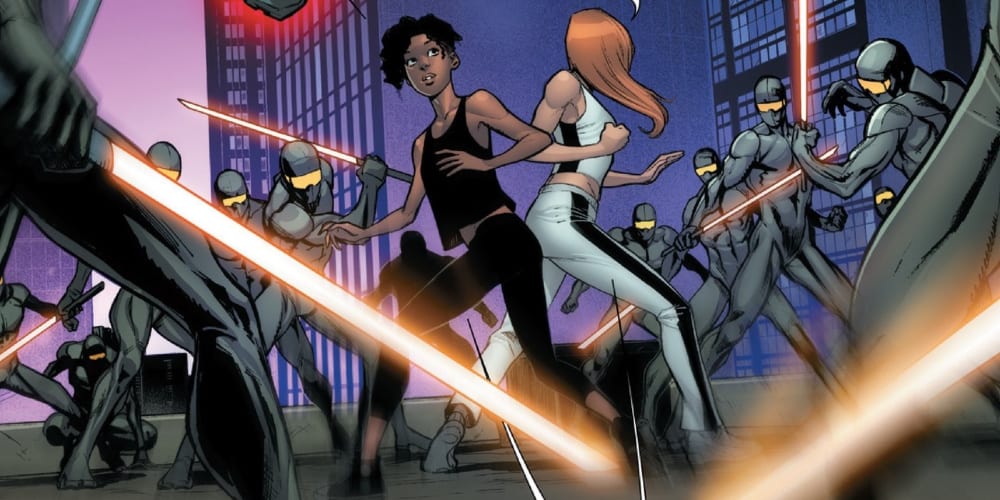 Riri Williams and Pepper Potts can kick all kinds of techno-ass together in a Disney+ series! (Image: Invincible Iron Man Vol 3. #4, Marvel Comics)
Other MCU Characters Can Benefit from a Riri Williams Disney+ Show
 Since Iron Man debuted in 2008, fans were divided on Pepper Potts. Though Gwyneth Paltrow seemed born to play Pepper—and does a great job doing so—her character wasn't really loved until Endgame. When Pepper arrives in her Rescue armor, any animosity fans had against her melted away. Seeing her and Tony spinning around in the air fighting Thanos's army, almost like they were dancing the way they did in the first Iron Man, was an underrated moment.
But where would Pepper fit best in the MCU now? Where would it make sense to see her return as Rescue? An Ironheart series. In the Disney+ series, Potts can be to Riri Williams what Stark was for Peter Parker. Not just an inspiration, but a mentor too. But with Pepper comes another familiar face we love—Happy Hogan. If you didn't cry during the "cheeseburger scene" in Endgame, see a therapist. Speaking of that scene, we can also see Morgan Stark a little too.
With the addition of Riri Williams, the Disney+ side of the MCU is starting to look more exciting than the theatrical lineup. Still, as excited as we are for this to be true, we have to take this report with a grain of salt. The rumor comes from teenage reporter Thomas Polito and hasn't been independently confirmed by any other outlets. Since nothing official has been announced we don't know if there is a showrunner or writing staff onboard. Still, just like with the rumored Star Wars: Rebels sequel, this is a rumor we really hope is true despite being unable to confirm it. And, it's a safe bet that at some point Marvel Studios will bring this remarkable character to life. Let's just hope its sooner rather than later.
(Featured Image: Ironheart #1, Marvel Comics)
Roman Colombo finished his MFA in 2010 and now teaches writing and graphic novel literature at various Philadelphia colleges. His first novel, Trading Saints for Sinners, was published in 2014. He's currently working on his next novel and hoping to find an agent soon.
Leave a comment