Peacemaker Series Premiere, Episodes 1-3 Review – DC Gives Peace A Chance
Peacemaker is back! As the biggest asshole in James Gunn's The Suicide Squad, John Cena's Peacemaker (alias: Christopher Smith), is a fanatical pacifist who believes so strongly in keeping the peace that he's willing to use force and violence to make it happen. The Peacemaker official trailer from HBO Max gave us a more nuanced view of the complicated character and yesterday, the first three episodes of the Peacemaker series premiere dropped. Read on for a review of the Peacemaker premiere episodes!
Peacemaker Ties Directly Back Into The Suicide Squad and The DCEU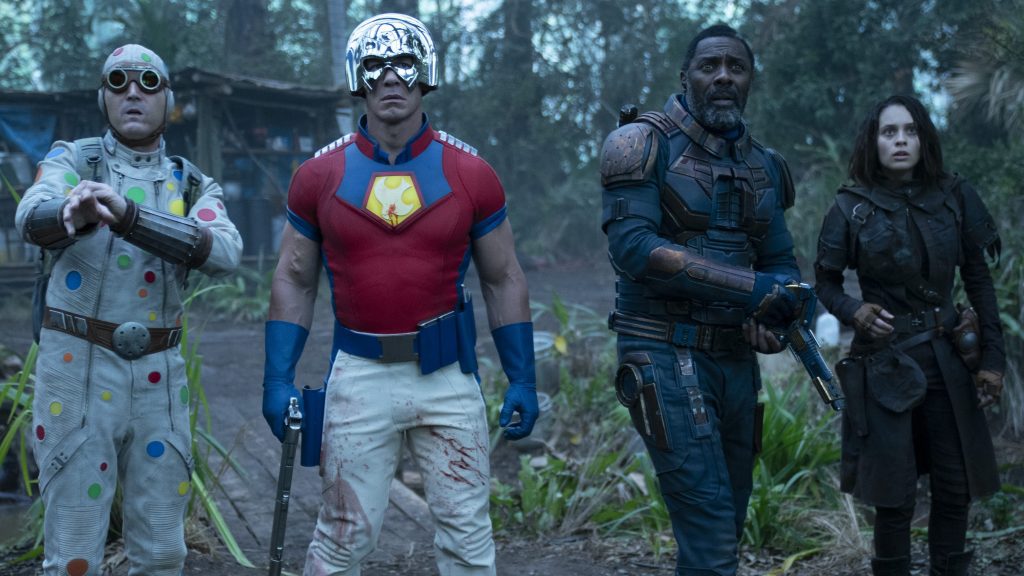 Image via Warner Bros. Pictures
Peacemaker begins right after the events of The Suicide Squad and it all fits together nicely. Gunn wrote all eight episodes of the series and directed five, so the plot and overall aesthetic feel like a natural transition. We see Peacemaker getting treated for a broken clavicle, despite being shot at and then having a building fall on top of him. He's released from the hospital and immediately, Amanda Waller's ex-team, John Economos (played by Steve Agee) and Emilia Harcourt (played by Jennifer Holland) start tracking him. Joining them are new Task Force X members Clemson Murn (played by Chukwudi Iwuji), a mysterious mercenary who takes on a leadership role, and Leota Adebayo (played by Danielle Brooks), a new recruit. The entire team is seemingly punished by Amanda Waller for rebelling at the end of The Suicide Squad and now must take on a new task called Project Butterfly. Much like Waller, Murn offers Smith a get-out-of-jail-free card if he helps them take on these "butterflies."
The Peacemaker Series Premiere Gives Us More Insight Into The Anti-Hero's Childhood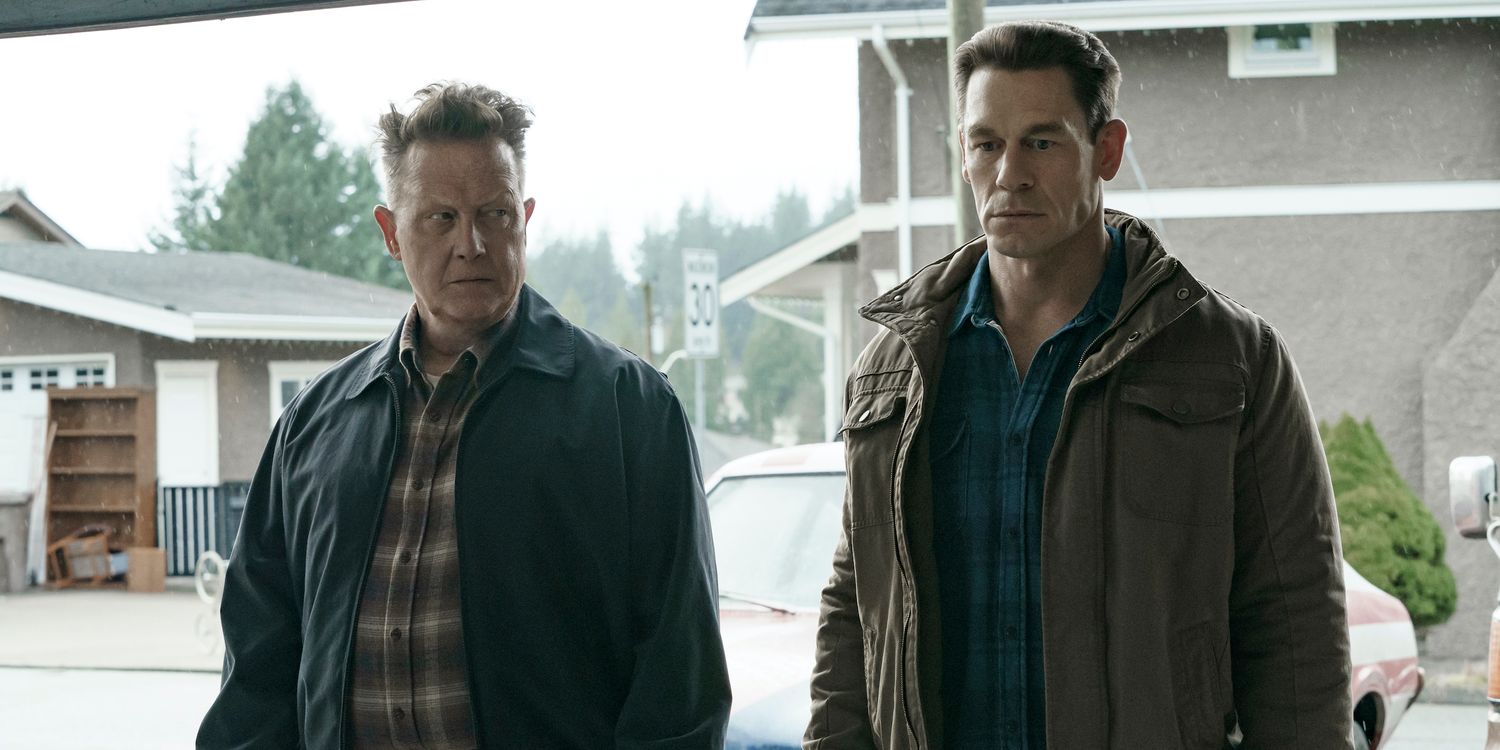 Image via HBO Max
Viewers got a sense of Smith's fraught relationship with his father in the official trailer, but the Peacemaker premiere episodes gave us even more. Smith's father (played by Robert Patrick) criticizes and verbally abuses his son at every turn. There's one scene where Smith attempts to bond with his father by talking about Bloodsport's phobia of rats, only to be shut down when his father says, "This f– that was afraid of the rats…please God don't tell me he was the one who shot you." It's painful to watch, but also humorous, something that Gunn has always done well. We also learn that his father is the one that outfitted him with his helmets and weapons, which further explains why Peacemaker has so many daddy issues. When your father is actively pushing violence on you, that's all you know.
Episodes 1-3 also shed some light on Peacemaker's douche-y attitude. He puts on a tough façade to cover up his vulnerability and to keep from talking about his emotions. He's been rejected his whole life by his father, so being cast aside by others is something that weighs heavily on him. As Murn says in one scene, "(Peacemaker's) stubborn, but he also has a deep need to belong." Some of the most emotional scenes in the premiere episodes were Peacemaker's interactions with his pet eagle, Eagley. Similar to many pets, animals provide unconditional love, and Eagley does just that, even giving Peacemaker a hug. While it provides some comedic relief to see an Eagle coming along on Task Force X's mission, Eagley also gives Peacemaker a reason to keep going. The bald eagle is protective of the anti-hero, something that his father never was.
A Colorful Supporting Cast Elevates the Premiere Episodes of Peacemaker 
Image via HBO Max
It wouldn't be a James Gunn movie if there weren't a host of quirky characters and the New Task Force X is no exception. Each character has their own demons to deal with (for example, Harcourt was given a glock by her father when she was a young girl so she has some issues with her father too), but Gunn handles them all with the dark humor that he's known for. It turns out Adebayo is the daughter of Waller and has been brought on to act as her eyes and ears. Adebayo is married and has three dogs, but it appears that her mom has been trying to get her to work for ARGUS for a long time. While Task Force X all seem to think Peacemaker is an idiotic, misogynistic racist, there are moments of deeper understanding. Could Peacemaker finally make some real friends?
Speaking of friends, one of the funniest characters is Peacemaker's "best friend," Vigilante (played by Freddie Stroma). He's basically a fanboy of the anti-hero, but also acts as a pillar of support, taking Peacemaker on a shooting spree when he's feeling down or taking over for him when he can't kill the butterflies. He's naive when it comes to the superhero stuff, but he has heart and genuinely wants to help.
And Of Course, There's Other Weird DC Comics Villains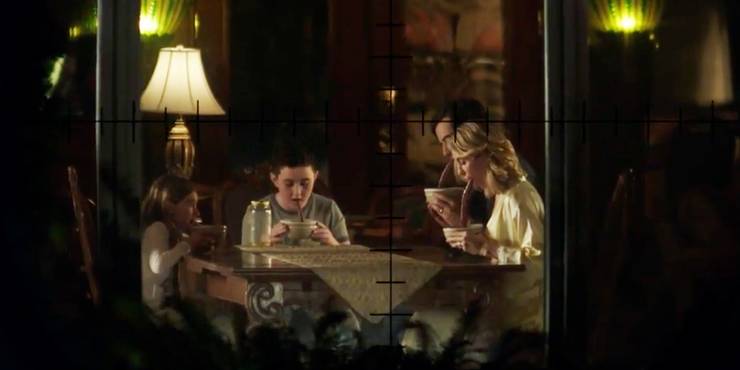 Image via HBO Max
The Suicide Squad gave us Starro, who was an actual villain in the comics. In the Peacemaker series premiere, we're introduced to "butterflies," which seem like evil butterflies that take over a person's body? They're not actually villains from the comics, but they seem similar to Starro in that they're parasitic and are in full control of a human's body. At the end of Episode 3, we see that the butterflies are popping up all over the world, which makes us wonder how Task Force X is going to handle this.
There's another villain to keep an eye out for though: Peacemaker's father, who we learn is someone called the White Dragon. There have been a couple of iterations of the White Dragon, but they're all villains who have been associated with white supremacy and are based on the KKK's Grand Wizard. We already know that Peacemaker's father was a Nazi, but having him outed as an actual villain tied to white supremacy? We'll have to see if this gets fleshed out and how that'll play into the role of the killer butterflies taking over the planet.
Overall, the Peacemaker series premiere is a fun and nuanced look at DC's anti-hero. Gunn has done a great job of fleshing out more of his backstory and creating an interesting supporting cast.
You can currently watch the Peacemaker series premiere episodes 1-3 on HBO Max.
What did you think of the Peacemaker series premiere and the other episodes? Are you going to continue watching the rest of the series? Let us know in the comments below!
Featured image via HBO Max
Keilin Huang is a freelance writer that likes the Oxford comma, reading from her neverending pile of books from the library, and Reeses peanut butter cups. She thanks her Dad for introducing her to his Superman comics and probably majored in Journalism because of Lois Lane. Contact her at [email protected]
Leave a comment