Ozark Final Season Review – Part 1 – Will They Ever Go Home?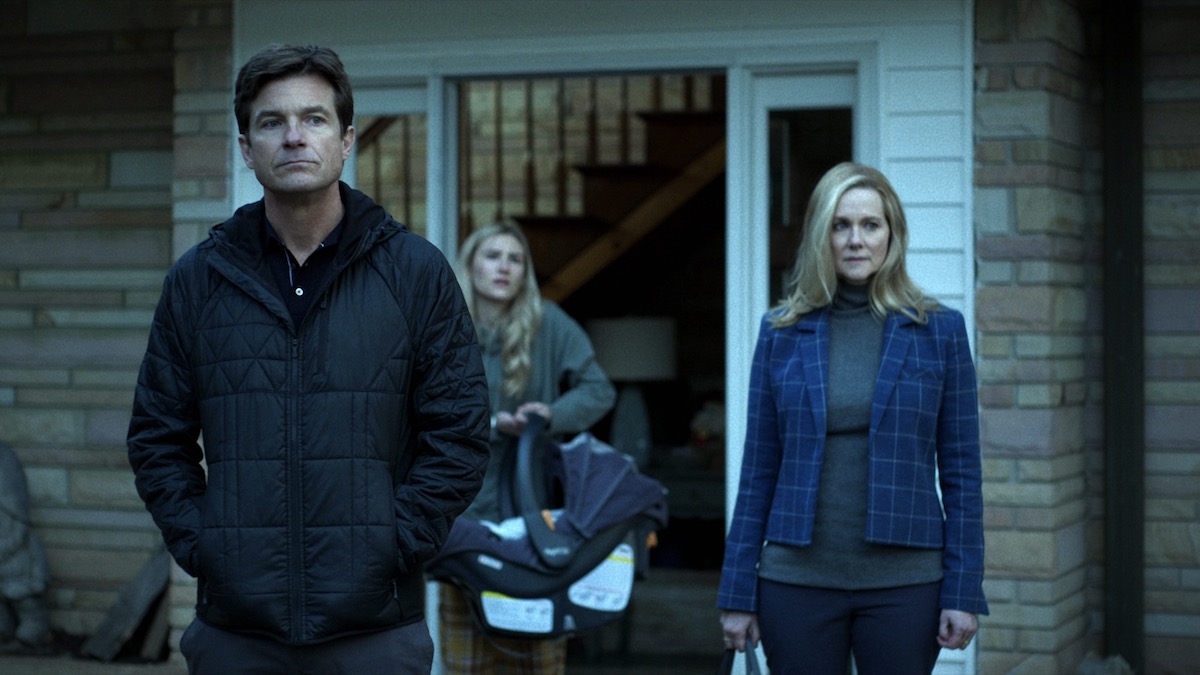 TV shows are going to spend a lifetime trying to recapture the success of Breaking Bad. The one that has come the closest, Ozark, is finally on its last season of money laundering and drug cartel-ing. But the Byrde family is getting bloodier by the minute, and the beginning of the end has us wondering if they even want out. This (mostly spoiler-free) Ozark season 4 part 1 review, the final one, digs into why we're still loving the Netflix drama years later, even if we can't wait to say goodbye.
Final Ozark Season 4 Part 1 Review – How Netflix Got Us Here
The ongoing coronavirus pandemic has given us a lot of time to watch (and rewatch) the former three seasons. Nearly two years ago, we left the Ozarks and watched Marty and Wendy Byrde fly to Mexico for what could be a lovely baptism. Instead, they're met with the gruesome end to Helen, the lawyer who has caused more trouble than she's proven to be worth. Season 3 ended with the promise of more partnership between cartel leader Navarro.
After an initially promising flash-forward that leaves us more than a little stressed out, Ozark season 4 part 1 opens exactly where we left off before this final outing. In fact, they haven't even had time for Helen's blood to dry. The hostile couple of Marty and Wendy are forced to stay on their A-game of survival while mingling with Navarro and his family.
While the trip is tense, it does promise an escape route. Navarro makes a deal with Wendy and Marty that if they can get him out, then they're out, too. All they'll need is a few more tricks and the whole family can escape from a life of money laundering and drug deals. But new police investigations, enemies, and family feuds are going to show why there is no simple escape.
Image via Netflix.
The New Season Of Ozark Gives Us Everything We Loved About The Last Ones
Ozark started with simple themes of a father trying to protect his family despite being tangled in a web of cartel business. It could have easily been brushed aside as a Breaking Bad knockoff, but it instantly differentiated itself and went places that the other Big Drug Show couldn't dream of. Notably, it included family affairs.
The first three seasons of Ozark show Marty Byrde (Jason Bateman) reluctantly getting his family involved in his crimes. His wife, Wendy (Laura Linney), was all-too-eager to show how her public relations experience could add to the business. The teenage kids, Charlotte (Sofia Hublitz) and Jonah (Skylar Gaertner) don't want to be left out either.
Season 4 does an exceptional job cracking down on how such a tumultuous family can coexist. It's not just a father fighting for his family anymore. Jonah has turned into the spitting image of his father, desperate for some normalcy despite a growing interest in overseas shell companies. Meanwhile, Charlotte mirrors her mother in everything from her daily glass of wine to her willingness to backstab those close to her.
Despite it all, the Byrde family is still doing what they do best: talking their way out of imminent death. However, they still aren't really talking their way out of anything beyond that immediate threat. Instead, they're just adding more hurdles to a race track that they can't stop running. Will they eventually get to the end?
Image via Netflix.
The Season 4 Part 1 Episodes Of Ozark Has No Negative Review In Sight for Its Final Run
Season 4, part 1 of Ozark has enough action and intimidation to keep us hooked. Like before, the atmospheric intensity is why we're really watching. Though, unlike in those first seasons, we aren't sure who we're rooting for. The Byrde family has become so dysfunctional that it seems like cheering for one of them means rooting against the rest. And then there's the never-ending Emmy-award-winning Julia Garner as Ruth, who keeps getting by because she's too stubborn not to. We love her, but should we?
There are so many twists and turns that the Byrdes have gotten themselves into, and it's hard to keep up with them all. But the writers on season 4 are more than up to the task to untangle messes left and right, while simultaneously adding more to the list. It's this clever writing that has each episode getting better than the last, and we don't think that anything could prepare us for the end that we're surely going to get.
Season 4 Part 1 of Ozark, the first of its final outing is Now Streaming On Netflix
Netflix has released 7 episodes for season 4 part 1 of Ozark, and our review leaves us hopeful for the remaining 7 that will premiere later on in 2022. While we wait patiently, we want to hear your thoughts on season 4 part 1. Are you tired of these cartel-related shenanigans? Is there anyone left to root for? And how much money do you think the Byrdes are going to spend on family therapy if they all make it out alive? Drop your thoughts in the comments!
Featured image via Netflix.
Meghan Hale is the kind of movie lover that has a "must watch" that is a mile long... and growing. When she isn't talking about the latest film and television news she is writing one of her many in-process novels, screaming film trivia at anybody who will listen, and working as a mental health care professional. Follow her on Twitter @meghanrhale for some fun theories and live reactions to all things entertainment.
Leave a comment