Outlander Season 5 Trailer Drops At NYCC – Previewing A New Revolution
Calling all Sassenachs! The trailer for Outlander season 5 officially dropped this week at New York City Comic-Con. The upcoming season of the hit show will follow Diana Gabaldon's novel The Fiery Cross. The show has so far followed the one book per season format. But the trailer below hints that the show might also incorporate elements of the sixth book (A Breath of Snow and Ashes).
What do we have to look forward to in the next season of Outlander? Let's dive in to the trailer, and get a refresher on the time-traveling timeline of Outlander.
Where Are We In The Outlander Series?
Jamie & Claire | Image via Starz
Spoiler Warning For the Outlander Book Series and TV Show
For those that are new to the show, a refresher may be necessary to keep track of all of the shifting timelines and ever-growing cast of characters. Outlander is based on a series of time-traveling historical-fiction novels by Diana Gabaldon. The show was brought to life on Starz from showrunner Ronald D. Moore and his writing partner Maril Davis. The two have since stepped back to focus on other projects (while remaining executive producers) and the show is now helmed primarily by Matthew B. Roberts.
The series focuses on the characters of Jamie (Sam Heughan) and Claire (Caitriona Balfe), although later books focus on a larger family saga. Post World War II, Claire is on a second honeymoon with her husband Frank (Tobias Menzies) in Scotland when she touches a standing stone and travels back in time 200 years. There she runs afoul of the British army, becomes embroiled in the Scottish rebellion (that she knows is doomed), and meets James Fraser, whom she is forced to marry for her own protection. Despite inauspicious beginnings, it is the love story between Jamie and Claire that drives Outlander, and all of the books that follow.
Jamie and Claire spent the first few books (and seasons) struggling to change the course of history. Their journeys took them from highlands of Scotland, to the courts of France. It saw Claire travel back to her own time period while pregnant with Jamie's child. Believing that Jamie died at the famous Battle of Culloden, Claire returns to Frank and they raise her daughter (Brianna) together in America.
20 years after returning to her own time, Claire returns to Scotland and travels through time once more to find Jamie again. Their daughter Brianna (Sophie Skelton) also travels through the standing stones at Craigh Na Dun several years later, in search of her parents in the past. Roger MacKenzie (Richard Rankin) also travels through the stones, in search of Brianna whom he is in love with.
Outlander Season 5 Goes From a Scottish Revolution to the American Revolution
Outlander Season 4 Poster | Image via Starz
Last season Jamie and Claire embarked on a new journey, starting a new life in colonial America. They set to work building Fraser's Ridge, their new home base in North Carolina. Brianna and Roger both underwent significant trials and tribulations that drastically changed their respective characters. At the end of last season, Brianna had gave birth to a son. And Roger finally returned to Brianna after months spent as a captive among the Cherokee.
The first official teaser for Outlander previews a season of unrest. It sounds as though Claire blames herself for the hardships that her family has been through. We can hear snippets of her speaking to someone about returning to the future. It is likely that she is speaking to Brianna and/or Roger in this clip. At this point in the show, there are three (known) time travellers living in colonial America: Claire, Brianna, and Roger. The teaser gives a snippet of Brianna speaking to Roger about his apparent desire to return to their own time. Brianna tells him in no uncertain terms that "Our family is here."
The trailer also shows a few glimpses of Claire's work as a surgeon. Her advanced knowledge of medicine and science has caused Claire trouble in the past.  It is inevitable that her healing skills will get her into trouble again. There is a line of dialogue from Brianna asking if Claire is "playing god," and a quick shot of a dead body on a slab as a grieving woman weeps over it. It is clear that life in colonial America is far more dangerous than expected.
The Wars to Come Haunt the Characters of Outlander
Claire's knowledge of the future is a double-edged sword throughout the series, and this time is no different. She knows that the Revolutionary War is on the horizon. But Jamie has already made a deal with the British government that he must uphold. Complicating matters further is the fact that Jamie's godfather – Murtagh (Duncan Lacroix) – is a prominent figure among the Regulators who are fighting against the corrupt British officials in North Carolina. On the other side of the conflict is Lord John Grey (David Berry), who is a close friend to Jamie (and the surrogate father to Jamie's secret son – William). Jamie's divided loyalties will be a major factor in how the season plays out.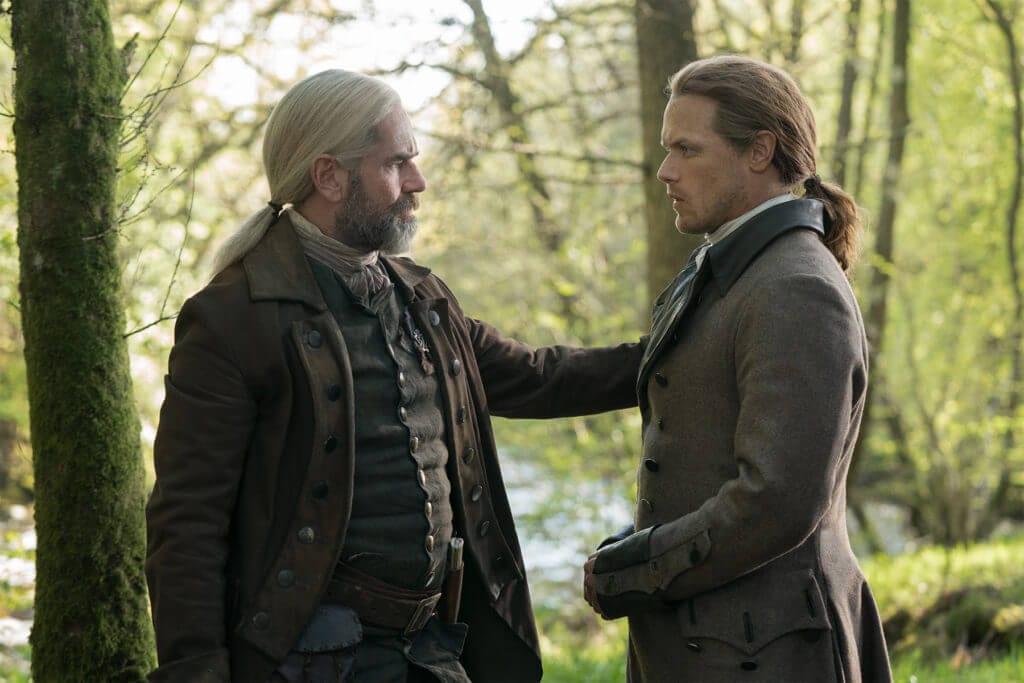 Murtagh (Duncan Lacroix) and Jamie (Sam Heughan) in Outlander Season 5 | Photo by Aimee Spinks for STARZ
The character of Murtagh is an interesting study in the world of Outlander. The character originally died early in the books, a casualty at the battle of Culloden. However, the showrunners made the decision to keep Murtagh alive in the show. He was shipped off to the colonies after the end of the Jacobite rebellion, while Jamie was in prison. Jamie and Murtagh were reunited last season in America, spinning out a brand new story thread about the War of Regulation that does not exist in the source material.
In addition to the Regulator storyline, Murtagh has also renewed a relationship with Jamie's Aunt Jocasta (Maria Doyle Kennedy) in the show. The ripple effect of this storyline will certainly affect others that have yet to unfold in the show. It will be interesting to see how the showrunners handle this deviation, and how it will change future storylines and characters.
What Did We Learn at NYCC About Outlander Season 5?
The cast of Outlander has been well-trained not to reveal any spoilers or secrets for the upcoming season. But press from New York Comic-Con has revealed a few choice tidbits about Outlander season 5. Caitriona Balfe confirmed that Outlander season 5 will be pulling in "some elements" of the sixth book. Balfe and Heughan are also producers on the show now, giving them an extra layer of creative control.
David Berry revealed that his character – Lord John- gets a fair amount of development in Outlander season 5. Berry hinted that Lord John might be playing both sides in the upcoming conflict between the British and the Regulators. His true loyalty after all lies with Jamie Fraser.
Maria Doyle Kennedy also hinted that she has more than one romantic entanglement in the upcoming season. This indicates that she will have romances beyond her relationship with Murtagh. Kennedy also confirmed that there is "definitely a wedding" this season, a curious phrasing since in the novel there is definitely more than one wedding.
Heughan says that Outlander season 5 is very much about 'the family' and 'family needing each other to fight external forces.' He claims that Outlander season 5 will be 'stronger than last season as well.'
Outlander season 5 will premiere on Starz on February 16, 2020. The first two seasons are also available to stream now on Netflix. Catch up before the season premiere and join the conversation about Outlander here on Comic Years.
For more news about Outlander and other book to tv adaptations, be sure to follow Comic Years on Facebook and Twitter.
(Featured image via Starz)
Emily O'Donnell is a writer and photographer with roots in some of the earliest online fandoms. She cut her genre teeth on the Wizard of Oz books at the tender age of 6 years old, and was reading epic adult fantasy novels by the age of 10. Decades later, she still consumes genre fiction like there is no tomorrow. She is delighted to be living through the golden age of sci-fi and fantasy popularity. She is unashamed of the amount of fanfiction that still lingers online under her name.
Leave a comment