The Outlander Season 5 Premiere Review: The Making and Breaking Of Vows
The season 5 premiere of everyone's favorite time-traveling historical drama Outlander aired early for Valentine's Day last week. It was a fitting episode for a day designed to celebrate love. The premiere treated fans to multiple love scenes and a wedding, but not everything is rosy on Fraser's Ridge. Let's dive into the premiere and find out what is at stake for Jamie and Claire, along with their kith and kin in season 5 of Outlander.

Image via Starz
Outlander Season 5 Premiere Adapts The Fiery Cross
I will be the first to admit that books 5 and 6 of the Outlander series are not my favorites. And season 5 adapts the fifth book of Diana Gabaldon's long-running series The Fiery Cross. At this point in both the books and show, we have officially moved out of Scotland and into colonial America. Jamie and Claire have built a new home for themselves, and their daughter Brianna in North Carolina. Fraser's Ridge has an abundance of new tenants which means that the cast of the show is growing ever larger.
It can be tricky to keep all of the new characters straight, and many new faces appeared in this episode without a proper introduction. Even as a reader of the books, I spent a lot of time guessing who some of these people were. For season 5 to be successful, the showrunners need to streamline a lot of the book, and focus on the important characters and plotlines. The season premiere did a pretty successful job of this. It focused on the relationships between the characters, which are the heart of the show.
The Wedding of Brianna And Roger
Claire and Jamie both get moving moments with their daughter Brianna. The episode opens as they prepare for her wedding to fellow time-traveler Roger Mackenzie. Jamie's distrust of Roger is evident, and he is clearly dubious about the kind of skills that a scholar from the future has to contribute to his new homestead. Roger is out of place in the late 1700's, unable to fight, hunt, or build. Brianna's skills as an engineer would be of more use. She also learned to hunt from her late adopted father Frank Randall, who foresaw her return to the past. There are subtle moments of unease between Brianna and Roger as he drops several comments about returning to their time (the 1960's). However, Brianna seems determined to remain in the past with her parents and son.
Despite all of this tension, Brianna and Roger are married in a ceremony that sees the appearance of nearly every major character on Outlander. Lord John is there! Marsali and Fergus! Jocasta is in attendance! Governor Tryon makes an appearance, and clearly doesn't understand what wedding day topics are appropriate to speak with the father of the bride about.
Sophie Skelton as Brianna Fraser and Richard Rankin as Roger MacKenzie in Outlander | Image via Starz
How Long Can Brianna and Roger Remain In The Past?
The question of why Brianna and Roger have remained in the past so long despite all that has befallen them is a good one. I asked it multiple times while reading the books, and in the show the question looms larger. It is clear that Brianna wants to spend time with her parents, getting to know the family she didn't have in the 1960's. But Roger traveled through the stones last season with the intention of finding Brianna and returning home. The fact that they did not discuss what time they would live in before getting married is baffling. This will likely be a source of conflict between the two of them over the course of this season.
There may be more impetus for Brianna and Roger to return to their own timeline when Brianna learns that her rapist Stephen Bonnet is still alive and on the loose. I've had some issues with Sophie Skelton's acting ability throughout the past two seasons, but her quiet moments of terror and PTSD show on her face. These moments are some of Skelton's best work on the show and I am hopeful that she can carry the heavy storylines that are to come for her character.
A Non-Book Relationship Is One Of The Most Compelling In The Outlander Season 5 Premiere
Despite this being a very Brianna/Roger centric episode, there was also a focus on the relationship between Jamie's Aunt Jocasta (Maria Doyle-Kennedy) and his godfather Murtagh (Duncan Lacroix). This relationship does not exist in the book, as Murtagh died fighting alongside Jamie at the Battle of Culloden. Keeping Murtagh alive and reintroducing his character last season is one of the best changes that the show has made. Murtagh is an outlaw in America, as a prominent member of the Regulators. This group will inevitably instigate The War of Regulation, a catalyst for the Revolutionary War to follow. Currently, the British army is hunting Murtagh for his rebellious actions. This throws a wrench into his relationships with both Jamie and Jocasta.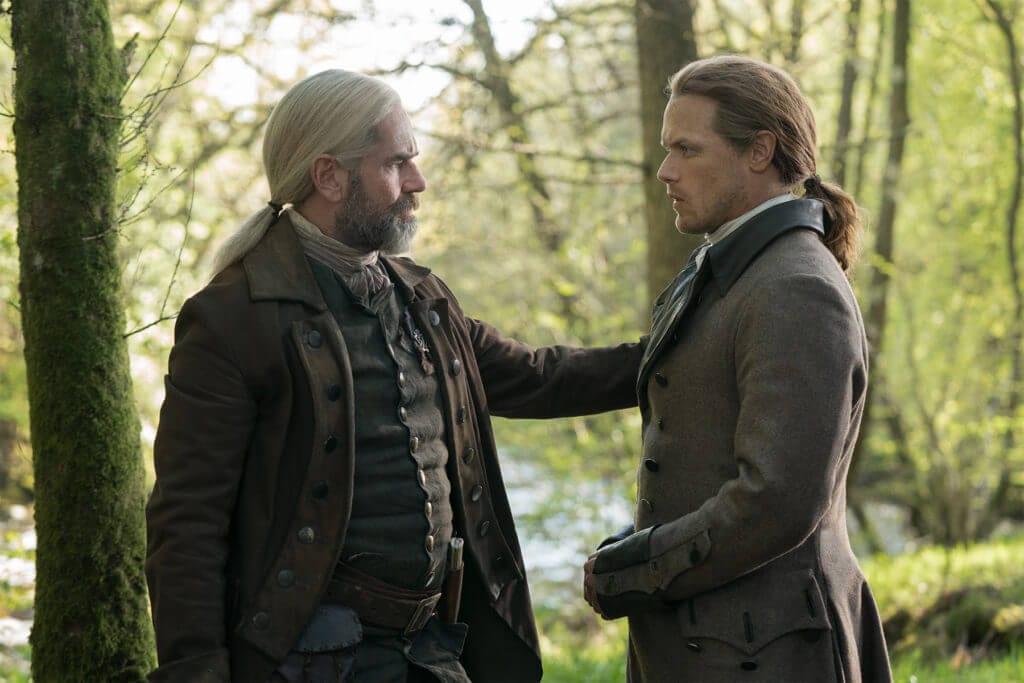 Murtagh Fitzgibbons (Duncan Lacroix) and James Fraser (Sam Heughan) in Outlander Season 5 | Image via Starz
The love story between Jocasta and Murtagh is sweet and tender. They have known each other since they were young in Scotland, even though Murtagh pined for Jamie's mother. When reuniting as adults, they begin a romance that is mature and informed. They get to have a love scene in this episode, which is refreshing to see on television when most love scenes are between the hot young lead actors. Their tender moment is tempered by the news that Jocasta has been offered a marriage proposal that she cannot refuse. These two characters have the weight of years and responsibility upon them, and this bittersweet moment demonstrates the complexity of their relationship. I look forward to seeing how this storyline plays out, as it will inevitably deviate from the books.
Jamie and Claire Remain The Heart Of Outlander
With the addition of all these new characters, focus pulls away from our core couple of Jamie and Claire. However the two of them still get several lovely moments, including their own love scene in the midst of a sex scene montage where just about everyone gets it on. The chemistry between actors Caitriona Balfe and Sam Heughan remain the strong backbone of the show. Every other character revolves around them, and every actor is stronger when playing against one of the two leads.
In a highlight of the episode, we get to see Jamie don his kilt for the first time in several seasons. It is a poignant moment for his character. The wearing of the kilt was banned in Scotland after the Battle of Culloden. But now that Jamie is in America, the rules have changed and he can technically wear the kilt again in the service of the British army. The irony here is significant. Jamie fought for years against the British, and now the only way he can be free of British rule in the years to come is to work for them now. Since Jamie is aware of the impending wars to come, he knows that someday America will become its own nation. But to get there, he must fight alongside the enemy that he spent so long resisting.
Okay, We Have To Discuss That Literal Fiery Cross In The Outlander Season 5 Premiere
The wedding at the beginning of the episode is mirrored by another oath taking that happens at the end. After donning his Scottish regalia, Jamie strides out to where the clans have gathered and sets fire to a large wicker cross that looms large in the clearing. He then calls for those who in attendance to swear loyalty to him. This happens after Governor Tryon orders Jamie to hunt down Murtagh. It is a show of strength on Jamie's part. He demonstrates to the British army that he has a sizeable force of men who will answer to him alone. The lighting of the cross is an old Scottish tradition, one that would call the clans to war by via signal fires. Unfortunately, there is another connotation that cannot be glossed over in modern day understanding.
Historical Context For A Cross-Burning
The image of the fiery cross is loaded because this Scottish tradition will inevitably evolve into the Ku Klux Klan. In the book, Claire and Brianna discuss this symbol at length, and give readers historical context for how this happened. The ugly truth is that there are a significant number of Scotsmen who founded the KKK, and have kept the hateful organization going for many years.
The Outlander showrunners are keenly aware of this significance. They made the decision to make it a Celtic cross, with the rounded circle and equal arms. I think that they were trying to consciously shift the imagery away from the standard religious cross that the Klan burns. I think that the imagery of the Celtic cross is much stronger and ties into the themes of Outlander. However, it would be irresponsible not to place this cross-burning within the context of American history.
The show has addressed slavery and racism to some extent, and will do so again in the future. However, the show would do well to include the conversation between Brianna and Claire about the significance of the fiery cross and its inevitable subversion. I personally did not know about the cross burning and how it related to Scottish tradition until I read this book. It would behoove the show to be honest about this, and address it in a serious manner. Especially considering how much the cross itself features in the key art for season 5, and at this pivotal moment in the very first episode.
Image via Starz
Overall Thoughts About The Outlander Season 5 Premiere
Overall, I felt like this was a very strong start to the fifth season of Outlander. I do have a few quibbles with moments in the episode, and I'm kind of heartbroken by the new version of the theme song. Maybe it will grow on me.
I think that Richard Rankin and Sophie Skelton still have a long way to go before they are up to par with the other actors in the cast. I also have some issues with the use of flashbacks in this episode, primarily those relating to Brianna's rape. We do not need to keep seeing that scene over and over again. Skelton should be a strong enough actor to convey her emotion about these memories without forcing the audience to continually relive the horrors as well.
I have to give some props to the bit players in this episode. Lauren Lyle had an amusing turn in the few moments of screen time that Marsali got. César Domboy is always soulful as the charming and tortured Fergus, and the moment Jamie asks him to step forward and swear to fight by his side is emotionally affecting.
One more issue that I had was the lack of Claire in this episode. Sure she was there, in the background. Occasionally she got to have a moment with Brianna or Jamie. But the focus of this episode shifted heavily to focus on other characters. And Outlander is strongest when it focuses on Claire and Jamie both as individuals and a couple.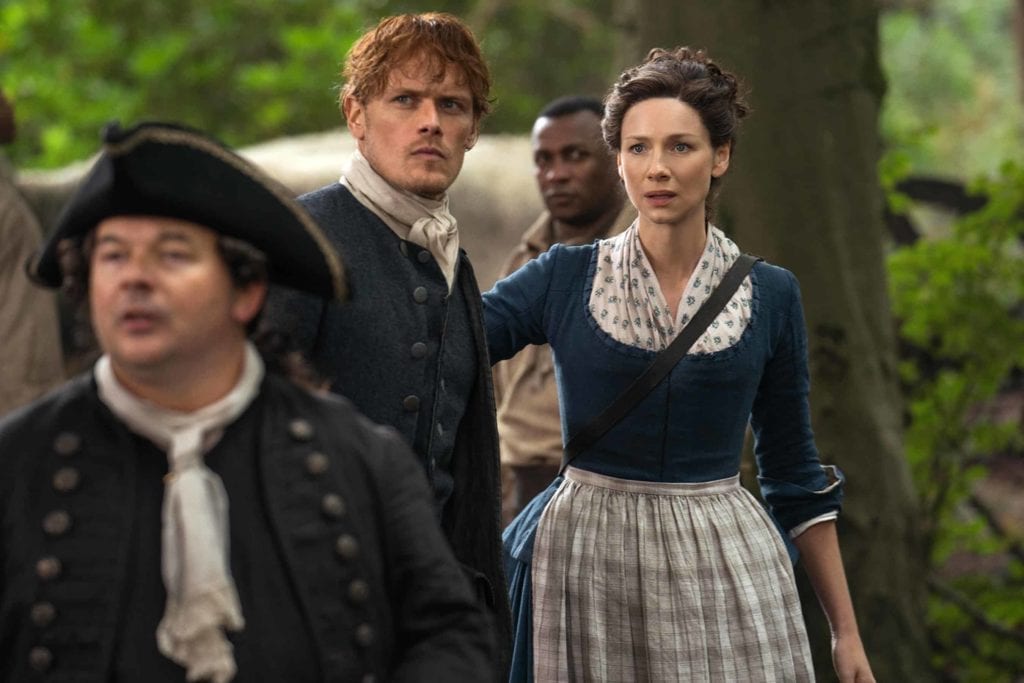 Image Credit: Entertainment Weekly
Will Murtagh Return To Fulfill His Vow?
The episode opens with a flashback to Murtagh's vow to a young James Fraser. He swears to always watch over Jamie and protect him. This flashback was kind of unnecessary since we have seen this scene before. But it was a good reminder of the bond between Jamie and his godfather. It is mirrored at the end with Jamie releasing Murtagh from his vow, and encouraging him to leave North Carolina and get far away from the British army that is hunting him. Now that Jamie is forced to work with the British, he can no longer protect Murtagh. This conflict will be a driving force for Jamie this season, and I can only hope that Murtagh will not be gone long.
Previews for upcoming Outlander episodes show Jamie in the infamous Redcoat uniform that haunted him for so long. I was struck by the visual significance of this, and it definitely heralds more angst for Jamie as the show marches towards the wars to come. A strong start to the season, and I look forward to seeing how the rest of the book plays out onscreen.
For more reviews and entertainment news, be sure to follow Comic Years on Facebook and Twitter today.
Emily O'Donnell is a writer and photographer with roots in some of the earliest online fandoms. She cut her genre teeth on the Wizard of Oz books at the tender age of 6 years old, and was reading epic adult fantasy novels by the age of 10. Decades later, she still consumes genre fiction like there is no tomorrow. She is delighted to be living through the golden age of sci-fi and fantasy popularity. She is unashamed of the amount of fanfiction that still lingers online under her name.
Leave a comment