Orange Is The New Black Season 7 Review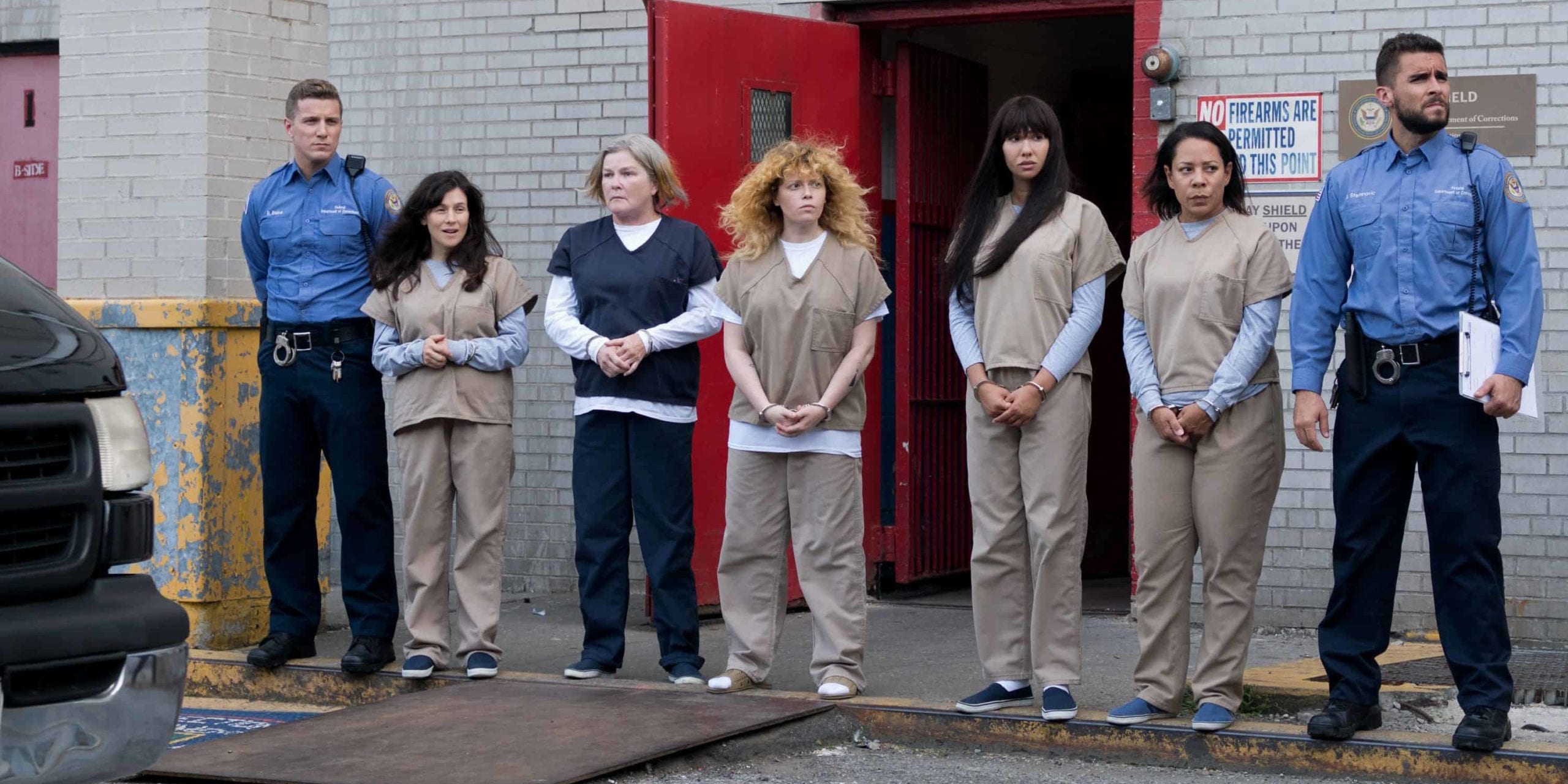 Orange Is The New Black, Jenji Kohan's Netflix drama about life inside of a female-only prison, has finally come to an end. The show was, at its prime, a sensitive but bold portrayal of the lives of women from all walks of life, forced to come together under the roof of the criminal "justice" system. Audiences tend to unanimously agree that the show went downhill somewhere around season four. However, with its 7th and final season, Orange Is the New Black manages to recapture parts of why it was so special in the first place. Beware of spoilers, because this Orange Is the New Black review of season 7 is going to talk about all of the soul-crushing, beautiful, and hopeless moments of the final season.
Introducing The Final New Plotlines
Season 6 left us with plenty of storylines to clean up in the final season. What would become of Piper and Alex once Piper got out of prison? How would Taystee deal with her new life sentence? And, will Litchfield ever have better badasses than Carol and Barb? (But we always knew that the answer is no.) Instead of just letting the storylines we've already grown invested in playout, a whole new world comes into OITNB. Easily the hardest scene to watch in S6 is realizing that Blanca wouldn't be going home. Instead, she gets taken by ICE. Our souls collectively crushed when we saw how excited Diablo was to see her. Well, Orange Is the New Black season 7 broke our hearts even further, dedicating significant time to Blanca and other ICE detainees.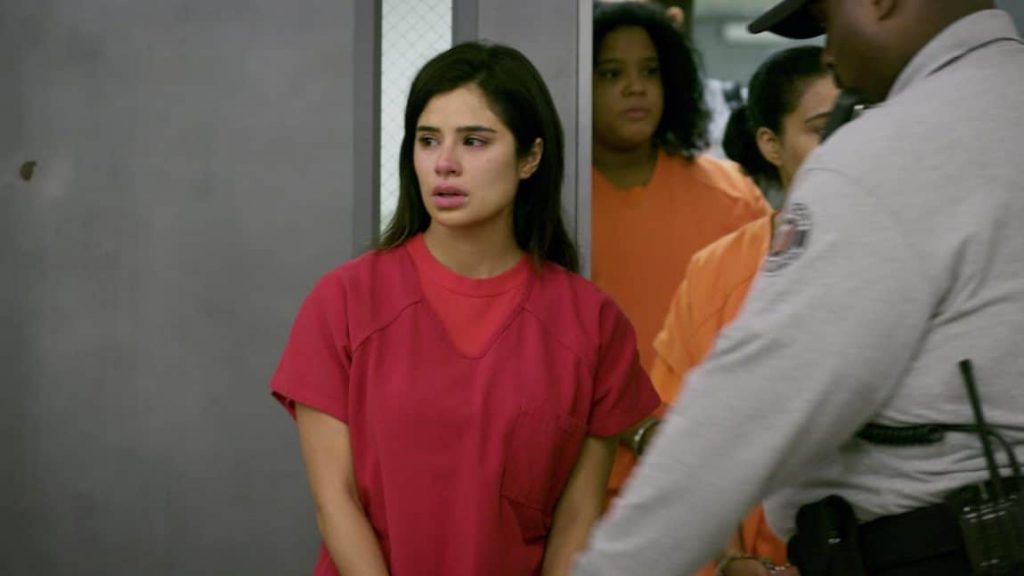 The decision to portray the harsh realities of ICE is very in line with the current political climate in the United States. While OITNB shows a dramatization of it, we all know that this is really happening in our country right now. Children being forced to undergo trial, but wanting nothing more than a juice box is one of those hard-hitting moments when you realize how real this is. And, the show's decision to have the fan-favorite character Maritza deported back to Columbia reminds us that the show doesn't cater to our ideal happy endings. Maritza sits on a plane while her character fades away, and we understand that her story on OITNB is over, because real people face this problem and don't get saved by screenwriters.
Showing Continuous Character Development
A lot of shows will focus on the character development of beloved main cast members. A prime example of this is Steve in Stranger Things 3. He was a jerk in season one, and audiences hated him. Over the next two seasons, he becomes a protector and learned from his mistakes. Characters grew to love him, despite his flaws in the past. However, this sort of character development can become problematic. Yes, his past mistakes are understood. However, audiences begin to see him as flawless. What OITNB does differently is that it focuses on continuous character development. Instead of watching a character go from bad to good, or dumb to smart, we watch them stay human. They grow, despite their prison-trapped circumstances. Each of them deals with the fallout of their crimes. They learn about the world around them. But sometimes, they still mess up. And that's okay. They're human.
A standout example of continuous character development is Joe Caputo's plot in this final season. Caputo started out as pretty problematic. His sexual nature around camp was creepy at best. So, when he gets "MeToo-ed" this season, we're reminded of his past mistakes and growth. It doesn't mean that we forgive him or side with him instead of his victim. He is still, nonetheless, a caring and devoted man. His friendship with Taystee is still pure and reminds us of the care he has for the inmates. But, he did something wrong. He is not perfect. He is flawed because he is human. This is also true for each of the women in prison. They've done something wrong to end up there, but we still care for them. The show focuses on the characters' humanity, despite the unavoidable flaws of life.
Saying Goodbye To Our Favorites Through Tears
There have been so many characters who have come and gone throughout the 7 seasons. Despite the ever-changing inmates, some have stuck around Litchfield. The soul-crushing goodbye we give to the new character, Karla, hurts. But saying goodbye to those who we've watched through their ups and downs is almost harder. It's Galina Reznikov, or "Red", whose goodbye hurts the most. Early-onset dementia sped up by her experience in the SHU takes away the quick-witted prison mom that stole our hearts, despite her mob-affiliation. Red always needed to be a mom, and Nicky needed a good one. When Nicky is told of her pseudo-mom's diagnoses, it's impossible not to cry alongside them. Dealing with mental illness is hard enough as it is, but Red will suffer while in a prison that has rid itself of a psychiatric ward.
In season four, audiences said goodbye to the beloved Poussey Washington. Her untimely death was the catalyst to a prison riot that led to where the show is now. Her death was unfair and a result of guard brutality and ignorance. This season they took the route of drugs to kill off inmates. Falling to the hands of a drug overdose, Tiffany Doggett (a.k.a. Pennsatucky) realizes that her time on earth is done. Whether she meant to die or not, her passing is a reminder of how drug addiction can impact anybody. However, her death ends up having the unlikely effect of saving Taystee. While on her way to end her life, Taystee comes upon Tiffany's body and changes paths. Despite having a life sentence, Taystee turns her life back around and dedicates it to good. She begins an organization that provides micro-funds to newly released inmates, called the Poussey Washington Fund (which you can actually donate to).
The Story We Don't Really Care About Anymore
OITNB used Piper's storyline as a way of capturing audience attention. A seemingly relatable character finding herself in love with someone much "harder" than herself had plenty of average American women hooked on the show. She was the "what if" for many viewers. But, as the show went on, we realized she was pretty boring. The show became about everybody else and each life was given time to shine. They all had stories to tell. This season had to deal with Piper, as she was finally on the outside. Her and Alex's relationship was on the rocks for a while and presumably ended until the final moments where we see that Piper moved to Ohio just to work at a Starbucks and be near her. Yay for true love! But did anybody really care if they ended up together? I sure didn't. The chemistry just wasn't there, and it was clear that they did more harm than good to one another.
What Was Missing
Uzo Aduba was the breakout star of the earlier seasons. Her portrayal of Suzanne Warren helped the show portray the reality of prison for women who have different needs. Suzanne suffers from undisclosed mental health issues and deals with things differently. Her meltdowns and antics across the season were often major plot points. You either loved watching Suzanne, or you hated it. Regardless, it won Uzo plenty of back-to-back awards. While she has her moments this season, very little revolves around her. Instead of feeling like something is missing, though, it feels like she is finally given room to breathe. When Suzanne isn't the center of attention, you can see why she has so many friends. Her kind and bright soul is apparent again. She doesn't need to be the focus to thrive. So, while Suzanne doesn't stand-out on screen this season, Uzo's more subdued portrayal works in a season where so much is going on.
The End Of An Era
This season showed women putting their own safety and sentences on the line to care for each other. Maritza was deported for being too caring. Inmates risked their sentences to help other ICE detainees reach their families. Each woman was given a resolution in one way or another. And for some, just staying in prison and getting through the day is enough to end with. Whether you like this season or not, it hits hard. I promise you that when that final episode begins, and Regina Spektor's "You've Got Time" starts playing in a slight remix, you'll feel something. I know that I did.
Now that Orange Is the New Black has ended with season 7, what will become Netflix's next big hit? Or, will the next big streaming show be on another service entirely?
Featured image via Netflix.
Meghan Hale is the kind of movie lover that has a "must watch" that is a mile long... and growing. When she isn't talking about the latest film and television news she is writing one of her many in-process novels, screaming film trivia at anybody who will listen, and working as a mental health care professional. Follow her on Twitter @meghanrhale for some fun theories and live reactions to all things entertainment.
Leave a comment