The Netflix Heartstopper Teaser Shows the Art of Alice Oseman
I can't imagine a world where we ever tire ourselves of coming-of-age content. There is something so peaceful in watching characters find themselves, and fortunately, there has been no shortage of content that follows it. The latest comes straight off of the pages of a graphic novel and onto the screams of a streaming service. The Netflix Heartstopper teaser is finally here to show how Alice Oseman's work will be adapted.
The Heartstopper Teaser Is Here From Alice Oseman and Netflix
Based on bestselling author Alice Oseman's webcomic and graphic novel of the same name, Heartstopper follows the love story between Nick (Kit Connor) and Charlie (Joe Locke.) In traditional friends-to-lovers format, the duo begins with a connection and they quickly turn it into a spark. Along with their friends, Nick and Charlie will navigate high school, coming of age, sexuality, and more.
The series is produced by See-Saw Films (The King's Speech, Widows) who began optioning the rights to the story over two years ago. Zorana Piggott will also be producing. Euros Lyn, Patrick Walters, Jamie Laurenson, Hakan Kousetta, Iain Canning, and Emile Sherman serve as executive producers. Lyn (His Dark Materials, Daredevil) will also direct.
Netflix has committed to dropping a premiere season of eight episodes, each around 30 minutes, on April 22nd, 2022. Based on the webcomic and theme, we wouldn't be surprised if this one turns into a tale that lasts at least until Charlie and Nick graduate high school. Could it be Netflix's next long-running show?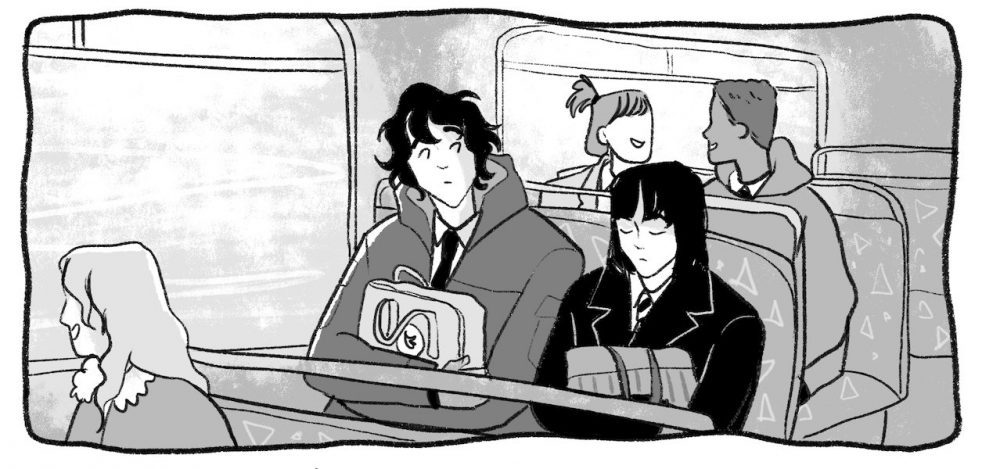 Image via Alice Oseman on Twitter.
Why We Can't Wait For Heartstopper
Queer love stories are often surrounded by tragedy. Some of the most iconic LGBTQ+ films in history, from Brokeback Mountain to Portrait of a Lady on Fire, end in heartbreak, tears, or death. But Heartstopper puts a stop to hurting our hearts and chooses to focus on the love and joy that comes from romance rather than the problems that can come along with it.
Netflix has continued to prove that they're excited to show stories from new points of view and Heartstopper is no different. Author Alice Oseman has been on board from the beginning, developing the series and being the head writer. So, it's sure to capture the same whimsy as the original graphic novel. It also hints at elements of transmedia storytelling, pulling art from the pages and sharing it digitally.
Take a look at the Netflix teaser for Heartstopper below to see what we're talking about!
Heartstopper Releases on Netflix on April 22, 2022.
Readers, how excited are you for Heartstopper to land on Netflix after watching the teaser? It's easy for a streaming series to lose itself amongst the sea of other high school dramas. But based on the source material and charming trailer, we're looking forward to this one. Drop your thoughts and expectations in the comments below. Now, if you'll excuse us, we'll be doing a re-read of the graphic novel.
Featured image via Netflix.
Meghan Hale is the kind of movie lover that has a "must watch" that is a mile long... and growing. When she isn't talking about the latest film and television news she is writing one of her many in-process novels, screaming film trivia at anybody who will listen, and working as a mental health care professional. Follow her on Twitter @meghanrhale for some fun theories and live reactions to all things entertainment.
Leave a comment