Mindhunter Season 2 Review: The Downfall Of Following Reality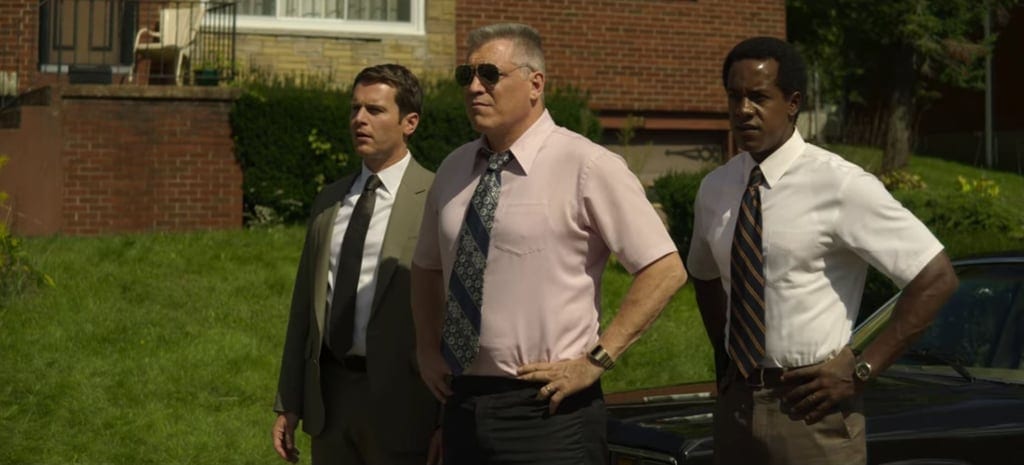 Mindhunter first released on Netflix in October of 2017. Fans became immediately intrigued by the true-crime series, created by Joe Penhall, with co-executive producers David Fincher and Charlize Theron. Loosely following John E. Douglas and Mark Olshaker's book Mindhunter: Inside the FBI's Elite Serial Crime Unit, season one looks at the beginning of psychoanalyzing killers, and the creation of the term 'serial killer'. Now that season two has finally released, nearly two years after the first season, fans were excited to see its continuation. So, did Mindhunter season 2 live up to expectations? Readers beware, as this review will contain spoilers about season two. This includes some background of the real-life crimes connected to it that may be seen as spoilers for any upcoming seasons.
A Season One Refresher
Season one begins in 1977 and follows the introduction of criminal profiling and criminal psychology in the FBI's BSU (Behavioural Science Unit). Long-running shows like Criminal Minds may make you think that profiling has always been the way of catching killers. Mindhunter, however, is here to teach you that there was a long and exhausting journey to become the system that it is today. It began as a way for FBI agents to better understand why killers act the way that they do, in the hopes that understanding them will help capture future ones.
Holden Ford (portrayed by Jonathan Groff) and Bill Tench (Holt McCallany) are both special agents in the BSU. Together they join forces. With the help of Wendy Carr (Anna Torv), a psychology professor, they set up their project in the FBI's basement, with little support from Robert Shepard (Cotter Smith), the FBI Academy's assistant director. They interview plenty of high profile killers (that actually existed), but the most noteworthy is Ed Kemper, a.k.a. the Co-Ed Killer. He is masterfully portrayed by Cameron Britton (for which he received the show's so-far only Emmy nomination). Kemper was a notorious and intimidating serial killer, standing at 6'9 inches tall, with 10 victims. Through their interviews, Kemper helps Ford and Tench by giving as many terrifying details of his crimes as possible. He forms an almost friendship with Ford. The season ends with Kemper in the hospital, giving a terrified Ford a hug. This sends Ford into a massive panic attack.
Season Two's Storyline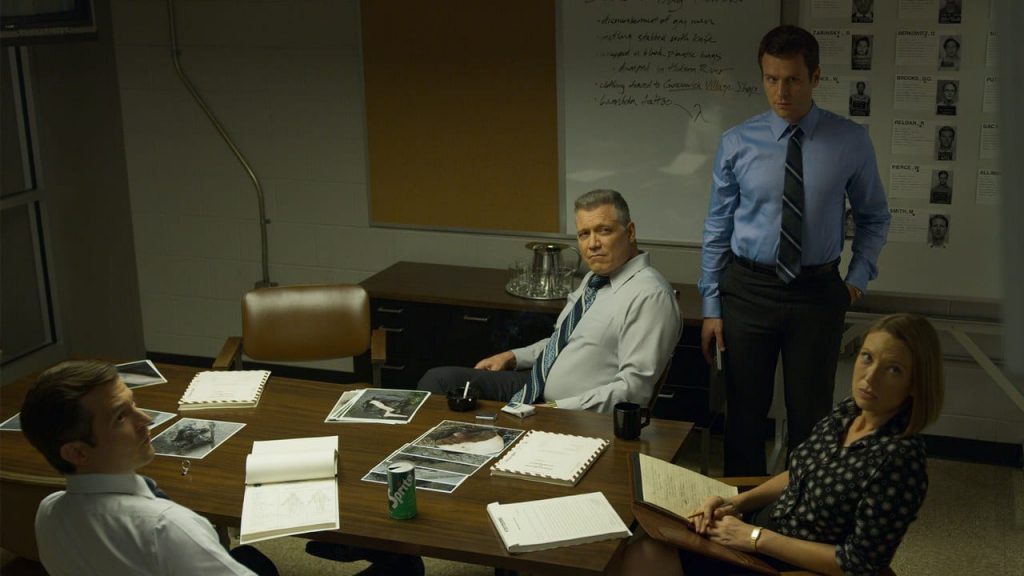 Image via Netflix
Season two of Mindhunter begins shortly after the ending of season one. Holden Ford finds himself in a hospital, believing that he had suffered a heart attack. It turns out that it was a panic attack. The doctors worry that he may begin to suffer from Panic Disorder. Tench and Carr go out of their way to keep a close eye on him. Following a near-scandal with Ford's handling of a previous interview, Shepard leaves the BSU. Ted Gunn (Michael Cerveris) replaces him and is much more supportive of the psychoanalysis work that the team is doing.
Season one focused on multiple interviews and the continuous personal lives of each cast member. Ford's relationship with now-ex girlfriend Debbie Mitford (Hannah Gross) was especially prominent. Season two, however, focuses more on one case – the Atlanta Child Murders of 1979-1981. Tench and Ford do their best to help out the case. Carr and Gregg Smith (Joe Tuttle) stay back at the BSU and do their best to interview killers. Tench's marriage and family life are put at risk by his son's role in a tragic murder. Carr struggles with holding a relationship with a much more open and out partner, Kay Mason (Lauren Glazier). Holden's outside life is not focused on, showing audiences that his work has entirely consumed him.
What Worked
The first half of season two of Mindhunter is nearly a masterpiece. Having the plot closely follow season one's storyline helps. You can see the stress that the team has gone through, and how it impacts each one. A bold portrayal of Charles Manson (Damon Herriman, who also portrayed Manson in Once Upon a Time In Hollywood) is interviewed, causing chaos. What works in season one worked just as well in season two. Following Tench's life allows for more insight into the harsh realities of such a tough job hurting a family.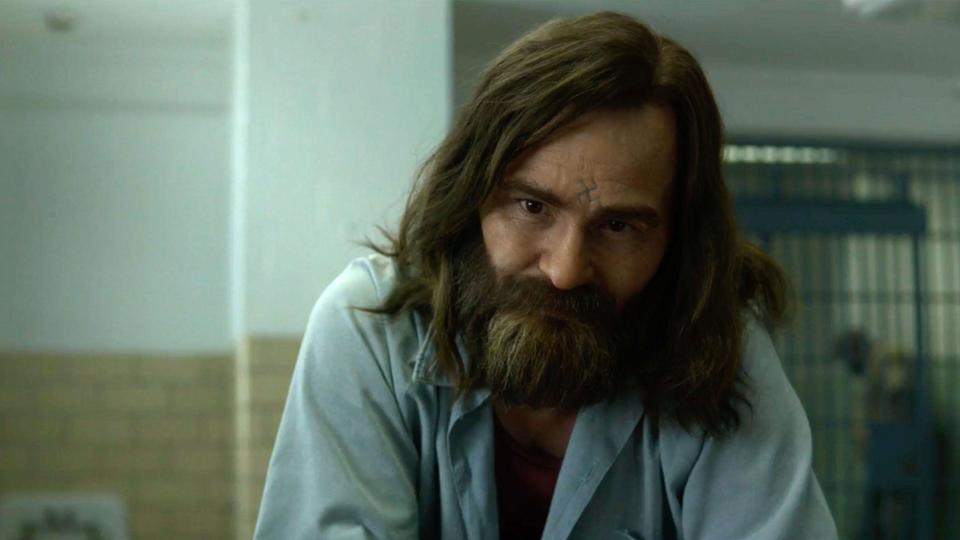 Image via Netflix
Episode two of season two deserves infinite praise. One of the handfuls of episodes directed by the always-incredible David Fincher, we see Tench lend a hand to the ongoing investigations on the BTK Killer. In a scene, we see Tench helping local PD interview BTK's only witness, Kevin Bright. Bright has been shot in the face and was left to suffer through the murder of his sister. The scene is directed in a way that we hear every horrible detail by Bright, yet we never see his face. Hearing about his injuries makes us wonder how he was left, but instead, we have to suffer through hearing someone explain the death of a loved one. It'll leave you thinking, "Damn, that Fincher is good."
What Doesn't Work
A two-year gap between seasons helps build plenty of hype for audiences. After such a perfect first season, everyone will be going in with high hopes. Unfortunately, this season just doesn't live up. It is still worth the watch, and the direction and script is a great example of the risk-taking and innovative work that original content by streaming services provides. The reason that it just isn't as superb as the first season is mainly due to the restrictions that the show has to follow because it is based on a true story. Shows like Hannibal and other crime-related shows excel because of their envelope-pushing, creative executions of nightmarish killings. Not only does Mindhunter have to work within the scope of reality, but it has to stick to a timeline that was, at times, quite slow.
Season one spends a significant amount of time alluding to the BTK Killer's descent into evil. Dennis Rader was only ever caught and arrested in 2005. His killings took place from 1974-1991, with plenty of time between many of the murders. So, while this season shows Tench doing is best to follow up, this plotline fades away. We do not get to see more of his murders play out,  because they weren't happening at the time. And, in the case of the Atlanta Child Murders, nobody was ever sentenced for nearly all of the killings. While they are almost all attributed to Wayne Williams, the proof was never found (though current Atlanta mayor Keisha Lance Bottoms re-opened the case in March of 2019). There is no real "got'cha!" moment from this season.
And What Happened To The Panic Attacks?
Holden Ford suffers a serious panic attack. Considering he is now worried about Panic Disorder, you'd think they would spend more time on his trying to prevent future episodes. He suffers one following a confrontation with Shepard early in the season. It is not highlighted again. Tench talks about having to babysit Ford, but he seems to be doing just fine on his own. Avoiding Ford's personal life is likely just to remind audiences how consuming FBI work is. Though, after so much attention on his romantic life in season one, it feels like we're missing out on another great love plotline. He even accepts what he believes to be a date invitation by Tanya Clifton (Sierra McClain), so we know that he's still interested in dating.
The Future of Mindhunter
There has been no official announcement regarding future seasons. Fincher has stated that he plans on five seasons, and I can't imagine a world where someone turns down David Fincher. But, if they want to continue following the BTK Killer, they may need to do a time jump. One killer detailed in the book that the show is based on is Robert Hansen. Hansen murdered at least 17 women from 1971 to 1983, which would allow for less of a jump. So, Hansen's brutality could be an inspiration for a third season.
If the time between seasons one and two of Mindhunter is telling, we can expect to wait a while for season three. Despite not loving this season, I know that I'll be waiting patiently in hopes of having something as amazing as season one.
So, have you finished Mindhunter season 2 yet? What are your thoughts?
Featured image via Netflix.
Meghan Hale is the kind of movie lover that has a "must watch" that is a mile long... and growing. When she isn't talking about the latest film and television news she is writing one of her many in-process novels, screaming film trivia at anybody who will listen, and working as a mental health care professional. Follow her on Twitter @meghanrhale for some fun theories and live reactions to all things entertainment.
Leave a comment