Marvel's I Am Groot Will Come To Disney+ This August 2022
I am Groot, I am Groot, I am Groot, I am Groot, I am Groot, I am Groot – Did you understand that? Get ready for the very first poster of Marvel's I Am Groot was recently posted and set to release on August 10, 2022. 
I Am Groot is an original short series that will follow the adventures of Baby Groot growing up.
How adorable it is to look at Groot in this official poster. We can see how Groot is vibing in his favorite tunes and a refreshing drink with a mini umbrella on the side. With this first poster released, the internet went crazy upon seeing the cute Flora Colossus chilling. This brings excitement to what is in store for us fans in this mini-series.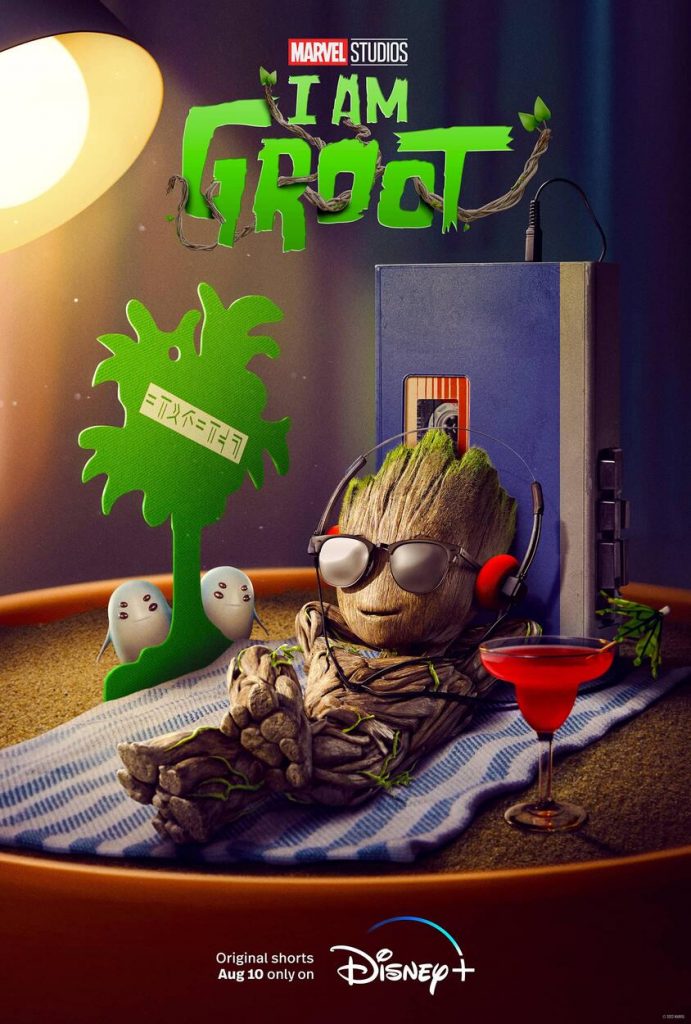 Marvel
What to expect in Marvel's I am Groot
It's been a while since we've seen Baby Groot in the MCU. The last time we saw him, Groot was an unruly teenager in the events of Avengers: Infinity War and Endgame. And, of course, we miss seeing the cute and lovable Baby Groot. We last saw him in Guardians of the Galaxy 2. But with Marvel's I Am Groot, we'll get to explore some of the adventures of Baby Groot. 
The official brief synopsis reveals that we'll be "following Baby Groot's glory days growing up, and getting into trouble among the stars." That said, we can expect some cameos from his Guardians of the Galaxy family in this new mini-series. 
Ryan Little created the show, and Kristen Lepore is its director. Both have involvement with shows like Daredevil and even an episode from Adventure Time. With their combined genius, we can look forward to the cuteness overload Marvel's I Am Groot will bring. 
In this original short, the original voice actor Vin Diesel will also reprise his role as Groot. While Diesel will only say "I am Groot" for most of this short, his voice brings out the emotions this cute fella has. We cannot wait for his cute comeback in Marvel's I am Groot.
FAQs About This New Mini-series
Twitter fans had some questions about Marvel's I Am Groot impact on the timeline. James Gunn, the director of both Guardians of the Galaxy films, clarified some fans' questions on Twitter. 
One Twitter user asks, "Does this take place before or after Vol. 2?" and James replies, "They are animated shorts, so not necessarily part of the Guardians saga." Then, another user asked, "So they aren't canon then?" James Gunn assures that the happenings in this short are still part of the canon. 
As James Gunn mentioned, Marvel's I Am Groot is still canon. But this show may not play any significant role that may affect the Guardians 3 coming soon. Surely, we have to look forward to seeing plenty of easter eggs in this show.
This will not be the last time we may see Groot, as he will surely return in the Guardians of the Galaxy 3. After all, the alien tree creature is an original member of the Guardians of the Galaxy. So, with the release of this short, expect more cute interactions between Baby Groot and the rest of the gang.
Marvel's I Am Groot will release on August 10 and pave the way for Guardians of the Galaxy 3, which will premiere on May 5, 2023. Sources say that Guardians 3 will follow the story of some of our beloved heroes and how they'll find closure in their journey. For this year, let's enjoy watching Marvel's I am Groot.
"We are all Groot," and be ready for Marvel's I am Groot on Disney+ in August!
Paul is many things. He's a fan of anime, superheroes, and everything in between. He dedicates his downtime to annoying the heck out of his cats and dog.
Leave a comment