Lego Star Wars Holiday Special Trailer Is A Parade Of Gags Throughout All The Movies
One of the most infamous bits of Star Wars lore isn't about Yoda's species or how the Force works. No, it's how in between A New Hope and Empire Strikes Back the principal film cast joined 1970s variety television staples for The Star Wars Holiday Special. Creator George Lucas remained so chagrined about this weird bit of Star Wars TV that he forbade anyone to ever speak of it again. However, now that Lucasfilm is in Disney's hands, it's coming back, kind of. The Lego Star Wars Holiday Special just dropped its first trailer showing fans what to expect. Thanks to a (surely non-canon) time-travel device, Rey and the villains of Star Wars are able to travel through time and space to multiple corners of the Star Wars universe.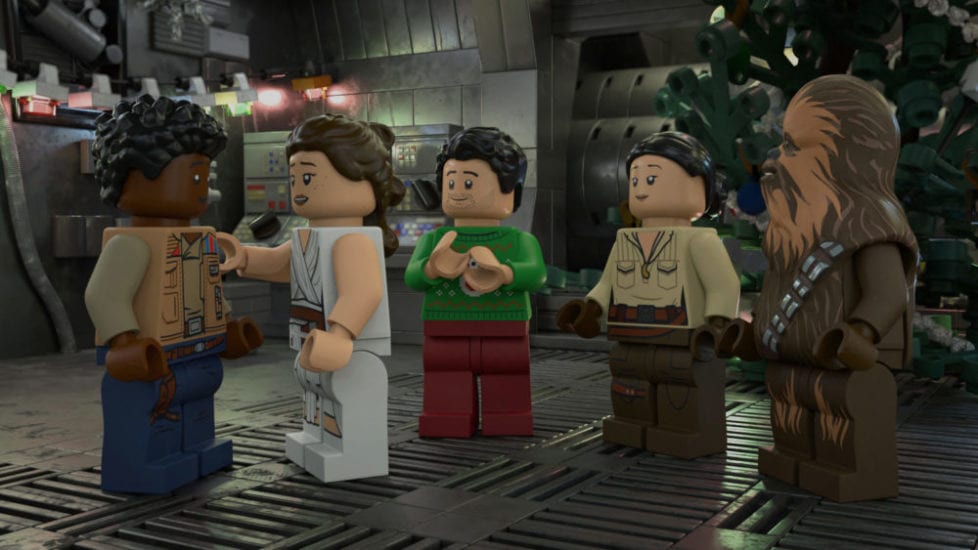 Image via Disney+/Lucasfilm.
While the context is still a bit of a mystery, we see Rey, Darth Vader, Clone Wars-era Obi-Wan and Anakin, and other recognizable figures having a grand dust-up on what appears to be Tattooine. In fact, we even get a pretty fun scene where a bunch of the Star Wars legends lay their eyes on Baby Yoda (and the Mandalorian himself).
While the first holiday special was a weird mishmash of 1970s variety shows and Star Wars trappings, the Lego Star Wars Holiday Special trailer shows us how it is different. It is a story that will take fans through the history of the saga, full of in-jokes and self-referential gags. Even if it is only for laughs, it will be fun to see these characters of different eras sharing the same stage. Also, fans will get a chance to see Rey Skywalker using her yellow-bladed lightsaber. Unlike the last one, this Star Wars Holiday Special is one everyone can enjoy.
The Lego Star Wars Holiday Special debuts on Disney+ on November 17.
What did you think of the Lego Star Wars Holiday Special trailer? Let us know what you're looking forward to and what jokes you liked best in the comments below.
Featured image via screengrab
Joshua M. Patton is a father, veteran, and writer living in Pittsburgh, PA. The first books he read on his own were comics, and he's loved the medium ever since. He is the greatest star-pilot in the galaxy, a cunning warrior, and a good friend. His book of superhero short stories, Tales of Adventure & Fantasy: Book One is available as an ebook or paperback from Amazon.
Leave a comment