The Legion Of Superheroes For HBO Max Is In The Works (2023)!
For fans of the DCEU, HBO Max is the place to be! From a Green Lantern series to The Batman's Penguin spinoff series to a docuseries about DC, the streaming platform is building up its repertoire of characters from the DCEU. In recent news, comic book writer Brian Bendis is working on an animated show about the Legion of Superheroes for HBO Max, and I can not wait!
Give Me More Information About This Animated Series For HBO Max!
Image via Wikimedia Commons via Gage Skidmore
In his latest newsletter via Bleeding Cool, Bendis said that the animated Legion of Superheroes series has been in the works with HBO Max for a while. Bendis has written some Legion of Superhero stories for DC already, so he was thrilled when HBO Max approached him about an animated series. He said:
"So, miracle of miracles, HBO then asked what else I would want to do and if there's any DC properties I thought would make an interesting show. I may have yelled the word LEGION louder than you want to in a normal adult person business meeting. So yeah, the headline today is… HBO Max has put me to work on a LEGION OF SUPERHEROES TV SHOW. At the moment it is being developed as an adult animated show. Can you tell I am jumping up and down about this? I've been working on it for a while and last week I was sent to the next phase."
Even though work on the series has already begun, Bendis warned fans that it's still in the early stages and that "animation takes a loooong time so you may not hear anything about this for a while as I'm just getting to work on it over the break." Still, fans are excited about this HBO Max series. The Legion of Superheroes was created by Otto Binder and Al Plastino for 1958's Adventure Comics #247. They were like a Justice League but for the 30th and 31st centuries and often played a central role in time-traveling plotlines. Originally, the Legion was associated with Superboy and was portrayed as a group of time travelers, but later, the group's origins and back story were fleshed out and they eventually got their own monthly comic. There have been two major reboots of the Legion of Superheroes, the first being a reboot following the events of the "Zero Hour" storyline in 1994 and then another rebooted team was introduced in 2004. In 2019, DC announced a new series written by Bendis and drawn by Ryan Sook. Characters in the Legion included fun superheroes such as Chameleon Boy, Invisible Kid, Colossal Boy, Triplicate Girl, Phantom Girl, Star Boy, Brainiac 5, Shrinking Violet, Sun Boy, Bouncing Boy, and Ultra Boy.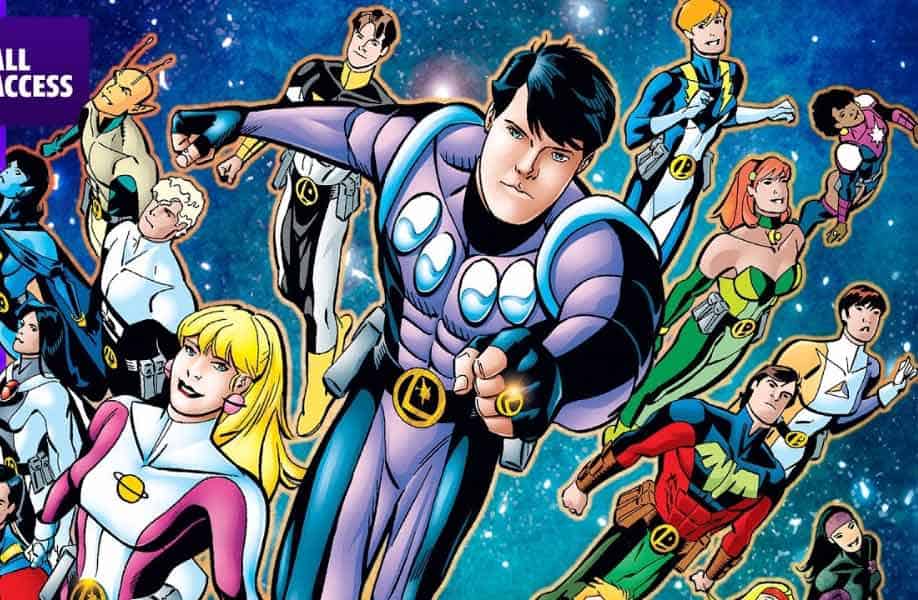 Image via DC Comics
Bendis is an American comic book writer and artist. He has won five Eisner Awards for both his creator-owned work and his work on various Marvel Comics books. Originally a writer for crime and noir comics, he moved to mainstream superhero work, creating important stories and plots such as the Ultimate Marvel Universe and relaunching the Avengers franchise with New Avengers in 2004. In addition, he's also written the Marvel "event" storylines "Secret War" (2004–2005), "House of M" (2005), "Secret Invasion" (2008), "Siege" (2010) and "Age of Ultron" (2013). In November 2017, Bendis announced via Twitter that he would be working exclusively with DC Comics. His DC debut was in Action Comics #1000, which came out in June 2018. Bendis has confirmed that the HBO series will adapt the stories he's been writing for DC. As seen in Collider, he said:
"Facts: its very early goings but I can tell you this will be an adaptation of the Legion of superheroes that Ryan Sook and I have been working on the last few years. And just like that series, on sale now, it will harken back to so many classics while at the same time doing what Legion does: pushing all the ideas of superheroes forward in every direction."
This will be exciting for fans of Bendis' work over the last few years with DC, and it'll be a great opportunity to expand his work even more thanks to the medium of animation. HBO Max knows how successful animated superhero property can be and I bet they're banking on more successes like the Harley Quinn series.
There's no release date for the Legion of Superheroes for HBO Max series, but sources think it shouldn't premiere earlier than 2023. 
What do you think of this new animated series from HBO Max? Let us know in the comments below!
Featured image via DC Comics
Keilin Huang is a freelance writer that likes the Oxford comma, reading from her neverending pile of books from the library, and Reeses peanut butter cups. She thanks her Dad for introducing her to his Superman comics and probably majored in Journalism because of Lois Lane. Contact her at [email protected]
Leave a comment