Writer Jonathan Igla Has Been Thinking About Hawkeye Since His Mad Men Days
What do you like to do when you're feeling stressed out about work? Reading can be a form of escape for many of us, and writer Jonathan Igla is no different. Igla worked on the hit series Mad Men, a story about intense advertising executives, for years. His comforting escape route from the stressful days? Comic books. Now that Jonathan Igla is the head writer of Hawkeye, he has to take even more inspiration from his old favorite pages.
Jonathan Igla, the Head Writer for Hawkeye, Has an Important History with the Comics
Jonathan Igla's most recent credits include serving as the head writer for Hawkeye, which recently had its series premiere. His press time includes an interview with The Hollywood Reporter where the writer shares some of his past with the new materials. Apparently, Igla would read the Hawkeye comics by Matt Fraction on his off time from writing for Mad Men.
"The premise of the comic book, about a superhero on his off days, is just exactly the superhero story I would want to tell as a writer. I was so drawn to it. I was so drawn to the tiny moments, the little human moments and also the art."
Later, the writer shares that he had a pretty clean slate to start from when writing his own version of Clint Barton and Kate Bishop's adventure. His way of sharing his ideas was to promote all of them from the point of view of a fan, which Igla clearly is. This allows him to grasp the most important part of Marvel content: It is for and by the fans. Working for a juggernaut like Marvel might intimidate some, but for others, it gives you the chance to create what you'd want to see in your free time.
Other lessons that Igla took from Mad Men to Hawkeye include the importance of pitching ideas in the voices of the characters. This not only allowed Igla to hear the essential dialogue in the voices of the folks who would be speaking it, but it also helped the rest of the writers.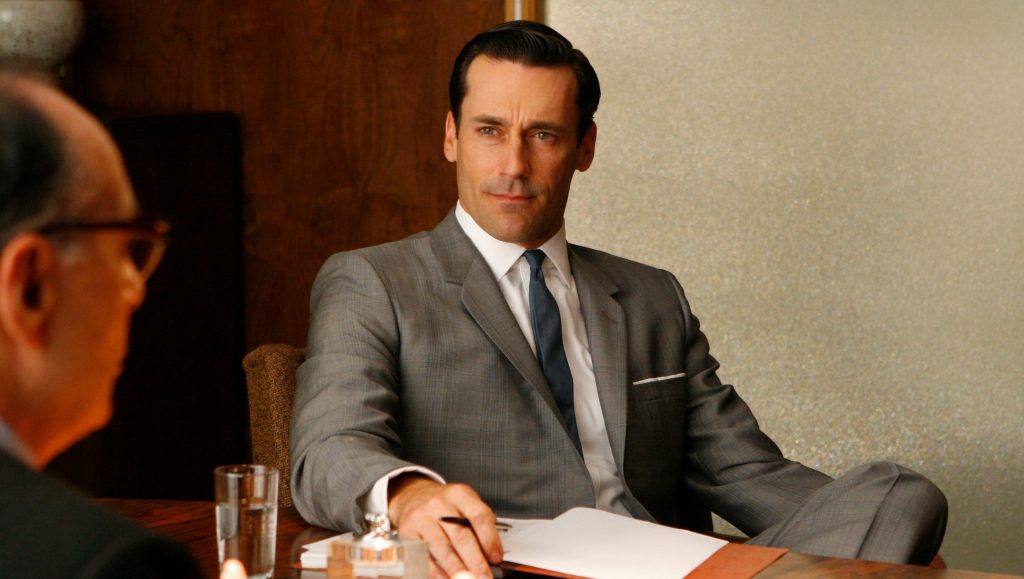 Mad Men. Image via AMC.
More Fun Behind the Scenes of Hawkeye
A writer's work is never done. Not only did Igla help write all of the on-screen content for the series, but he also wrote up some things that would never see the light of day.
Famous for its secrecy, Marvel would never let an audition spoil the future of the cinematic universe. So, Igla was tasked with writing up fake scenes to be used for the actors during auditions. He claims that they were a "fun challenge" as they forced him to come up with scenes that would give each actor the chance to show a range of emotions.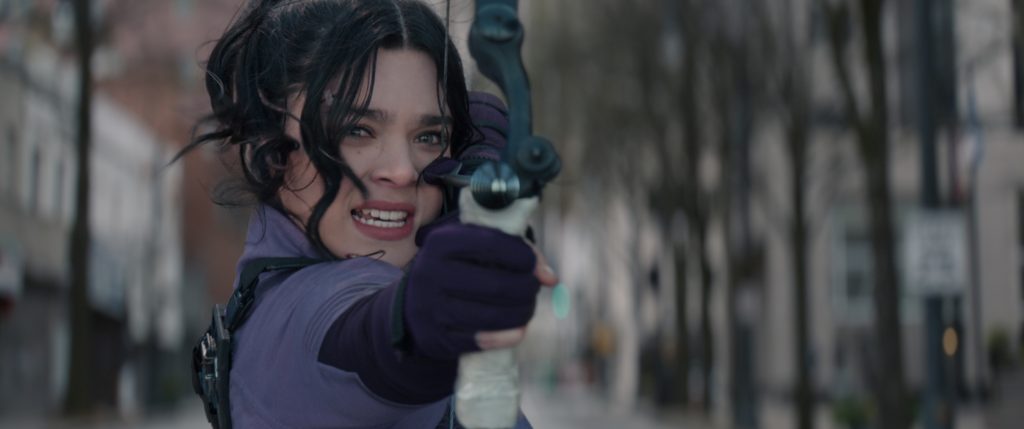 Image via Disney+.
Hawkeye Might Be Inspired By Hallmark Movies, Says Writer Jonathan Igla
The Marvel Cinematic Universe doesn't get to see many holidays. If I have to work Christmas Day, then so does Iron Man. There is no time for chestnuts roasting on an open fire. But there has never been a better time to try and show a hero slowing things down to spend an important season with his family. This meant unfamiliar territory for the characters, and Igla took on the challenge.
One of the ways that Igla approached the holidays was to watch some Hallmark Christmas movies. It wasn't so much the predictable tropes or cheesy dialogue that led to Hawkeye. Rather, it was the "comforting" aspects of the Hallmark movies. This makes sense, considering how Hawkeye is already shaping up to be one of the most comforting titles in the MCU. Unless you find Thanos comforting, that is.
You can stream Hawkeye on Disney+ today, with new episodes premiering every Wednesday.
Readers, how do you feel knowing this background information on Hawkeye head writer, Jonathan Igla? Can you sense the Christmas spirit and the genuine sense of comfort? Drop your thoughts in the comments.
Featured image via Disney+.
Meghan Hale is the kind of movie lover that has a "must watch" that is a mile long... and growing. When she isn't talking about the latest film and television news she is writing one of her many in-process novels, screaming film trivia at anybody who will listen, and working as a mental health care professional. Follow her on Twitter @meghanrhale for some fun theories and live reactions to all things entertainment.
Leave a comment