I Am Groot Producer Confirms Series Is MCU Canon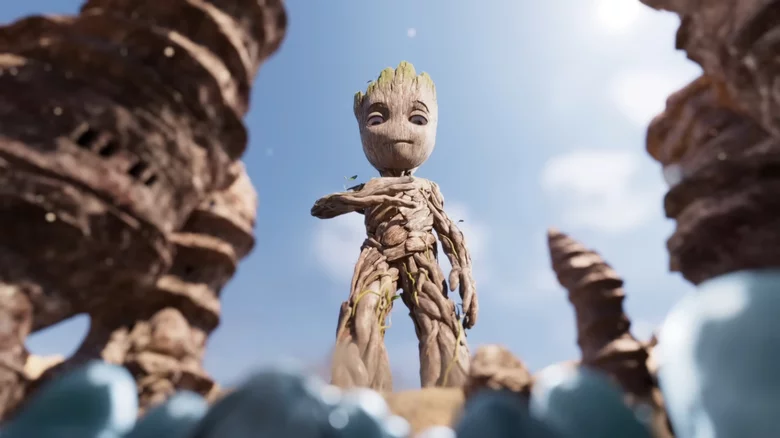 Marvel's head of animations I Am Groot producer,  Brad Winderbaum, confirmed that the series I Am Groot is canon in the MCU. The series that will begin shortly is based on the character from Guardians of the Galaxy. I Am Groot will premiere on Wednesday, August 10, at midnight Pacific Time. It will be available on Disney's streaming platform.
Image via Disney
The plot of this series will start right after the events of Guardians of the Galaxy Vol 2. We will see the younger version of Groot living great adventures and making mischief. We can see him dancing, laughing, and blowing things up in his natural habitat.
I am Groot producer Confirmed MCU Canon
Guardians of the Galaxy's director James Gunn commented that I Am Groot does not follow the same continuity as other MCU films. However, Marvel's head of animations, I am Groot produer, Brad Winderbaum, who was actively involved in this saga, confirmed the show is MCU canon. Winderbaun commented on this new Disney series, "It's a narrow window, right? It takes place between the end of Guardians 2 and before the tag scene in Guardians 2." He later added, "So it's in this narrow window where Groot is in that kind of post-toddler stage of development. And it was something that really excited, James, and James also knew Kirsten 's work and was excited about working with her as well."
Image via Disney
I Am Groot's director, Kirsten Lepore, also commented that she was always in touch with Gunn. She said she asked him questions in every process of creating this series. Part of Lepore's comments were: "Yeah, I had great meetings with James at several points in the process. And the most pivotal one being our initial kickoff meeting, where we basically just discussed this amazing character that he created just to make sure we could do baby Groot the way we're supposed to."
Lepore culminated by saying, "And I remember him telling me like, oh yeah, he's a bad baby. And also he's like an emoji guy, which cracked me up. And I kept repeating that in meetings. I was like, we gotta make sure that we're just nailing these poses and facial expressions because you know, all he has is two eyes and a mouth. He doesn't even have a nose, it's a very limited face. So it's like just like an emoji, nail an emotion and expression."
Details of the Upcoming Spin-off
This Guardians of the Galaxy spin-off has five episodes in total. According to Gunn's statements, the duration of each episode will be approximately 25 minutes. The five episodes will be available on the same day as the series's premiere, so users can watch it entirely without any problem.
As for the cast, Vin Diesel and Bradley Cooper will return to voice baby Groot and Rocket. James Gunn would also have a cameo using his voice as Wrist Watch. The series will premiere on Disney's streaming platform. It tells post-toddler Groot's story in a narrow window of events happening within Guardians of the Galaxy Vol. 2
All five shorts have titles revealed by I Am Groot producer, Brad Winderbaum. The first one is called Groot's First Steps, episode two is called The Little Guy, episode three is Groot's Pursuit, the fourth short is Groot Takes A Bath, and the fifth and final short is called Magnus Opus. You can watch the trailer for Disney's I Am Groot below and leave your thoughts in the comment section!
Featured Image via Disney
I am a circus aerialist influenced by Dick Grayson and Spider-Man. Fortunate to write about the characters that inspired me. I also have a Bachelor's degree in Political Science and a Master's degree in International Trade.
Leave a comment