How Boba Fett Survived The Sarlacc Pit Across Star Wars Canon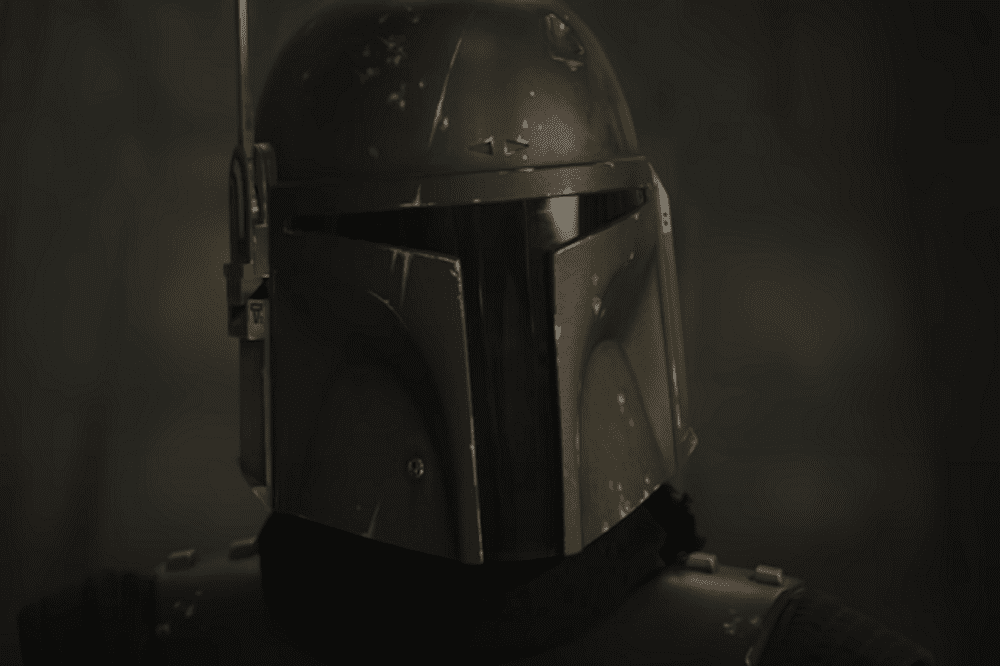 If you're like me, then you're not satisfied by simply reading or watching new Star Wars content. I'm all about the deep dives, explorations of lore, and of course, healthy conjecture. That said, one of the fandom's most beloved characters is now in the official Disney canon. After an appearance in The Mandalorian, Boba Fett is back. For fans of the Original Trilogy, this could be a bit confusing. As far as many casual fans know, Fett died in the Sarlacc pit during the early scenes of Return of the Jedi. If you're curious about how Boba Fett survived, then here's an explanation as seen in The Book of Boba Fett series.
A Great Escape for the Bounty Hunter Finally Revealed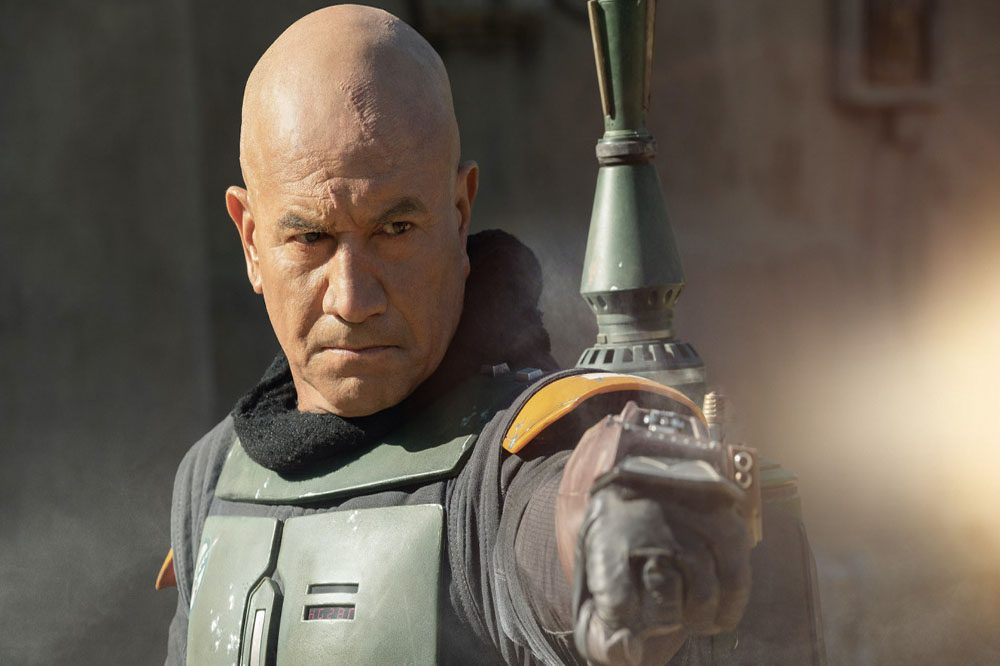 Image Credit: Disney+
In The Book Of Boba Fett Series Premiere, the show opens with Boba Fett's escape from the Sarlacc pit. If you're one of many fans who assumed he died, then you're not alone. As far as the main canon goes, we thought Fett died up until The Mandalorian Season 2. Once we saw actor Temuera Morrison, we knew what was going on. That means somehow Return of the Jedi's seemingly dim end for the bounty hunter wasn't really the end. So, let's talk about how Boba Fett survived that Sarlacc pit outside Jabba's palace.
In The Book of Boba Fett, the bounty hunter is seen resting in a Bacta tank. During some traumatic flashbacks, we see Fett alive in the Sarlacc's stomach. With few options, the assassin uses his flamethrower to blow a hole through the intestines of the creature. From here, Fett crawls through the sand and triumphantly emerges through the deserts of Tatooine. Fans of the sitcom Parks & Recreation might remember a similar fan theory from Patton Oswalt's character Garth Blundin. In fact, Oswalt even tweeted about the coincidence, telling fans "YOU'RE WELCOME."
To say I'm touched is putting it lightly. And yeah, #BookofBobaFett ROCKS. YOU'RE WELCOME. https://t.co/gmmjVNCtS4

— Patton Oswalt (@pattonoswalt) December 30, 2021
The episode, written by Jon Favreau and directed by Robert Rodriguez, might have known about the little speech given by Bundin. That said, it's not as simple as a little Parks & Rec cross-universe story timeline. It's not so much that Oswalt wrote the plot point. While it's a funny coincidence, the escape also mirrors the long-standing Legends narrative of Boba Fett's survival. Here's what happened in those books and how it's different.
How Does Boba Fett Survive in the Legends Canon?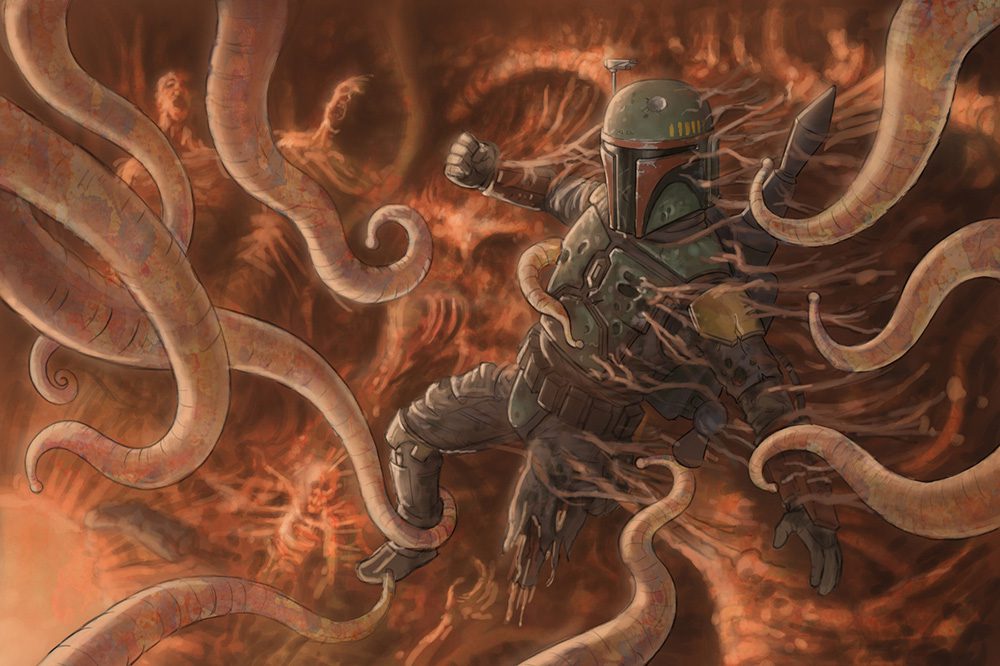 Image Credit: Lucasfilm
In the Star Wars Expanded Universe, now titled the Star Wars Legends canon, Boba Fett also survives. How Boba Fett survived in the novels varies in detail from that of The Book of Boba Fett's explanation. Overall, Fett uses his jetpack and other weapons in the Legends novels to escape the stomach of the Sarlacc. This first occurs in Marvel's Star Wars #81 released in 1983. A much more detailed look occurs in A Barve Like That: The Tale of Boba Fett. 
Released in 1996, A Barve Like That gives us a really weird look at Fett's escape. While awakening in the Sarlacc's stomach, Fett realizes he can communicate with other victims of the Sarlacc. Fett works with the Sarlacc's first victim, Susejo, to discover an escape plan. By using his jetpack to explode out of the creature's grasp, Fett used grenades to escape from the stomach altogether.
There's also the beloved Dark Horse comics run Dark Empire. In this story, Fett survives the Sarlacc pit and runs into Han Solo again. As you can imagine, Solo is a bit confused about how Boba Fett survived. It's not a reunion that sparks some sort of new relationship, however. The surviving Hutts place a huge bounty on Solo and Leia's heads, and you'll never guess who picks up the bounty. That's right: Fett is back on the job.
One final not-so-official canon where Boba Fett survives is in the Adult Swim series Robot Chicken. In no way related to actual canon, there are some really great Boba Fett shorts from the series. One even has Fett and Prune Face himself Orrimaarko discussing an escape plan inside the Sarlacc itself. It's clear that no matter who's writing the story, Fett's survival is something a lot of people wanted over the years.
New Episodes of The Book of Boba Fett Debut Wednesdays on Disney+
Image Credit: Disney+
You can stream The Book of Boba Fett series premiere now on Disney+. Episode 2 arrives on January 5th on the streaming service. If you have thoughts on Boba Fett's canonized escape, then make sure to share them in the comments. There are certainly Legends purists who will disregard any changes from the long-beloved books. That said, I think this is about as clean an escape and explanation we could ask for.
We're going to keep up with everything The Book of Boba Fett has to offer, plus a lot more Star Wars in 2022. From new novels in The High Republic to video game releases, we've got you covered! Keep reading Comic Years for more on The Book of Boba Fett, Star Wars, and all things comics and pop culture.
Image Credit: Disney+
Taylor is the Gaming Editor of Comic Years and a lifelong fan of video games. He holds two degrees in Political Communication and wrote a Master's Thesis on resistance movements, race, and the exploitation of college athletes. His wife and two Toy Australian Sheppards keep him sane.
Leave a comment