HOTD Season 2 – How Important Are The Ironborn?
Recently, House of the Dragon finished its first season with an epic finale. At the end of the season, we saw the fighting commence with the Great Houses of Westeros. This includes Queen Rhaenyra Targaryen, Emma D'Arcy plays, and Aegon II Targaryen, Tom Glynn-Carney plays, getting their armies ready to battle. As you might've guessed, this fight will be later known as the Dance of the Dragons. Both sides look ready to attack the other to claim the crown. However, some fans have noticed that there are two aspects of the show that haven't gotten a lot of attention. Namely, HBO appears to be ignoring the Iron Islands and House Greyjoy, who were originally very powerful. In the later seasons of the mainline show, they became less mighty. But, perhaps with HOTD Season 2, we'll see them restored to their former glory.
Naturally, many fans have predicted that the Ironborn will have a huge role to play in the Dance of the Dragon. If this rumor is true, it would be great to see this group back to their fearsome selves. In the War of Five Kings from the mainlines show, Greyjoy and the Ironborn sadly didn't appear much after Winterfell. In this show, Alfie Allen played Prince Theon Greyjoy. However, House of the Dragon appears to follow the original book Fire & Blood more closely than the main show did. If they continue doing this, we'll likely see the Iron Islands and Greyjoy in a much bigger role for HOTD Season 2. Of course, there are some challenges with this. Namely, Patrick Malahide's Balon Greyjoy is much older than Dalton Greyjoy, known as the Red Kraken. 
Who is Dalton Greyjoy?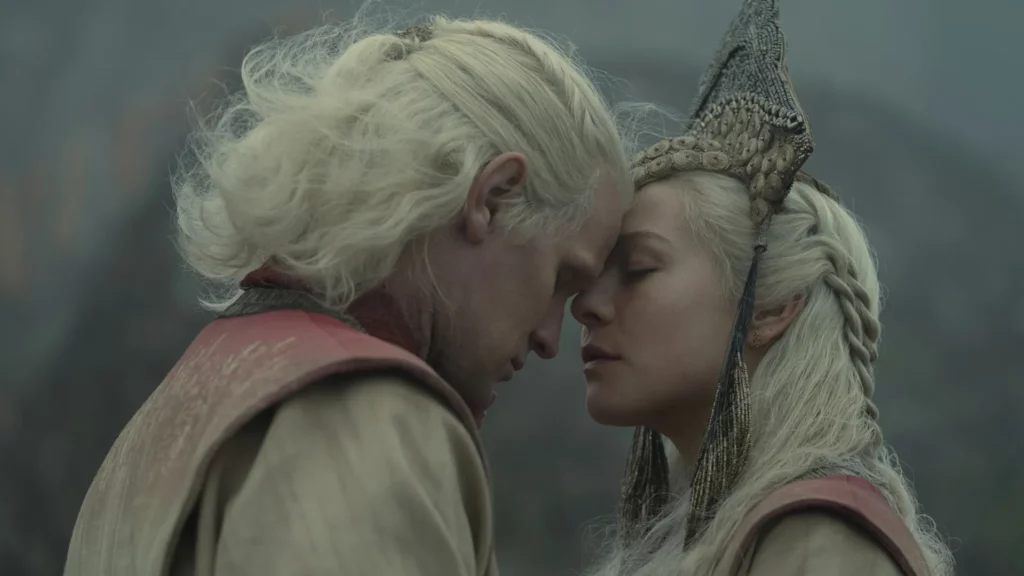 Image: HBO
In the first season of House of the Dragon, we saw how cruel Dalton Greyjoy truly is. Similarly to other warriors, Dalton is bloodthirsty and will stop at nothing to achieve his goals. However, unlike the others, Dalton is far less predictable as a leader and warrior. In this way, Matt Smith's character, Prince Daemon Targaryen, shares many traits with Greyjoy. Perhaps in HOTD Season 2, we'll see these similarities grow even stronger.
Greyjoy was an incredible fighter as a child, going so far as to assist in raiding parties to the Basilisk Isles. Following this, he received a Valyrian Steel sword called Nightfall and began working as a reaver. Later, as a teenager, he fought pirates and other enemies in the Stepstones. Soon after, someone killed his uncle, causing Dalton to seek revenge. How did he do this? Well, he completely massacred his uncle's murderers, of course! Following this battle, others called Dalton the Red Kraken and became devoted to him. Additionally, his father also died, making Dalton the leader of House Greyjoy and, therefore, the Iron Islands, too.
Dalton began to create several weapons and battleships to make this place stronger and fight off any threats. But why did he do this? It's because Dalton believed a huge storm was on its way. Naturally, this prediction will come true in HOTD Season 2, as we'll likely see the Dance of the Dragons in full swing.
HOTD Season 2 – The Dance of the Dragons
Image: HBO
In the original book series, the Dance of the Dragons is a mighty battle, with naval fighting playing a big role. As you might've guessed, both sides of the conflict use dragons to help them. So, taking this fight to the sea is important if each side wants to win. Since these leaders will be distracted, Greyjoy and the Iron Islands may hit the areas on the coast. In doing so, they'll cause huge destruction for both parties. Perhaps this will lead to one of the sides working alongside Greyjoy, which will surely lead to their victory. 
However, there's no guarantee that Greyjoy will help in HOTD Season 2. Even if one party tries to join Greyjoy, he might not be interested in assisting in this battle. In the book series, he did work alongside one of the groups, but with certain stipulations. Namely, he wanted House Greyjoy to be able to kill whoever they wanted by choosing certain targets. Naturally, there's no guarantee that we'll see this on the screen for the next season.
Similarly, HBO and the show's cast have kept very quiet about HOTD Season 2. They've not confirmed any possible plot points or even discussed how closely they'll stick to the original book series. However, Martin has played a bigger role in the spin-off series than in Game of Throne's final seasons. And we already know how that finale went down! Either way, the Dance of the Dragons will be spectacular.
Hi! I'm Arvyn, and I'm an English teacher from the UK. I've been teaching English online for over 4 years to students from all across the world and all ages. Outside of work, I'm a huge fan of reading, video games, and playing with my adorable kitties. See ya!
Leave a comment