Henry Cavill Headlining And Executive Producing Warhammer 40k Series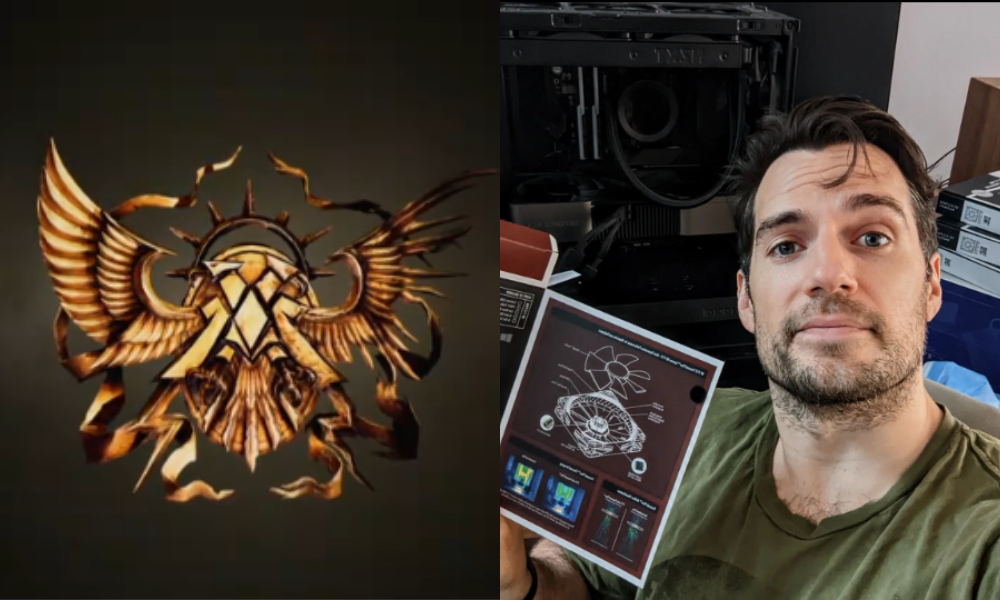 Amazon is about to produce a Warhammer 40k series with Henry Cavill attached to star and executive produce the said TV adaptation. 
News about Henry Cavill has been on fire the past few weeks, with him announcing his removal from James Gunn's Superman movie this week and his departure from Netflix's The Witcher back in October. But that did not stop Cavill from being a part of another nerdy franchise. There are no confirmed showrunners or writers who'll run the Warhammer 40k series. But Vertigo Entertainment was reportedly said to executive produce it along with Cavill. 
Warhammer 40k is currently the most famous miniature wargame. Games Workshop produced and released it in 1987. After months of negotiations and competition from rival companies, Amazon Prime will house the upcoming series. Amazon is also in its final talks with Games Workshop to acquire the rights to produce the Warhammer 40k series. 
What The Warhammer 40k Series Might Be About
Warhammer 40k series will be adapted from the game, which is set in 40,000 years into the future. The game's futuristic setting features a human civilization attacked by aliens and supernatural creatures. The game is further developed through different novels published by Black Library, the Games Workshop publishing division.
The game is dark and violent. It depicts a future where humans have ceased to progress and evolve. Their tagline, "In the grim darkness of the far future, there is only war." have created a subgenre called grimdark. This subgenre means a setting that is particularly dystopian, amoral, and violent. It inherits multiple tropes from Gamer Workshop's earlier game, Warhammer fantasy and, by extension, Dungeons and Dragons, which also has a film coming out this 2023. 
It is still unknown what the Warhammer 40k series story may be about, as the game itself can be played from different factions' perspectives with multiple players. The game also ends depending on the players' choices and missions. We know that it is set up in a dark science and fantasy fiction setting. Magic, demons, and elves are all present, along with high-tech machines and vehicles. It will be a very high-production series if all these elements appear in the adaptation.
Though mainly a tabletop game, numerous spin-off novels, and comics have also officially come out. They are mostly war dramas with heroes who are warriors of some sort from a certain race. These novels and comics could be an inspiration and guidelines for writing what Warhammer 40k series would be about. 
Henry Cavill's Love For Warhammer
No one can deny that Henry Cavill is a huge nerd. And with the news about the Warhammer 40k series coming out, we can say it is a dream project for him as the actor has shown his love for the game. 
In a recent Instagram post, Cavill has finally confirmed the series adaptation of the well-loved tabletop game. He recalls the years of waiting he endured to see Warhammer arrive on the small screen finally. The actor thanked Vertigo's Natalie Viscuso and Amazon for making this dream come true. The caption of his post ends with a promise to create a Warhammer Cinematic Universe that is loyal to its source material. Cavill also mentioned that their next steps would be to find the director, creator, and writer for the Warhammer 40k series.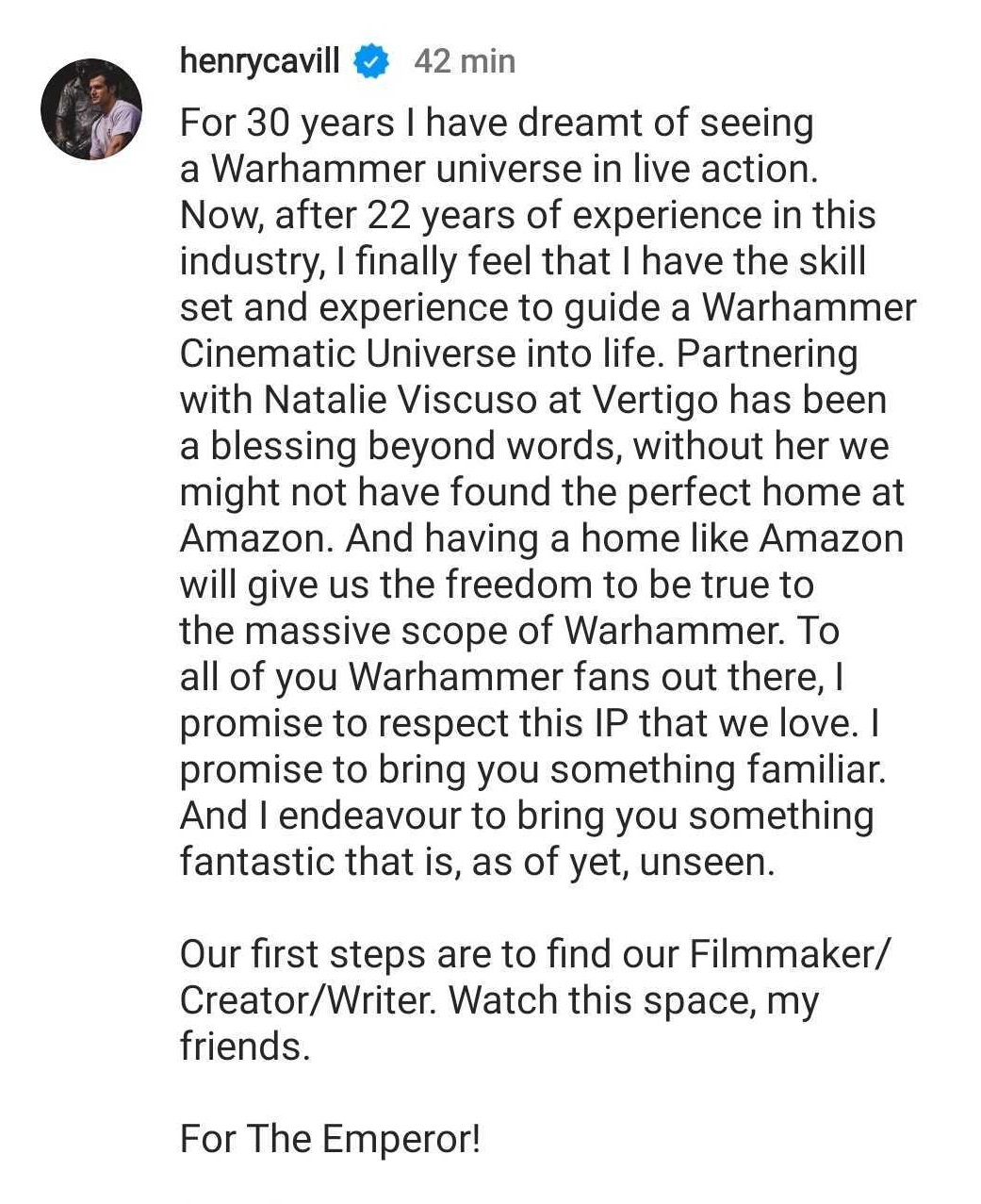 Image: Instagram | Henry Cavill
Throughout the years, Cavill has posted and shared on his Instagram Warhammer miniatures he has painted, often saying how this game is a lifetime hobby of his. In many interviews before, Cavill even discussed painting the miniatures and how the game works.
Back on February 18 this year, Cavill visited the Games Workshop HQ and went on a tour. The actor himself posted an Instagram video of the said tour. Some staff have even commented on how much of a big nerd Cavill was over Warhammer. Weirdly enough, Actor Rahul Kohli, who has also become a Warhammer fan recently, tweeted that he wants to make a Warhammer film with Cavill in response to the actor's removal from being Superman hours before the news about the Warhammer 40k series came out. 
The hype and excitement for Cavill acting in another nerdy franchise are high right now. With Cavill confirming his presence in the upcoming Warhammer 40k series, fans are eager to see the former Superman take on the world of Warhammer.
Paul is many things. He's a fan of anime, superheroes, and everything in between. He dedicates his downtime to annoying the heck out of his cats and dog.
Leave a comment