A Harley Quinn Kite Man Spinoff Series Is Coming to HBO Max
Are you aching for more DC Comics content after watching The Batman? Sure, there's an enormous collection of DCEU films to binge-watch. But while you're reliving the best of the best, you'll want to make sure that you don't miss the animated stuff. The underrated and overly fun Harley Quinn has been a fan favorite, and we're about to get a Kite Man spinoff series on HBO Max. Let's take a look at what we know so far!
A Kite Man Spinoff Series Is Coming From Harley Quinn On HBO Max
Harley Quinn took our favorite complicated villains to the small (and animated) screen in 2019. It followed our titular character (voiced by Kaley Cuoco) after she leaves her toxic ex-boyfriend, the Joker, and becomes gal pals and eventual lovers with Poison Ivy (Lake Bell.) Not only are we anticipating the third season of Harley Quinn, but we'll also get a Kite Man spinoff series on HBO Max.
Kite Man, voiced by Matt Oberg, isn't exactly the most intimidating villain out there. After all, he uses kite-based weapons for his modus operandi. The character, created by Bill Finger and Dick Sprang, made his first appearance in the DC Comics with Batman #133 in 1960.
He's a similar type of joke at the start of Harley Quinn, but it turns out that he has enough game to secure Poison Ivy for long enough to plan a wedding with her. Season 2 of Harley Quinn ends with Kite Man breaking up with Poison Ivy after realizing that she isn't in love with him. He leaves, leaving his future wide open and with enough potential for a fun spinoff series.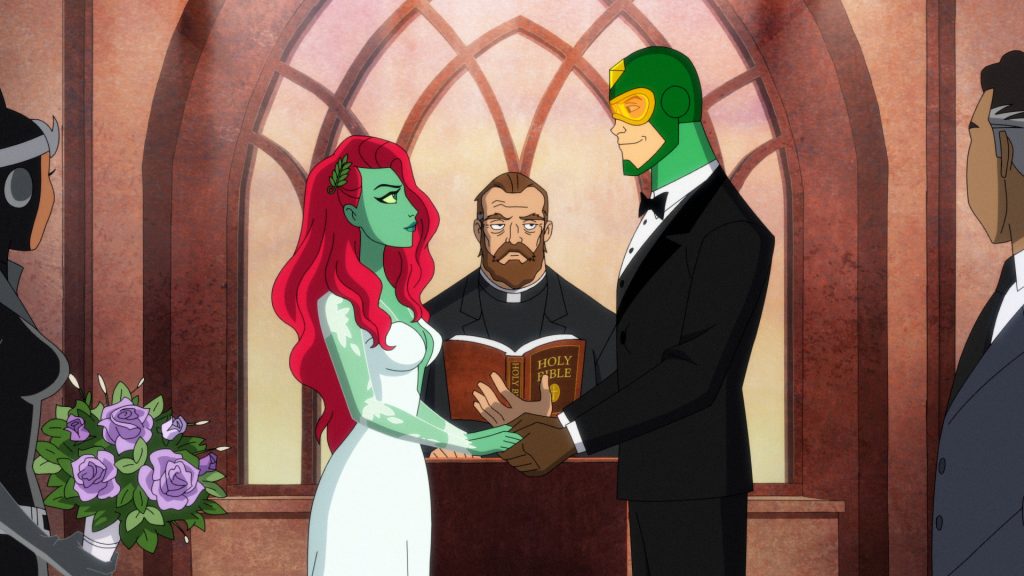 DC Universe/Warner Bros. Animation.
The HBO Max Series Details We Know So Far
The spinoff series, which will be titled Noonan's, was announced at SXSW earlier this week. It will come from Harley Quinn co-creator Patrick Schumacker. Noonan's premise will be a sort of "Cheers, but with Bat-villains." So, we'll see Kite Man manage a bar, Noonan's Bar, a Gotham City hotspot for supervillains.
We're definitely going to be getting to see some of our old favorites, including a Poison Ivy and Harley Quinn cameo in the first episode. But after that, the series expects a new group of villains to pop by the bar. Lex Luthor and Bane are both expected to make an appearance. Considering the revolving door of villains that can come through, and the recent on-screen popularity of more DC baddies from films like The Suicide Squad, this is one series that we're pretty excited to watch.
Season 3 of Harley Quinn is expected sometime in 2022. The Kite Man spinoff series for HBO Max currently does not have a release date, but it looks like they're speeding through the development stage.
Noonan's Is Currently In Development.
We don't have any dates to mark on our calendars for the Harley Quinn Kite Man spinoff for HBO Max just yet. Though, considering how much we love the former, you can rest assured that Comic Years will keep you updated as we learn more.
Readers, drop your expectations for Noonan's in the comments below. Are there any villains that you're aching to see across the bar from Kite Man? Are you hoping for something similar in tone to Harley Quinn? Whatever your hopes are, we want to hear them.
Featured image via DC Universe/Warner Bros. Animation.
Meghan Hale is the kind of movie lover that has a "must watch" that is a mile long... and growing. When she isn't talking about the latest film and television news she is writing one of her many in-process novels, screaming film trivia at anybody who will listen, and working as a mental health care professional. Follow her on Twitter @meghanrhale for some fun theories and live reactions to all things entertainment.
Leave a comment