Good Omens – The Perfect Example of a Good Adaptation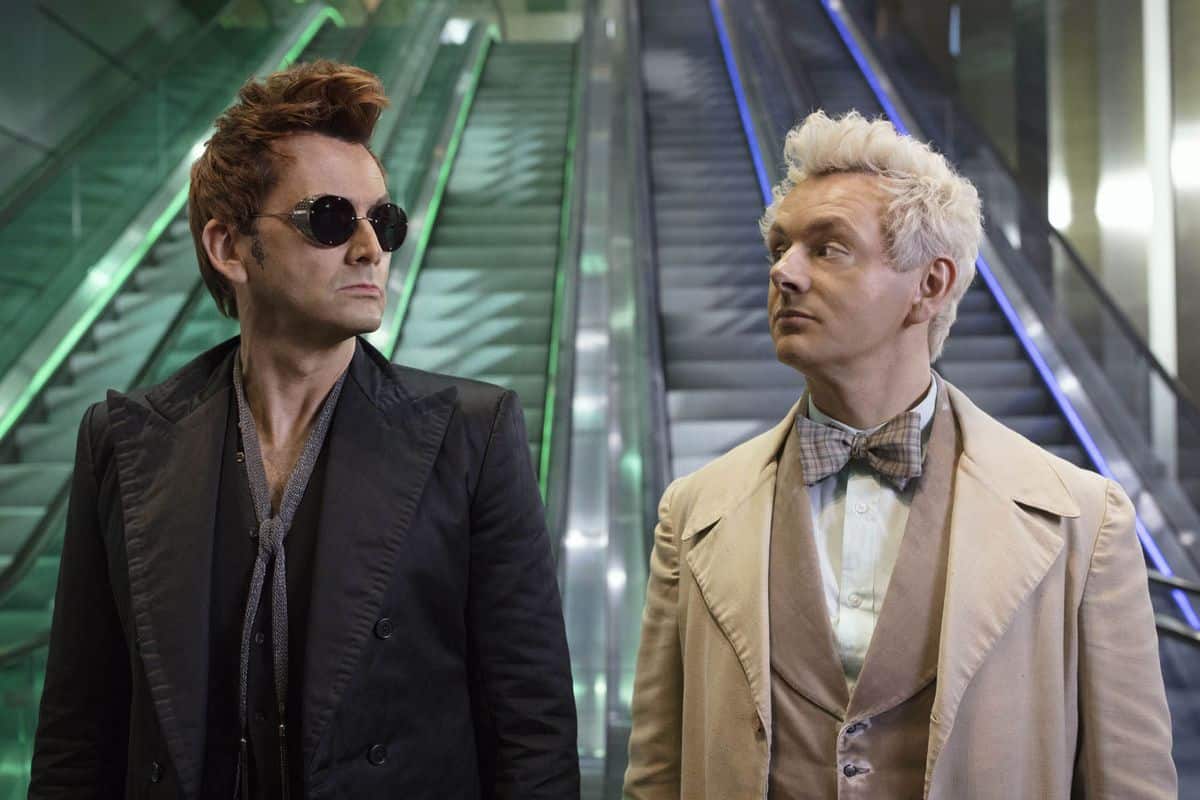 When you hear that your favorite book is being adapted into a film or television series, are you excited? Or do you dread it, thinking that no producer could do your series justice? Well, readers of Terry Pratchett and Neil Gaiman's Good Omens: The Nice and Accurate Prophecies of Agnes Nutter, Witch once thought this about the 1990 book. Even Jon Hamm, one of the stars of the Amazon Prime Video series, thought that it was "unfilmable" until now. Well, old readers were wrong. Good Omens has become a perfect example of a good adaptation. So, how did it manage to turn a once unfilmable book into the six-part series that, despite some controversy, has been widely adored by fans?
Creating Lovable Characters
There's something about David Tennant. Maybe it's his ability to work any accent. Or maybe he just looks great in a suit. From his work on Doctor Who and Jessica Jones, among others, he's been building up a strong fanbase, and rightfully so. Tennant co-stars in Good Omens with Michael Sheen. Tennant as the demon, Crowley, and Sheen as an angel, Aziraphale, works perfectly. Sheen's acting meshes well with the positivity and excitement that an angel living on earth has about life. And Tennant, the cooler-than-ice but hotter-than-fire demon changes any preconceived notion that we may have had about playing the "bad guy". Because, despite playing someone meant to wreak havoc on Earth, this demon isn't the bad guy.
Good Omens asks what would happen if an angel and a demon became best friends. Crowley and Aziraphale both work for their "side" (Heaven or Hell) on earth for the foreseeable future. And for them, that future is for as long as the Earth is around. They quickly realize that Earth is actually pretty great, despite all of the madness that goes on. And, because they're both working towards completely opposite goals, their work cancels the other's out. So, why bother working at all? They make the best of their immortality and find themselves running into each other every few decades, and, despite their differences, are the best of friends. This manages to translate well on screen, and no matter what they do, it's easy to love these two characters.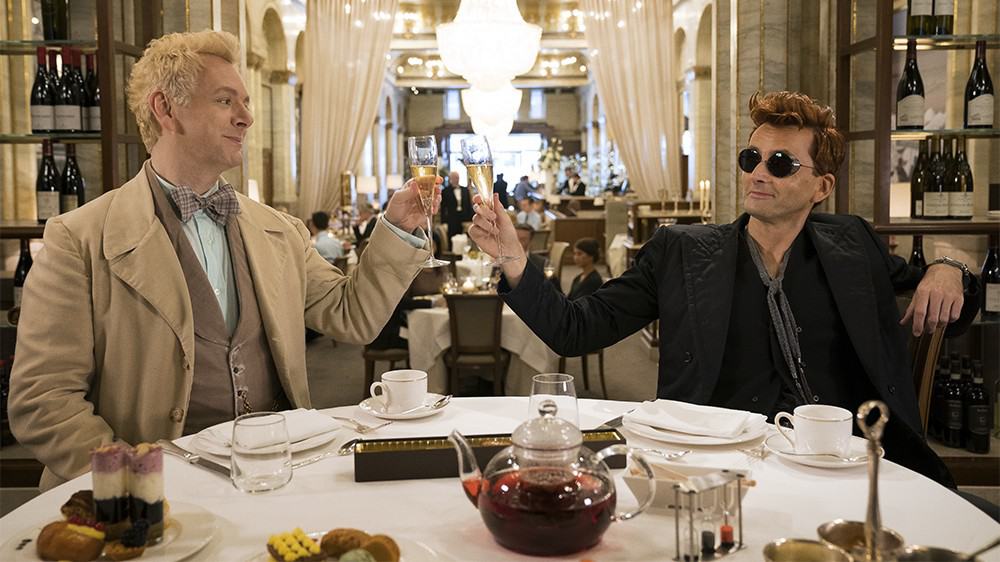 Lots To Work With
There is so much that goes on in the book that it must have been a challenge to figure out what to portray on screen, and what to leave on the cutting room floor. Crowley and Aziraphale become responsible for the growth of the Antichrist. They spent years watching over a boy, only to realize that the true Antichrist is somewhere else due to a hospital mix up. And Adam, the real one, has been on his own ever since. So, not only does the miniseries deal with the hilarity of losing the Antichrist, but Adam grows into who he is meant to become in the meantime. Crowley and Aziraphale still try to work to find a way to be a team without getting "fired", despite every other priority seeming more apocalyptic.
While Crowley and Aziraphale work to fix mistakes, everybody else slowly prepares for the Apocalpyse, set to hit Earth at an exact time. Anathema Device, played by the charming Adria Arjona, is trying to work off of long-foretold prophecies to stop the Apocalpyse. Newton Pulsifer, portrayed by Jack Whitehall, finds himself fired from his day job and undertaking a literal witch-hunt. Jon Hamm plays the Archangel Gabriel, who leads the forces of Heaven and thinks that the Apocalypse is inevitable. His Hell equivalent, Hastur, is trying to prove that Crowley isn't as evil as he should be. The format of a mini-series is perfect for this blend of characters. Each is given the screen time that typical film formats don't have the time for.
Cutting And Adding The Right Things
Episode three starts with an in-depth backstory of Crowley and Aziraphale's friendship. In fact, the title sequence doesn't show up for over 30 minutes. The showrunners must have known how important the chemistry between the two was going to be for audiences, as the book does not give this backstory. Another addition was the significance of Jon Hamm's Angel Gabriel. Angels are a rare appearance in the book, but serves as a reminder that Aziraphale's actions don't align with the views from "upstairs". The showrunners also took artistic liberty in their physical portrayals of Heaven and Hell, another thing that isn't as fleshed out in the books. Finally, Gaimen wrote a new twist for the ending of the series, which is too good to give away here. Seriously, go watch it.
In addition to the new things added for the purpose of the series, some things are left out. A notable change was the omission of The Other Horsemen. The show keeps the main four Horsemen – War, Death, Famine, and Pollution. It ditches the Hell's Angels that join them for the ride. This doesn't take anything away from the story. Instead, it lets us focus on the ones that remain. Other things that are not a part of the series are minor expansions upon scenes or things changed for artistic purposes. Since we know that some things translate better on screen than others, no changes have us saying, "They left the good parts out!"
They Waited For The Perfect Time
A Good Omens adaptation could have been a film in the early 2000s. Director Terry Gilliam even had a script to work with. But, as we now know, nothing significant came from it. When Pratchett passed away, Gaiman took to writing another script for what became this six-part miniseries, as requested by Pratchett. The popularity of streaming services and their willingness to experiment on projects is exactly what Good Omens needed to be a perfect adaptation. A two-hour film just couldn't have explored everything that the Apolocalpyse needed.
I put off watching Good Omens for longer than I cared to admit. I'd seen gif-sets on Tumblr, focusing on Crowley and Aziraphale. Trailers play before I binged other Prime Video shows. Trust me when I say that nothing can prepare you for this Good Omens adaptation. It's exciting, adventurous, and portrays one of the best friendships in recent television history. If you haven't started it already, just go for it. And for those who have watched it – did you love it? And, if you had read the book, did it live up to expectations? Let us know!
Featured image via Amazon.
Meghan Hale is the kind of movie lover that has a "must watch" that is a mile long... and growing. When she isn't talking about the latest film and television news she is writing one of her many in-process novels, screaming film trivia at anybody who will listen, and working as a mental health care professional. Follow her on Twitter @meghanrhale for some fun theories and live reactions to all things entertainment.
Leave a comment