Good Omens Is Coming Back For Season 2 On Amazon Prime, Will Draw From Unwritten Sequel By Gaiman and Pratchett
It looks like everyone's favorite angel/demon team is returning to the small screen in season 2 of Good Omens. Author Neil Gaiman announced today that the hit show on Amazon Prime would return for season 2. But what story will it tell? Fans of the original book by Gaiman and the late great Terry  Pratchett know that the novel is a standalone. But apparently the authors had plans for a sequel that was never written due to the success of their respective series like Sandman (Gaiman) and Discworld (Pratchett). So now that sequel story will finally come to life on the small screen, in season 2 of Good Omens.
Pratchett and Gaiman Always Had Plans For A Sequel That Was Never Written
Authors Terry Pratchett and Neil Gaiman | Image via Gaiman's Website
According to his blog post, Neil Gaiman says that he and Terry Pratchett first came up with the idea for a Good Omens sequel while sharing a hotel room at World Fantasy Con in Seattle (circa 1989). This was before the release of the book in 1990, and also just before both authors became mainstream successes. Despite their shared love of the story and characters, the sequel never came to pass. However, Gaiman says that it was Pratchett's dream that the sequel story be told someday if Good Omens was ever adapted for the screen.
"It's been thirty-one years since Good Omens was published, which means it's thirty-two years since Terry Pratchett and I lay in our respective beds in a Seattle hotel room at a World Fantasy Convention, and plotted the sequel. (I got to use bits of the sequel in the TV series version of Good Omens. That's where our angels came from.) Terry was clear on what he wanted from Good Omens on the telly. He wanted the story told. And if that worked, he wanted the rest of the story told."
Returning To Good Omens On Amazon Prime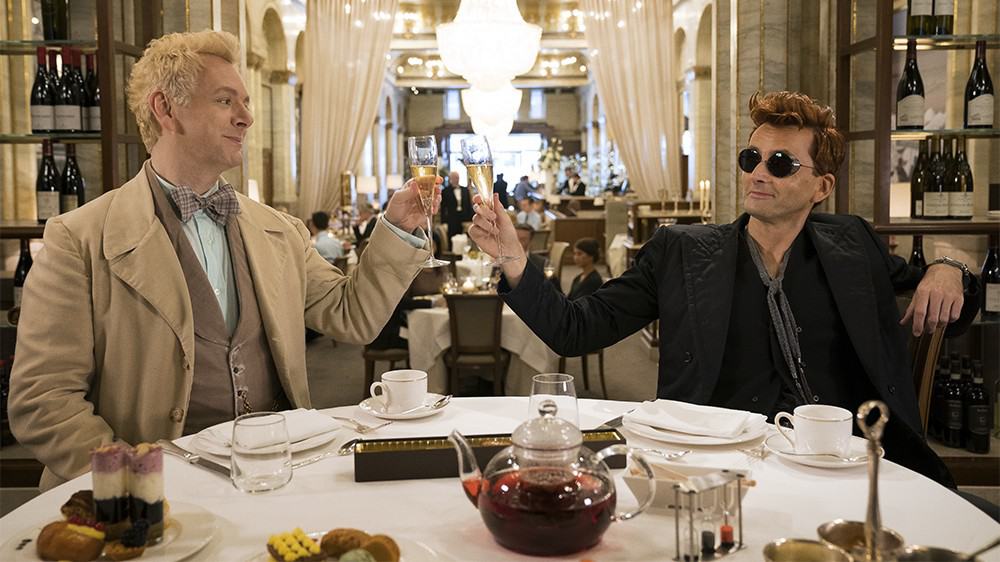 Image via Amazon.
Good Omens was a huge hit for Amazon Prime in 2019. It tells the story of an angel and a demon who strike up an odd friendship over the course of millennia. Together they work to prevent the end of the world and the rise of the Antichrist. Because it turns out they are both pretty fond of Earth, and humans in general. The series stars everyone's favorite immortal being – David Tennant – and Michael Sheen. The chemistry between  the two actors is part of what made the show so successful, and fortunately they will both be returning to reprise their roles as the demon Crowley and the angel Aziraphale.
Sheen addressed the news in a predictably cheeky way, by saying, "Personally I'm against it.  But the world isn't going to just save itself, is it? If David and I can manage to not fall out too badly this time it may even have a chance of getting finished."
Tennant adds, "The return of Good Omens is great news for me, personally. As I get to work with Michael again, and I get to say Neil's wonderful words once more. It's probably less good for the universe as it almost certainly means there will be some fresh existential threat to its existence to deal with, but, you know – swings and roundabouts."
Good Omens now-first season is streaming on Prime Video. 
Season 2 of Good Omens is set to begin filming in Scotland later this year. No release date has been set by Amazon Prime as of yet. But you know we'll be keeping an eye on this sequel series as it develops. To stay up to date on all the latest news, be sure to follow Comic Years on Facebook and Twitter today.
Emily O'Donnell is a writer and photographer with roots in some of the earliest online fandoms. She cut her genre teeth on the Wizard of Oz books at the tender age of 6 years old, and was reading epic adult fantasy novels by the age of 10. Decades later, she still consumes genre fiction like there is no tomorrow. She is delighted to be living through the golden age of sci-fi and fantasy popularity. She is unashamed of the amount of fanfiction that still lingers online under her name.
Adaptation News
Adaptations
Amazon Prime
david tennant
Good Omens
Michael Sheen
Neil Gaiman
Season 2
Sequel
Terry Pratchett
Leave a comment