All The Genre Adaptations Coming To TV In Summer 2021
As we gear up for summer of 2021, there are a lot of notable genre adaptations on the way. Some of these shows were delayed due to the pandemic, while others are arriving right on time. And of course there are a few that we expect to be coming before the end of the year, but don't have official release dates for. Let's take a look at all of the upcoming genre adaptations for TV that are coming in the summer of 2021.
Upcoming Genre TV Adaptations For Summer 2021
There are a ton of new genre shows in the works that are due to air before the end of the year. For this list we are looking  primarily at new shows that draw from books, graphic novels, and even a famous Broadway musical. All of these upcoming genre TV adaptations are due to air in the summer of 2021. We also have some special mentions for shows we anticipate seeing this year, but don't yet have a release date. Stay tuned to Comic Years for continuing updates on these adaptations.
Sweet Tooth
Image via Netflix.
This show is based on a graphic novel series by Jeff Lemire that takes place in a post-apocalyptic world where a mysterious virus is ravaging humanity (this is a little too timely). The sudden births of animal/human hybrids cause fear and confusion across the world. The series follows a young boy named Gus, who was born with the features of a deer. He is raised alone in the forest by his father, but is forced to grow up quickly when the rest of the world becomes all too real. 
Sweet Tooth
stars Will Forte, Dania Ramirez, Aliza Vellani, and is narrated by James Brolin.
Airing on Netflix
Release Date: June 4, 2021
Lisey's Story
Image via Simon & Schuster
No year of our lives would be complete without the on-screen adaptation of a Stephen King novel. This summer we will get an adaptation of Lisey's Story. The miniseries will star Julianne Moore and Clive Owen – teaming up together again 15 years after appearing together in Children of Men. The series follows the widow of a famous novelist who is dealing with grief, repressed memories, and suppressed supernatural abilities. Joan Allen, Dane DeHaan, Sung Kang, and Jennifer Jason Leigh will also appear in the series.
Airing on Apple TV+
Release Date: June 4
Loki
Image via Marvel Studios
Everyone's favorite trickster god returns to the screen in 
Loki
. Actor Tom Hiddleston reprises his role from the Marvel Cinematic Universe. This time he is joined by Owen Wilson, Richard E. Grant, Gugu Mbatha-Raw, and Wunmi Mosaku. The series is based on the Marvel comics about the god of mischief, drawing from various issues of 
Thor
, 
The Fantastic Four
, and 
Vote Loki
which sees the character trying to run for president of the United States. But the larger framing of the show involves the TVA (Time Variance Agency) trying to correct the timelines that Loki has messed with.
Airing on Disney+
Release Date: June 9
The Mysterious Benedict Society
Image via Hachette Books
This new Disney+ series is based on a series of YA fantasy novels by Trenton Lee Stewart. It follows a group of children with unique skills as they are summoned by a mysterious man who wants their help to stop a global catastrophe. This isn't quite a magic school ala Harry Potter, but it does involve a mysterious Institute and secret missions that only the kids can complete. The kids starring in this series are all newcomers, but Tony Hale is onboard as the mysterious Mr. Benedict along with Kristen Schaal, Ryan Hurst, and MaameYaa Boafo.
Airing on Disney+
Release Date: June 25
Schimagadoon!
Image via AppleTV+
A surprising addition to this list is the recently announced musical comedy series Schimagadoon! This series starring Keegan Michael-Key and Cecily Strong is apparently based on the the musical Brigadoon. It follows a couple on a hiking trip who stumble across a magical town stuck in the 1940's. They cannot leave until they find true love, an awkward situation for two people already in a relationship. The ensemble cast of this series is rife with veteran comedic and musical actors including Alan Cumming, Fred Armisen, Kristen Chenoweth, and Jane Krakowski.
Airing on AppleTV+
Release Date: July 16
Genre Adaptations Due To Air In 2021 (But We Don't Know When)
The production shutdown caused by the pandemic shifted a lot of release dates for upcoming shows and movies. Many production schedules were cut short or suspended for quite some time. But as shows resume filming, there are a number of notable titles that we anticipate seeing this year. But we don't quite know yet when they will air. Let's take a look at some of the upcoming genre adaptations that we hope to see before the end of 2021.
Foundation
Art by Michael Whelan | Image via Skydance
This adaptation of Isaac Asimov's legendary sci-fi series has been in the works for quite some time. Starring Lee Pace and Jared Harris,
Foundation
chronicles a saga that spans a thousand years. It will initially follow mathematician Hari Seldon (Harris) who foresees the fall of the galactic Empire, and devises a way to correct it (sort of). The ambitious series is full of philosophical and moral questions for humanity. According to reports, 
Foundation
is still scheduled to premiere in 2021 on AppleTV+. However, we don't have an official release date yet so keep an eye on Comic Years for updates.
Wheel of Time
Image via Tor
The long-awaited adaptation of the epic fantasy series by Robert Jordan is still scheduled to hit Amazon Prime in 2021. In fact, it was at the top of my list for upcoming shows in 2021 from our
podcast episode
on the subject. The series follows a magic user called an Aes Sedai who travels to the small village of Emond's Field in search of a prophesied Chosen One who is The Dragon Reborn (also the title of the third book in the series). The Dragon Reborn is fated to fight against The Dark One who is breaking free of his magical prison. The actors playing the key roles in
Wheel of Time
are a set of relative newcomers. They join actress
Rosamund Pike as the Aes Sedia Moiraine
, with other genre veterans like
Michael McElhatton
and
Maria Doyle Kennedy
appearing.
Production on the series recently resumed in Prague
, and hopefully this anticipated series will still see life on-screen before the end of the year.
Ms. Marvel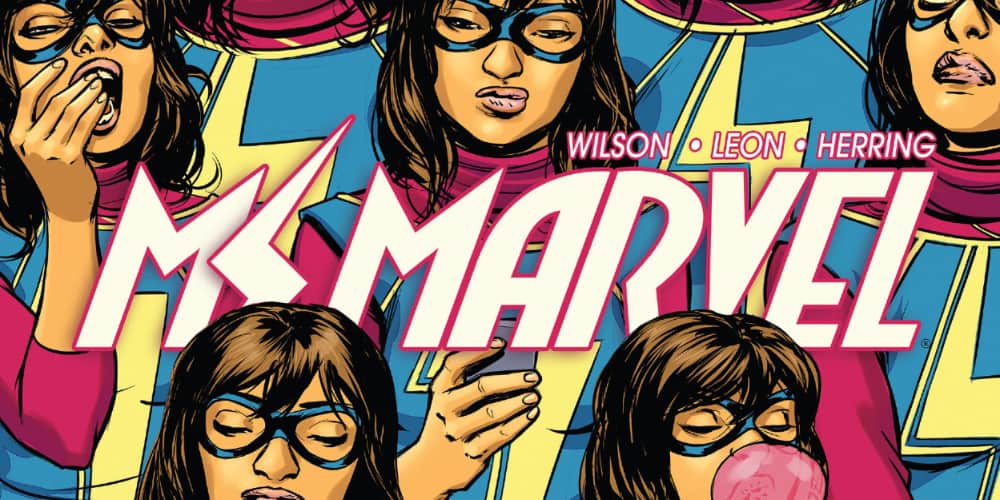 Another MCU show slated to air in 2021 on Disney+ is
Ms. Marvel
– based on the comics of the same name. The show will star
Iman Vellani
in the titular role as Kamala Khan. Filming began in late 2020, with a release date scheduled for this year. Marvel Studios says that this series will likely air in late 2021, and it will set up a future MCU film –
The Marvels
– which will see Vellani reprising her role as Khan. Aimed at a younger audience, the series will follow teenager Kamala Khan as she discovers her abilities to polymorph. The series is groundbreaking for its depiction of a young Muslim woman taking on the superhero mantle.
Station Eleven
Image via Vintage Books
This upcoming miniseries is based on the bestselling book by Emily St. John Mandel. It follows a troupe of actors around the country after a devastating pandemic that has wiped out the majority of the world's population. (This is another one that might be a bit too timely.) The author of the book notably doesn't believe her work is genre fiction, but we are including it here anyway. Appearing in
Station Eleven
is Mackenzie Davis, Himesh Patel, Lori Petty, and Daniel Zovatto. Gael Garcia Bernal and David Cross will also appear in a recurring roles. The series began filming in late 2020 and continued into 2021. No word yet on when we can expect to see 
Station Eleven
premiere on HBO Max, but reports indicate that it should be coming before the end of the year.
Y: The Last Man
Image via Vertigo
Another long-awaited adaptation of a beloved comic book series by Brian K. Vaughan and Pia Guerra. This post-apocalyptic sci-fi series is set in a world where everyone with a Y chromosome has died. Only one man remains to navigate this new world, with his pet monkey by his side. Ben Schnetzer will portray Yorick Brown – the last man. He is joined by Diane Lane, Olivia Thirlby, Amber Tamblyn, and Marin Ireland in the ensemble cast. Production on
Y: The Last Man
has been ongoing since 2018, and is scheduled to wrap this summer. Hulu also aired a teaser for their upcoming shows a few months ago, that featured a snippet of footage from 
Y: The Last Man
proving that the series is still forthcoming. Chances are good that we won't see this one until late 2021, but we will certainly be keeping an eye out for news.
What genre adaptations are you looking forward to seeing on TV before the end of 2021? Join the conversation with Comic Years on
Facebook
and
Twitter
today to share your thoughts.
(Featured Image by Eugenio Mazzone via Unsplash)
Emily O'Donnell is a writer and photographer with roots in some of the earliest online fandoms. She cut her genre teeth on the Wizard of Oz books at the tender age of 6 years old, and was reading epic adult fantasy novels by the age of 10. Decades later, she still consumes genre fiction like there is no tomorrow. She is delighted to be living through the golden age of sci-fi and fantasy popularity. She is unashamed of the amount of fanfiction that still lingers online under her name.
Leave a comment