First Moon Knight Trailer Highlights Marvel Madness And Gives Us A Release Date
Moon Knight is a classic Marvel Comics character who's been around for decades. Despite his cool name, sick costume, and ten volumes of comics, he's not quite A-list. Yet. This could all change with the first Moon Knight trailer which not only gave us a better look at the Disney+ series but also its release date. Oscar Isaac plays the role of "Stevie" (our guess, Steven Grant), but also Marc Spector. (And probably, eventually Jake Lockley.) The first Moon Knight trailer also revealed the name of Ethan Hawke's villain, Dr. Arthur Harrow. A minor villain, Harrow was a prize-winning scientist who ended up discredited for using unethical methods. It's likely his backstory will change, especially since we see people bowing to him.
So, let's break down the first Moon Knight trailer and the release date for the newest Marvel Studios on Disney+.
First Moon Knight Trailer Gives Us Much More Than The Teaser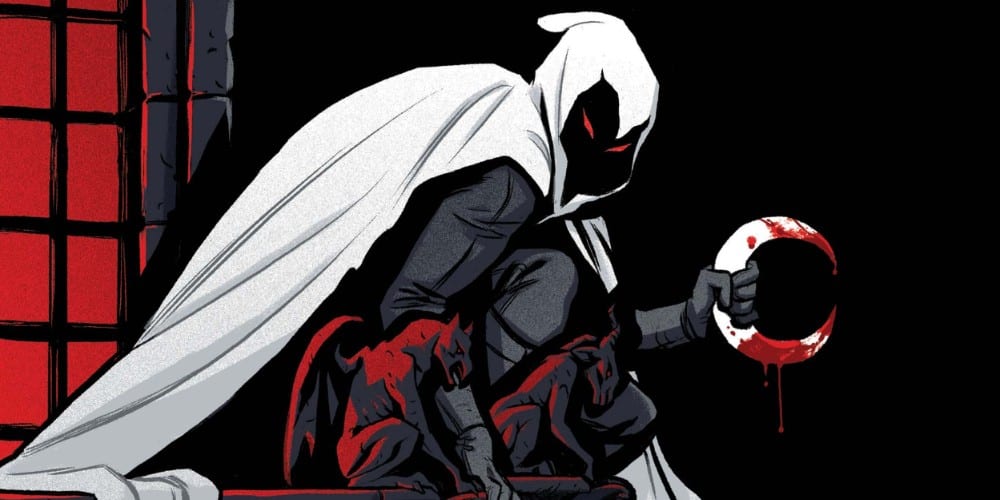 Image: Marvel Comics
We got our first glimpse of Moon Knight from the Marvel Disney+ Day revelations. Yet, rather than a proper look at this series, it was more a montage of upcoming Marvel Studios joints. In the first actual trailer for the Moon Knight series, we get better looks at all involved. (Well, save for Gaspard Ulliel's Anton Mogart A.K.A Midnight Man.) We also get to see the Moon Knight costume in all of its glory. The source of Spector's powers (allegedly) comes from the Egyptian God of Vengeance Konshu, so the "mummy" vibe of how he suits up fits the aesthetic.
The trailer also reveals that, like his comics counterpart, this Marc Spector also suffers from dissociative personality disorder.  The character we meet is a British (by way of Dick Van Dyke in Mary Poppins) man called "Stevie." However, at one point in the trailer, he finds a phone and key hidden in a wall. He answers, and someone on the other end (presumably May Calamawy's still unidentified character) relieved that 'Marc' is 'still alive.' What's unclear is if (at first) we're just going to be attached to Stevie or if we'll actually get to see Isaac when he's Marc or Jake.
Lastly in this first official trailer, we get to see Moon Knight beating on someone who looks very inhuman. In fact, judging by the animalistic quality of the legs, I think it is a safe bet it might be the Werewolf by Night or another Marvel horror villain. Moon Knight first appeared in the comics as an antagonist in Werewolf by Night, so it makes sense he brings the character into live-action with him.
The Disney+ Release Date Is Pretty Darn Close
We just saw the finale of Hawkeye and reveled in Spider-Man: No Way Home. Most of us thought we'd have to wait until May and Doctor Strange In the Multiverse of Madness to dip our toes in the MCU again. However, for Moon Knight we only have to wait until spring for its release date, like really vengeful flower buds. Nonetheless, I always loved this character in the comics, and I am very excited to see him brought to life for the first time.
After this first look at Moon Knight, even though March 30 is right around the corner, it feels like a long time to wait for the release date.
Watch the first official Moon Knight trailer above and then get ready to watch it on its release date of March 30, 2022 on Disney+.
What do you think? Are you excited for this adaptation? Are you familiar with the Moon Knight character? Do you also think that the British accent Oscar Isaac is using is off? (Also, is that maybe intentional since he's not actually British?) We've got a little over two months to speculate wildly, so tell us in the comments below.
Featured image via Marvel Studios
This post was originally published January 18, 2022, it has been updated to include the Moon Knight Super Bowl trailer. 
Joshua M. Patton is a father, veteran, and writer living in Pittsburgh, PA. The first books he read on his own were comics, and he's loved the medium ever since. He is the greatest star-pilot in the galaxy, a cunning warrior, and a good friend. His book of superhero short stories, Tales of Adventure & Fantasy: Book One is available as an ebook or paperback from Amazon.
Leave a comment