Doctor Strange In WandaVision Finale? It Almost Happened!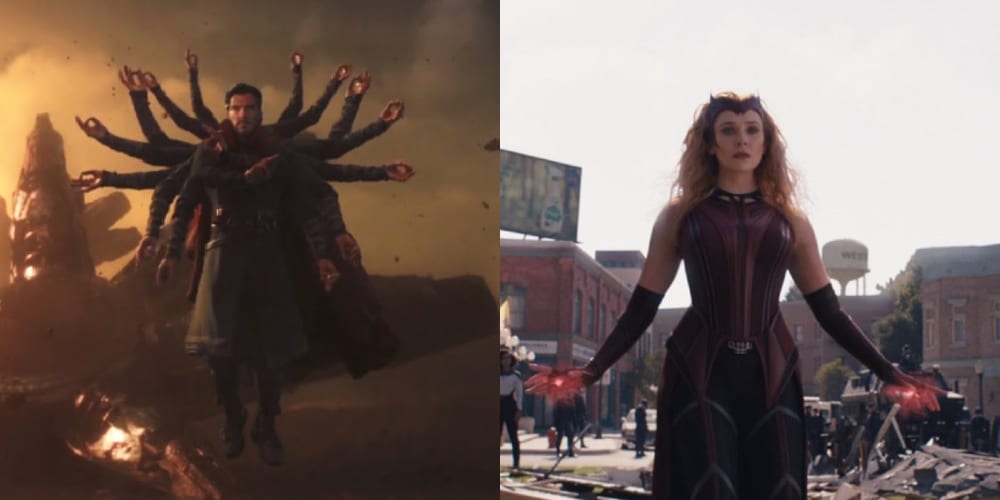 When marvel fans watched WandaVision, they had checkmarks for what they thought was supposed to happen. For instance, Mephisto making an appearance. Or that Scarlet Witch would open the Multiverse. Or Quicksilver was supposed to be from the X-Men universe, and making him a random dude named Boehner was cruel. But most of all, Doctor Strange was definitely going to bridge WandaVision to Doctor Strange and the Multiverse of Madness. But he never did – and those fans (by which I mean we here at Comic Years) were left scratching their heads a little. However, Doctor Strange almost appeared in the WandaVision finale, so why didn't he?
Benedict Cumberbatch Was Ready to Appear as Doctor Strange in the WandaVision Finale
Orange Vs. Red: Who wins? (Images: Avengers: Infinity War and WandaVision Ep 9, Marvel Studios)
Kevin Feige and the creative team were so certain that Doctor Strange would appear in the WandaVision finale that Marvel Studios and Benedict Cumberbatch signed a deal. In fact, they cut Strange's appearance late in the production. So what happened? "Some people might say, 'Oh, it would've been so cool to see Dr. Strange,'" Feige said in an interview with Rolling Stone. "But it would have taken away from Wanda, which is what we didn't want to do. We didn't want the end of the show to be commoditized to go to the next movie — here's the white guy, 'Let me show you how power works.'"
In fact, writing Doctor Strange out of the WandaVision finale had other ramifications. They also had to rewrite Doctor Strange and the Multiverse of Madness. While this is an interesting development, it also shows just how much Marvel Studios connects their stories. If one product changes, another inevitably changes too. As Feige describes, Marvel's process is "a wonderful combination of very dedicated coordination, and chaos. Chaos magic."
How Doctor Strange Could Have Appeared in the WandaVision Finale – or In the Series
When you got to get to a bathroom, but Steve won't stop giving speeches. (Images: Doctor Strange and WandaVision Ep 3, Marvel Studios)
Since they had a deal with Cumberbatch, they would have obviously wanted to use him in some capacity. So, at one point, Doctor Strange was going to appear in the WandaVision commercials, revealing that he was behind the ads, trying to help Wanda. Yet that still made him a bit too much of a "man rescues woman" character, so that never came about either. In the end, Marvel Studios creatives felt that any appearance of Doctor Strange in the series or the WandaVision finale would distract from Wanda's development. There was just no possible way to have Strange appear in a way that didn't undermine Wanda.
How Strange Could Have Appeared Without Undermining Wanda
One gets to wear skintight leather. The other gets a burlap sack. Equality! (Images: Doctor Strange and WandaVision Ep 9, Marvel Studios)
Not having Doctor Strange appear in the WandaVision finale ended up being more distracting than if he had appeared in a small way. It's also a little misogynistic to suggest that a male character appearing at all suddenly usurps the female character's story. When he appeared in Thor Ragnarok, he didn't hijack the story by helping Thor and Loki find Odin. And they aren't worried that when Benedict Cumberbatch appears as Doctor Strange in Spider-Man: No Way Home, it will lessen Peter Parker's story. So why would his mere appearance distract from all the Wanda development we got? And even more so, Strange could have appeared in a way that further empowered Wanda.
When Doctor Strange meets Tilda Swinton's Ancient One in Doctor Strange and sees this woman manipulate the physical world through magic, he doesn't say "how" or questions her in any way. He kneels and says, "teach me." Also, at the end of WandaVision, Agatha Harkness tells Wanda that she's "more powerful than the Sorcerer Supreme." Wanda manifested an entirely new kind of magic – Chaos Magic. So, how could they make Doctor Strange appear in the WandaVision finale in a way that further empowered Wanda? It should have been an obvious throwback moment. in the end credit scene, go to Wanda and say, "teach me."
But we'll have to wait for Doctor Strange and the Multiverse of Madness to see the two sorcerers team up. Or fight. Probably both.
(Featured Image: Doctor Strange and WandaVision Ep 9, Marvel Studios)
Roman Colombo finished his MFA in 2010 and now teaches writing and graphic novel literature at various Philadelphia colleges. His first novel, Trading Saints for Sinners, was published in 2014. He's currently working on his next novel and hoping to find an agent soon.
Leave a comment