Disney+ Day: Baymax Is Back In New Series!
On a scale of 1-10, how excited am I for the Disney+ Day Baymax series announcement? An 11!!! Big Hero 6 came out in 2014 and tells the story of Hiro Hamada, a young robotics prodigy, and Baymax, a healthcare provider robot that was created by his late brother Tadashi. They end up creating a superhero team to take down the masked villain responsible for Tadashi's death. The film was a hit and Baymax quickly became a fan favorite thanks to his often humorous attempts at affection and friendship with Hiro. Disney created a 2D animated series called Big Hero 6: The Series, which aired on the Disney Channel for three seasons.
What Did We Learn From The Disney+ Day Baymax! Announcement?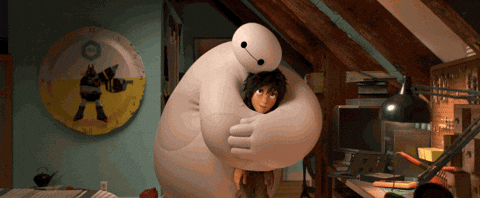 There, there. You will be alright.
We got a trailer for the new Baymax! series, which shows the healthcare robot going around San Fransokyo doing what he does best: helping out those in need with oftentimes hilarious results. While the beginning of the trailer showed Baymax and Hiro flying around, it's unclear whether Hiro will make an appearance in the series. At the end of Big Hero 6, Hiro and Baymax team up with their friends Go Go Tamago, Wasabi, Honey Lemon, and Fred to become the high-tech group of crime fighters known as Big Hero 6. Will the Baymax! series have the team back together again or will it just be Baymax trying to navigate the (often) complicated nuances of being human? We'll just have to wait and see!
Baymax! was first announced last year as part of a new group of spin-off series based on popular Disney movies that also included Zootopia, Moana, and The Princess and the Frog. It will be the first  Walt Disney Animation Studios' television series release. The series will be developed by Academy Award winner Don Hall, who directed the Big Hero 6 movie and also helmed 2021's Raya and the Last Dragon. Stay tuned to Comic Years to get updates on potential episode plots, voice talent, writers, and showrunners.
Watch the Disney+ Day Baymax series trailer below:
The Disney+ Baymax series will premiere next summer.
What do you think of the Disney+ Day Baymax trailer? Let us know in the comments below!
Featured image via Disney/Pixar
Keilin Huang is a freelance writer that likes the Oxford comma, reading from her neverending pile of books from the library, and Reeses peanut butter cups. She thanks her Dad for introducing her to his Superman comics and probably majored in Journalism because of Lois Lane. Contact her at [email protected]
Leave a comment