The Dickinson Series Finale And The Love That Hailee Steinfeld Has For It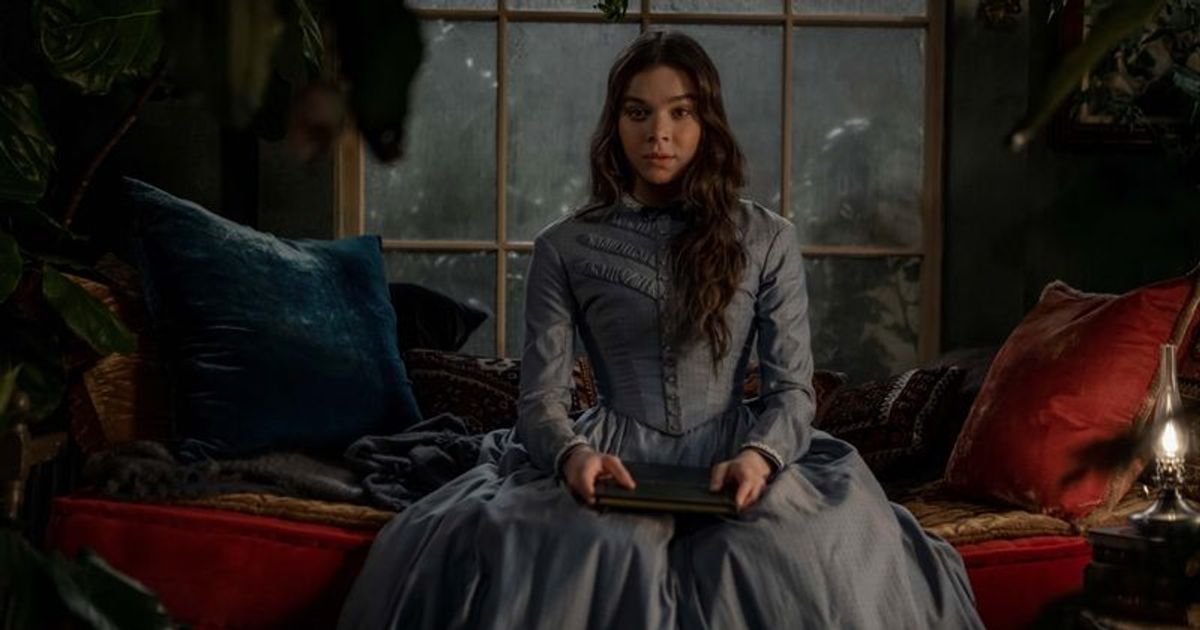 Hailee Steinfeld is everywhere right now. And I mean everywhere. Hawkeye, Arcane, the upcoming Spider-Man: Across the Spiderverse (Part One.) Her most quiet on-screen performance has been her stint as Emily Dickinson over the past two years. As it comes to a close, Hailee Steinfeld has plenty of comments on the Dickinson series finale.
The following article has spoilers for the series finale of Dickinson.
What Hailee Steinfeld Has To Say About The Dickinson Series Finale
Before there was Bridgerton, there was Dickinson to show a striking look at a period piece. The series throws viewers into Amherst, Massachusetts, in the mid-1800s. Benefitting from the secrecy of Dickinson's life, the series uses the famous poet's written word to piece together her tales of love and loss.
The first season introduces us to Emily's eccentricity. The second shows her journey to publication. Finally, the third and final season offers her family's experience with the Civil War.
Dickinson only shows us a small portion of Emily Dickinson's life, and fortunately, its ending is not as tragic as some of the earlier moments in the show. We see her coming of age journey and know that she has much more to experience. The actress behind the poet, Hailee Steinfeld, recently spoke with Collider about the series finale and how it all connects to the greater show and poet's life.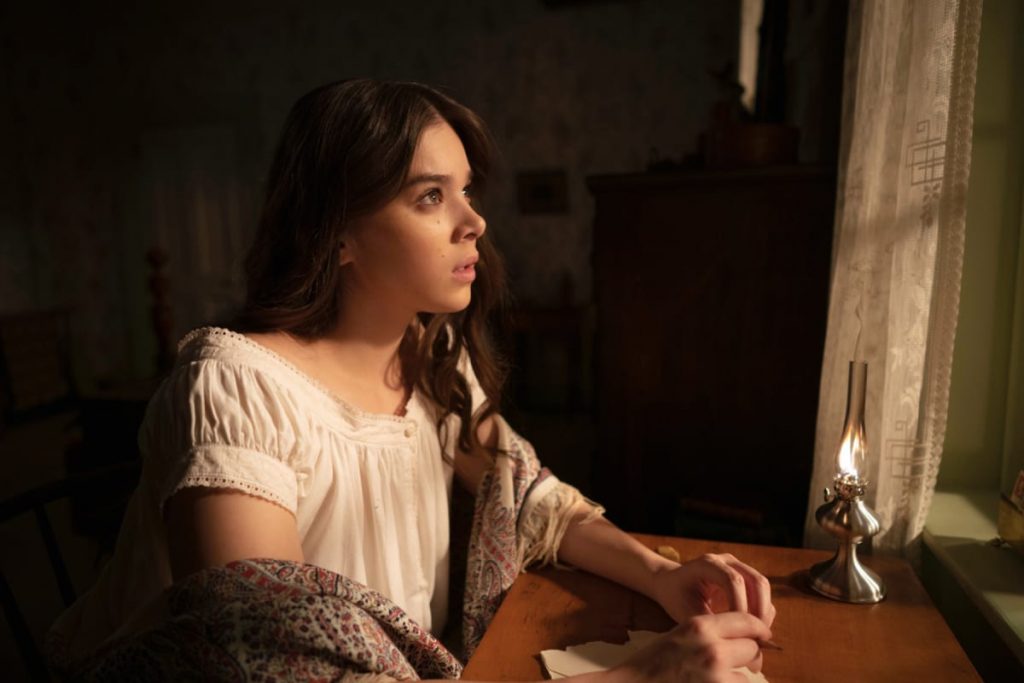 Image via Apple TV+.
On The Direction Of The Three Seasons
Before moving on to the Dickinson series finale, Steinfeld and Collider take the time to speak about how it all came to be. It is easy for films to become synonymous with their directors. Each shot is their design, and all performances are under their watch. But these things are not quite as easy when building a television show that features multiple directors, which is commonplace with the various streaming shows. This is also true of Dickinson, which has seen 12 directors through its three-season run.
Despite the potential for a cacophony of tone, Dickinson remains coherent and connected through each of its directors right until the end. Steinfeld attributes this to an early conversation between her and series creator Alena Smith. "We're going to have directors come and go, but you and I are here to stay," Steinfeld recalls Smith sharing with her before the first season. What finally brings this connection full-circle is Smith's debut direction of the season finale.
The successful collaboration between Steinfeld and Smith is evidently attributed to both of their desire to give the real Emily Dickinson the respect that she deserves. There are times when we watch shows and movies based on real-life and have an innate feeling that the inspiration would watch with disgust or feel betrayed by the adaptation. But despite how Dickinson is comfortable shifting source material or expanding on stories that probably never happened, there's a sense that Emily would have watched with pride.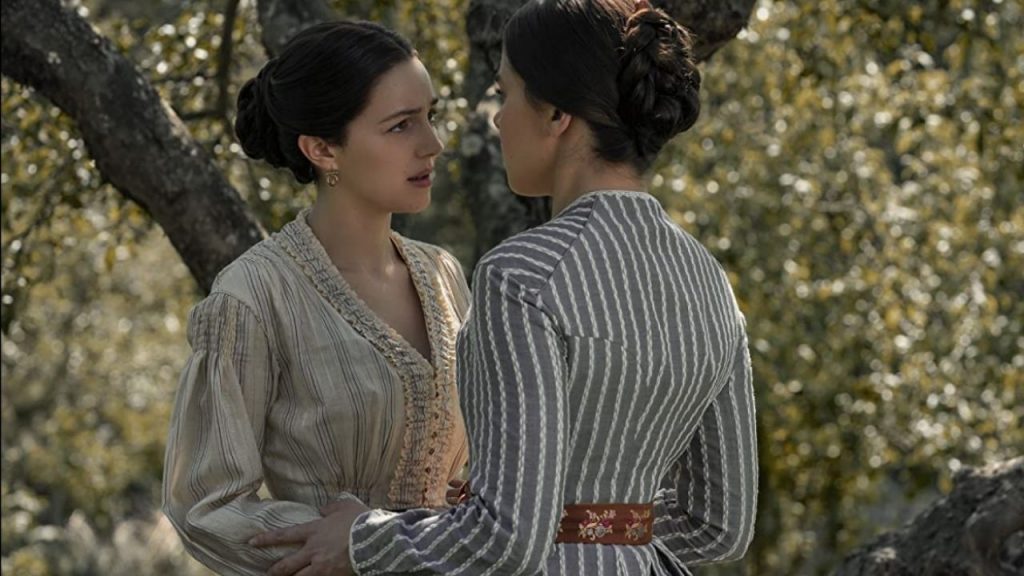 Image via Apple TV+.
How The Series Finale For Dickinson Quietly Comments on Sue and Emily
Notably missing from the series finale of Dickinson is interactions between Emily and Sue, the primary romance that has been ongoing throughout the seasons. Their relationship touches on the connections between friends to lovers and everything in between in a way that only queer relationships can juggle, and it decides to wrap it all up in the penultimate episode.
Steinfeld comments that she thinks it is an interesting choice to have them in the previous episode instead of this one. The reason for its success, she says, is due to the "hopelessness and hopefulness" born between them.
"We expect to maybe see them one last time at the very end, but the ending of this show, it's so open-ended in the most beautiful, hopeful way that we see Emily heading towards her future," Steinfeld also adds. Of course, we know that there is a vast future ahead of them both. The real Dickinson lived to be 55, and Sue 83.
Rather than her pairing with Sue, the focus on Emily is a beautiful reminder of just how many layers there were to the poet. "The insane workings of her mind," as Steinfeld claims. The show barely touched on her "most productive time as a writer." But all that we need to do is reach for one of her poetry collections if we want to see what we miss on the small screen. It's all there, just with less Hailee Steinfeld and more mid-sentence punctuation.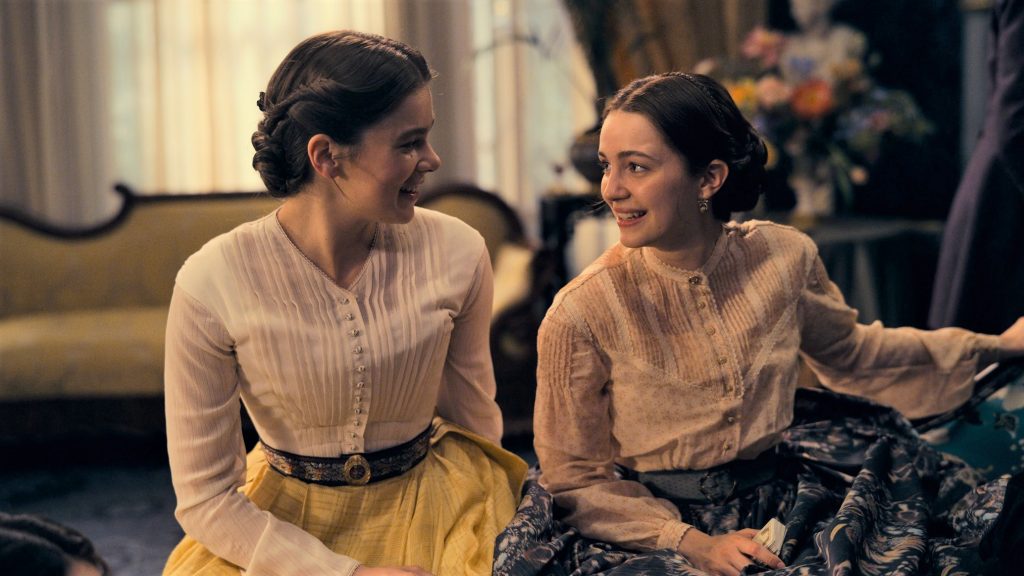 Image via Apple TV+.
Hailee Steinfeld On Shooting Her Last Scene Of The Dickinson Series Finale
Things are often shot out of order based on location availability and other factors. But the Collider interview reveals that the last thing that Steinfeld shot for the show was the final scene we watched. The scene, which features Emily rowing a boat toward hallucinations of mermaids, closes us out with the Emily we have met throughout the show. Instead of a depressing tragedy like many American Literature courses makes the poet out to be, she is shown as hopeful. Steinfeld agrees, adding:
But this ending as a whole, I think it's hopeful, which is what the whole journey of this season is. Emily questioning whether or not art can give people hope and whether or not the future can be better than the past. And I think that we're looking at yes as an answer, and in that final shot.
Emily's most famous poem, Hope is the thing with feathers, is all about the concept. So it seems more than fitting to leave her there.
You can stream all three seasons of Dickinson on Apple TV+ now.
Readers, were you able to finish streaming the Dickinson series finale? Let us know your thoughts on the ending.
Featured image via Apple TV+.
Meghan Hale is the kind of movie lover that has a "must watch" that is a mile long... and growing. When she isn't talking about the latest film and television news she is writing one of her many in-process novels, screaming film trivia at anybody who will listen, and working as a mental health care professional. Follow her on Twitter @meghanrhale for some fun theories and live reactions to all things entertainment.
Leave a comment