David Ramsey In New CW Show Called 'Justice U' Returning As John Diggle
With the news that the CW is up for sale by CBS and Warner Bros., we were ready to predict the end of the Arrowverse. However, the folks at Warner Bros. TV do not share our worry that the CWVerse of DC Comics shows will be over. One of the originals is returning to lead a new show starring young heroes and is coming back to a weekly series! David Ramsey, who played John Diggle the right-hand man to Stephen Amell's Oliver Queen/Green Arrow, is working with the CW yet again on a new show called Justice U.
We break down what we know about Justice U and also hear from Diggle himself about what it means to return to the CW and DC Comics stories.
What Is David Ramsey's New CW Show About?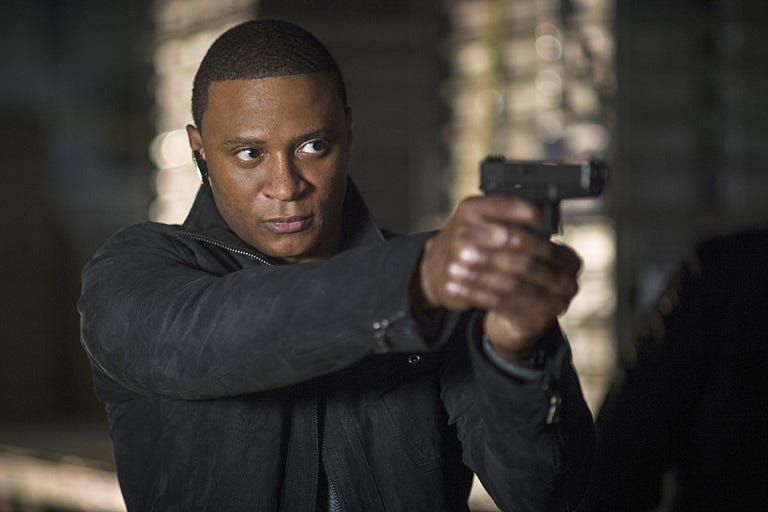 Image via The CW
According to the official description, Justice U is going to follow John Diggle as "he embarks on a new mission to recruit five young metahumans to live undercover as freshmen at a prestigious university. There he will oversee their education and train them to become the heroes of tomorrow." It sounds a bit like X-Men or the CW's other superheroes-at-school show Legacies. The show will take place in the Arrowverse, but there's no information on which five metahumans recruited. So, could we see members of Young Justice coming to the CW? Dick Grayson (played by Brenton Thwaites) already exists on HBO Max's Titans, but we've seen DCEU characters from HBO Max appear in CW shows (e.g. the epic Crisis on Infinite Earths). So, we will have to wait and see!
In Arrow, Ramsey began as Oliver Queen's bodyguard and later his partner on Team Arrow. As 'Spartan," he became an integral part of the crimefighting and problem solving. He made several appearances in crossover episodes and other CW shows. Once Arrow ended, fans weren't sure what would happen to Ramsey's character, although he's made several appearances in CW shows as of recent.
In an interview with SiriusXM's Superhero Insider, Ramsey talked about what a great character John Diggle was:
"I think John Diggle is someone I admire very much, personally. Personally, I think he's probably one of the most loyal and honest people, and committed people, you could probably ever meet in fiction and non-fiction. There's that. Without getting too high-falutin' about it all, I think he's a great character to aspire to be. He was great to delve into. He expanded in ways that we had not anticipated. He was easily a character that from the pilot he could have been killed off or written off, and just kind of kept on growing and endearing himself to fans, and people fell in love with the guy.

"I'm not used to any of this. I'm not used to it. I'm not used to people stopping you in the street or people wanting to take pictures or even interviews like this. It's still odd to me. The whole phenomenon of Arrow and Oliver Queen and John Diggle and Felicity Smoak, all these characters, it's still a bit bewildering to me just how this magic has happened. To a certain degree, it'll still be with me, but also to a certain degree, the pieces that aren't, I'll miss."
It sounds like Ramsey is excited to keep fleshing out John Diggle and hopefully, Justice U will do just that. Justice U comes from Superman & Louis co-exec producer Michael Narducci and executive producer Zoanne Clack (Grey's Anatomy). Berlanti Productions will produce the series in association with Warner Bros. Television. Greg Berlanti, Sarah Schechter, David Madden, and Geoff Johns will executive produce alongside Narducci and Clack. On top of starring in the show, Ramsey will also direct the pilot.
There is no release date for Justice U but watch this space for more updates about John Diggle and the Arrowverse!
What do you think of David Ramsey back as John Diggle in the new CW show Justice U? Also, are you excited to see him come back? Think he'll become the Arrowverse Green Lantern? Let us know in the comments below!
Featured image via screengrab
Keilin Huang is a freelance writer that likes the Oxford comma, reading from her neverending pile of books from the library, and Reeses peanut butter cups. She thanks her Dad for introducing her to his Superman comics and probably majored in Journalism because of Lois Lane. Contact her at [email protected]
Leave a comment