Cobra Kai S6: What We Know About The Last Season
If you're a fan of the Netflix series Cobra Kai, then listen up! We've got some juicy deets about the upcoming season 6. It will be the last one, so it will be epic! The showrunners, Josh Heald, Jon Hurwitz, and Hayden Schlossberg, have promised that this season will be the biggest yet. And we've got all the inside scoop for you, so buckle up and get ready to hear everything there is to know about Cobra Kai S6!
First things first, Netflix officially renewed the show in January. Apparently, the showrunners wanted to end the show on their terms. Additionally, they wanted to give fans a satisfying conclusion. But don't worry, they've hinted that there could be more Karate Kid stories in the future. So, Cobra Kai S6 isn't the end. Here's what they said:
"Our day one goal with Cobra Kai has always been to end it on our own terms, leaving the Valley in the time and place we've always imagined. So it is with immense pride and thankfulness that we are able to announce that achievement. The upcoming season six will mark the conclusion of Cobra Kai. While this may be a bittersweet day for the fandom, the Miyagiverse has never been stronger. This fandom is the best on the planet and we hope to be telling more Karate Kid stories with you down the line. Because as we all know, Cobra Kai Never Dies."
When can we expect to see Cobra Kai S6? Unfortunately, it's still up in the air. Sadly, Netflix hasn't confirmed anything yet. Additionally, they haven't started filming either. But if past seasons are any indication, we can expect it to air about a year after filming begins. So, maybe sometime in 2024? Keep your fingers crossed for then.
Cobra Kai S6 Cast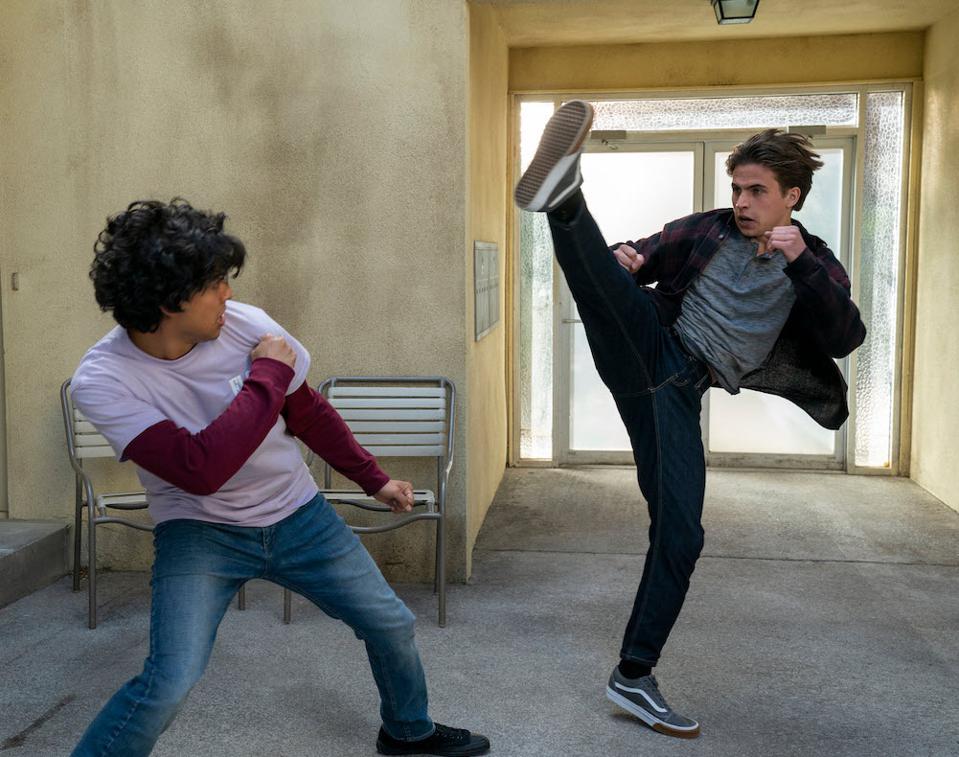 Image: Netflix
So, who will be joining Macchio and Zabka for Cobra Kai S6? Well, most of the cast will be back, with some new faces possibly joining the mix. We expect all the karate kids – Mariduena, Mouser, Buchanan, Bertrand, List, and DeCenzo – to return. O'Brien may be a series regular.
As for the older cast, Henggeler, Rubio, and Hannah-Kim will likely make a comeback. But what about Mike Barnes and Chozen? Their status is still up in the air, and we'll have to wait and see where the story goes next.
And let's not forget about Kreese! After his dramatic jailbreak in the season 5 finale, he will be causing some serious trouble in season 6. According to Jon Hurwitz, "there's plenty of drama to be had." Perhaps he'll be in Cobra Kai S6.
But what about Terry Silver? Could this be the end for him? Maybe, maybe not. Hurwitz says we never know with a character like him. But one thing's for sure; they love working with Thomas Ian Griffith. Naturally, they'd be stoked to have him back, if possible.
Karate Kid Netflix Plot
Image: Netflix
So, what can we expect from the plot? Well, season 5 ended with many loose ends tied up, but there's still the Sekai Takai tournament on the horizon. The showrunners have hinted that it will be the biggest tournament yet. Apparently, Cobra Kai S6 could involve global competition. And with Kreese and Kim Da-Eun still on the scene, they could lead a new team of contenders to take on Miyagi-do.
But it's not just about the tournament. Johnny is now a dad for the second time, and there could be some time jumps to speed up that storyline. And there's also the question of Terry Silver's fate. Could he be dying? If so, we can expect him to go out in style with one last trick.
We're super stoked for Cobra Kai S6, and we hope you are too! Keep your eyes peeled for more updates. Remember: Cobrai Kai Never Dies!
Hi! I'm Arvyn, and I'm an English teacher from the UK. I've been teaching English online for over 4 years to students from all across the world and all ages. Outside of work, I'm a huge fan of reading, video games, and playing with my adorable kitties. See ya!
Leave a comment