Benedict Wong Shares How He Welcomes New Stars In MCU, Talks About Wong's Potential Spin-Off
Marvel star Benedict Wong shares his role in welcoming new actors into the Marvel Cinematic Universe. He also gives his thoughts on the possibility of having a spin-off series for Wong.
If there's one thing that the previous Marvel shows share with each other, it's Wong. The Marvel Cinematic Universe has never been the same since the introduction of Benedict Wong's character in 2016's Doctor Strange. Since then, Wong has appeared in many Marvel movies, including Avengers: Infinity War, Avengers: Endgame, Shang-Chi and the Legend of the Ten Rings, Spider-Man: No Way Home, and Doctor Strange in Multiverse of Madness. He also appeared in Disney+'s What If…? and now in She-Hulk: Attorney at Law. 
Wong has been present in most of the shows in Marvel's Phase 4. Considered a Marvel veteran, The Hollywood Reporter asked the actor if he has a role in welcoming new faces into the MCU. You can read his full statement below:
Yeah, it's funny, because I remember that with Simu. When they were filming, I think when they saw me arrive, they finally realized that they were in a Marvel film. I kind of put my wax seal of approval. I mean, obviously, what can I do but say, 'Welcome to the MCU'…And whatever learning curves and curveballs that I can add or any sort of advice, I'm always there. Especially with Xochitl as well, being just a very wide-eyed rabbit in the headlights. I think it's kind of a duty really, being a member of a big ensemble company, to steady people and reassure them.
Simu Liu and Xochitl Gomez debuted in the MCU with Shang-Chi: The Legend of the Ten Rings and Doctor Strange in the Multiverse of Madness. Being in the ensemble for how many years already, Wong guarantees that these Marvel newbies got their best out of their experience. And it looks like he's done an excellent job making his co-stars feel welcomed.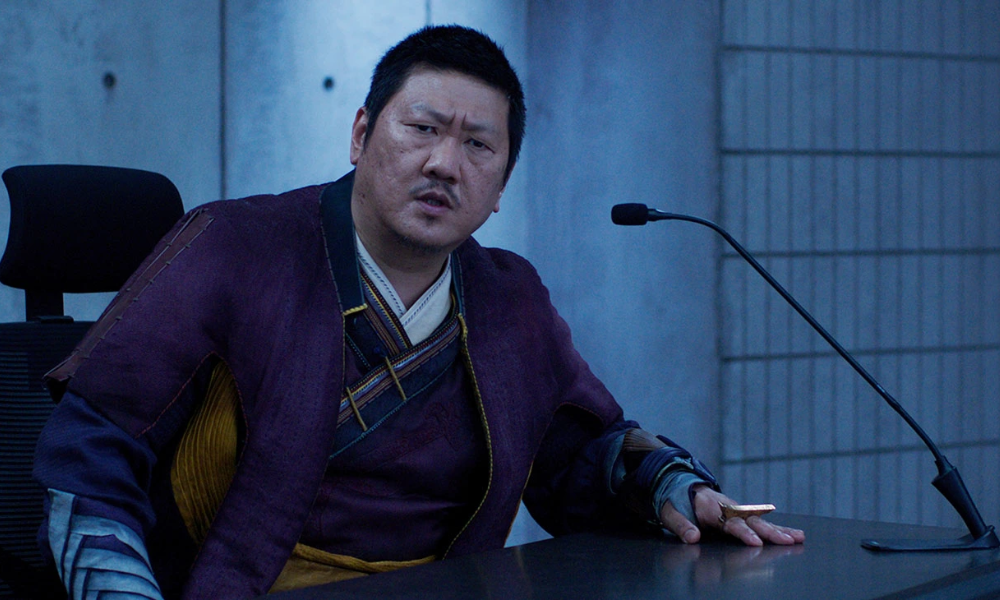 Disney+
Benedict Wong on having a spin-off series for Wong
Wong has been in the Marvel Cinematic Universe since 2016, and fans have been fond of the character's development. It's only natural to think that a spin-off series could be on the way for Earth 616's Sorcerer Supreme. And with the position the character has in the MCU, a spin-off series for Wong is not an impossibility. Here's what Benedict Wong has to say about the topic:
You know, a lot of people have said that. Yeah, I could certainly think of some ideas. But hey, it's not for me to push that. If you ever see anyone, send the question over there. I mean, look, I love playing this role, and I think there's so much more scope that we could go into with a series, yeah.
While Wong is optimistic about the thought of him leading a series of his own, he clears out that the decision will not come from him. But he says that the storylines which happened when Wong was away for five years could be the material for the spin-off series. In the same interview, he also mentioned how flattered he is with the attention he's getting from Marvel fans.
I've been asked this a million times, I could have just gotten them to sign the petition. I'm very flattered, and there are certain answers to certain questions that we need to be answered. We didn't see him for five years when he went through the portal, so we can fill some storylines there. Let's wait and see what Marvel does. I always say,' Have Portal, will travel.'
While Wong's spin-off series is still far from official, we can't deny how much the fans adore the character. It's only a matter of time before Marvel gives Benedict Wong the spin-off series he deserves.
Meanwhile, you can catch more of Benedict Won's Wong in She-Hulk: Attorney at Law on Disney+.
Paul is many things. He's a fan of anime, superheroes, and everything in between. He dedicates his downtime to annoying the heck out of his cats and dog.
Leave a comment