Batwoman Showrunner Addresses Not Recasting Kate Kane After Ruby Rose Exit
After the surprise news that Ruby Rose would not return to Batwoman, fans were curious about the show would handle the new status quo. A casting notice leaked last week revealed that producers are not recasting the role but introducing a brand-new character. Batwoman showrunner Caroline Dries talked about not recasting Kate Kane at the ATX festival, held virtually because of COVID-19 concerns. Dries said that Arrowverse mastermind Greg Berlanti "helped" her with the decision, saying it respects what Ruby Rose put into the character while still moving the story forward.
In fairness to Dries and the rest of the storytellers, they are in something of an impossible position. There would be inevitable comparisons to Rose's portrayal of the character. Positive or negative the discussion around this would merely underscore the struggle this series had getting off the ground. The show's early marketing sparked a lot of sexist backlash, even though it deserved none of it as our premiere review explained. Also, angry trolls review-bombed the series on Rotten Tomatoes, in a vain attempt to portray the series as a disaster. Ultimately, the show ended on a very high note with its premature season finale. But, so many Kate Kane-dependent story threads are left dangling it's hard to see how the new character can step in and resolve them.
So, let's look at what Dries said during her interview and examine whether or not the role should be recast.
The Batwoman Showrunner Didn't Have a Great Answer About Recasting Kate Kane
Image via CW
Obviously, the storytellers at Batwoman were as surprised as we were by Rose's exit. Ruby Rose's first statement since leaving raises questions, particularly because she said she was "staying silent." Yet, it could just mean that she doesn't want to talk about leaving the show and not necessarily implying that there is some bad blood there. In fact, Dries' comments seem to suggest that the show would be open to Ruby Rose returning to the role someday. Because there really is no other rationale for dropping the character for someone that has no connection to the Bat-legacy or the characters involved.
"Upon further reflection — and Greg helped me make this call, he is way smarter than me about this sort of stuff — he said, you know, we should just reboot the character in terms of reboot Batwoman as a different character, and also respect everything that Ruby put into the Kate Kane character. And I just think it helps the audience a little bit too, that we are not asking them to not address the elephant in the room…. I'm inventing a whole new character. In her past, she was inspired by Batwoman. She is going to take on the mantle and is completely maybe not be the right person at the time to be doing it. That's what makes it fun."
Recasting Kate Kane is, of course, a decision best left to the showrunner. However, Dries answer doesn't make a lot of sense. If anything, introducing a brand new character doesn't address the elephant in the room, but rather tries to misdirect audience's attention from it. There is absolutely no groundwork laid for Kate Kane to vanish, and we already have Bruce Wayne missing in action for years. Also, there doesn't seem to be much that's "fun" about having a character ill-suited for the superhero role while wearing such an iconic mantle. Much of the first season was about Kate growing into her role as a vigilante, and it feels like now fans are back to square one.
Can You Have Batwoman Without Kate Kane?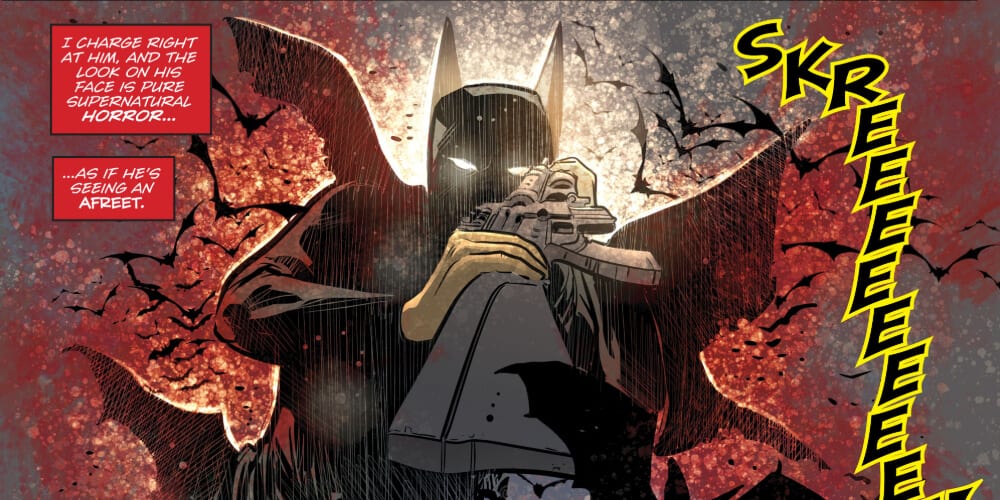 (Image: Batman: Gotham Nights #1, DC Comics Digital First)
As mentioned above, the only real rationale for not recasting Kate Kane is in case Ruby Rose decides she wants to come back and reassume the role. On its own, this idea isn't terrible (anyone can wear the mask, after all). However, it creates problems given that so much of the series centers around Kate Kane and her relationship to other characters.
Much of the principle cast is, literally, Kate Kane's family. Her father is the head of the private police force that wants to murder Batwoman. Her twin sister is the main villain. And, her step-sister only just joined the Bat-team, and their growing bond is one of the most important in the show. Also, the love interests for Kate Kane are all intertwined, and the removal of this character robs those stories of all drama.
A number of fans seem to agree. They created the hashtag #KateKaneISBatwoman to express their dismay about changing the character under the cowl. A search of Twitter finds very few fans reacting positively to this news. Those that do seem cautiously optimistic and, as expected, hope it leaves the door open for Ruby Rose to return. It's possible that they can develop and deliver a story that fixes all this, but it's certainly an uphill battle.
What do you think? Do agree with the Batwoman showrunner that recasting Kate Kane would be a mistake? Or do you think Kate Kane the character is as inseparable from Batwoman as Bruce Wayne is to Batman? Tell us below!
Featured image via CW
Joshua M. Patton is a father, veteran, and writer living in Pittsburgh, PA. The first books he read on his own were comics, and he's loved the medium ever since. He is the greatest star-pilot in the galaxy, a cunning warrior, and a good friend. His book of superhero short stories, Tales of Adventure & Fantasy: Book One is available as an ebook or paperback from Amazon.
Leave a comment