Will Avengers: Endgame Win An Oscar?
Oscar season approaches, even faster than the winter holidays. The Academy Awards show won't take place until February 9th, 2020 (earlier than many past years), but it's not too early to make predictions. Awards shows that take place before the big event are usually good indicators of what we can expect to see nominated, especially the Golden Globes, who release their nominations list in early December. Many of the big contenders are released during the late fall/early winter months before the ceremony, with a few exceptions. Regardless of what your favorite movie of the past year has been, there's one big stand out. Avengers: Endgame's Box Office Performance made it the highest-grossing film ever. Does that mean that Avengers: Endgame has a shot of winning an Oscar?
A Brief History Of Comic Book Films At The Oscars
Comic book films have a long history of earning nominations and wins for visual effects and sound-related rewards. After all, these are films that heavily rely on creative combinations of CGI, practical effects, and intense fighting scenes with stunning visuals. So, it's not uncommon for them to earn nominations in those categories. Films from Spider-Man (2002) to Superman Returns (2006) earned effects nominations, despite them not being considered "Oscar-worthy" films in the most prestigious categories. More surprisingly, the almost universally derided Suicide Squad (2016) is an Academy Award-winning film. Yep – they won for Best Makeup.
The Dark Knight (2008) is one of the most well-known comic book films to win an Oscar. Heath Ledger won a posthumous Best Actor win, and the film also won for Best Sound. They received a handful of other technical and art-related nominations. Other big wins for comic book films included Logan's Best Adapted Screenplay Nomination. And, in 2019, Black Panther swept the nominations and earned a Best Picture nomination. Black Panther ended up winning in the Best Costume Design, Best Original Score, and Best Production Design categories. Still, no writers, directors, or living actors have taken home a statue for a superhero movie.
What Could Avengers: Endgame Get A Nomination For?
Disney and Marvel started campaigns to push Endgame towards nominations in a few categories. These include Best Picture, Best Director, Best Adapted Screenplay, Best Cinematography, Best Original Score, Best Sound Mixing, Best Sound Editing, Best Visual Effects, Best Film Editing, Best Costume Design, Best Production Design, and Best Makeup and Hairstyling. Now, there's no way they get nominated for all of these. I'd say that the technical categories are all locks for a nomination, with the potential for at least one win. A few shots from the movie also deserve that Best Cinematography nomination, but their competition is intense (and includes films like The Irishman and 1917).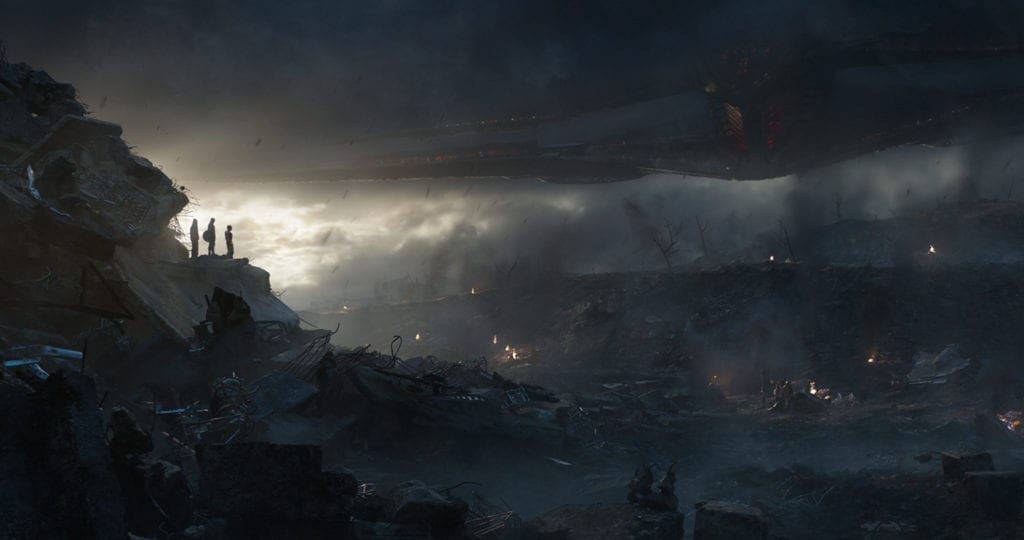 An award-worthy shot. Image via Marvel.
People were pretty surprised by Black Panther's Best Picture nomination. Comic book movies, along with other specific genres like horror, barely ever get big nominations. But Black Panther had something unique that got them there. The film put the spotlight on a community of artists and a culture that isn't often focused on in film, comic book genres or otherwise. So, the Academy couldn't ignore the cultural impact of the film. (Especially after the "Oscars so white" controversy.) Endgame doesn't really have something that makes them unique, aside from being a finale of sorts to the many Marvel films that came before it. So, is that enough to earn a nomination? It's unlikely.
Could Endgame Get Best Acting Awards?
Endgame has an impressive (and long) list of stars. So, there's no clear "Best Actor/Actress" who could run for the win. Instead, the studio has decided to throw almost all of their stars under the "Best Supporting" categories for the Academy's consideration. For Best Supporting Actor, they've begun a campaign for Robert Downey Jr., Chris Evans, Mark Ruffalo, Chris Hemsworth, Jeremy Renner, Josh Brolin, Paul Rudd, and Don Cheadle. For Best Supporting Actress, they've included Scarlett Johansson, Gwyneth Paltrow, Zoe Saldana, Karen Gillan, and Brie Larson.
If any of the gentlemen on the list above deserve it, it would have to go to Robert Downey Jr. His performance pulled on our heartstrings and broke hearts everywhere. But here's the catch: he doesn't want it. In an interview with CNN, the actor said "Let's not," when the interviewer hinted at him being the center of a nomination campaign. The Actress category is also unlikely to get any nominations. Johansson is already a lock for Best Actress for her role in Marriage Story. None of the other actresses really have enough screen time to earn the nomination or powerful (no pun intended) enough scenes to justify the win.
Are Any Other Comic Book Films Getting Nominations This Year?
If any other comic book film is going to win big, it'll be Joker. The film has a better chance at earning that coveted Best Picture nomination, though it's not a lock. Joaquin Phoenix is also almost guaranteed to be nominated for Best Actor. Though, my bets are still on Adam Driver for Marriage Story. Films like Captain Marvel may have a long shot at scoring technical nominations, but it's likely that Endgame will edge them out since its coming from the same studio. Though Joker and Endgame are from different studios, so there won't be much keeping them from earning nominations in the same categories.
How we'd react if Joker won an Oscar. Image via Warner Bros.
Avengers: Endgame May Not Win An Oscar, But It Still Won Our Hearts
The most important thing to remember when it comes to the Academy Awards is that it doesn't change anything about the impact that the films made on us. Endgame earned that box office record for a reason. It is the culmination of years of Marvel films, and audiences are invested. It delivered, and reviews were pretty solid. Regardless of whether it wins a trophy or not, it still left a mark. And that #1 box office title will be hard to beat.
So, readers, do you care about who wins at the Oscars? Do you have any early predictions you'd like to share with us? And finally, do you think that Avengers: Endgame deserves an Oscar nomination? Let us know in the comments.
Featured image via Marvel.
Meghan Hale is the kind of movie lover that has a "must watch" that is a mile long... and growing. When she isn't talking about the latest film and television news she is writing one of her many in-process novels, screaming film trivia at anybody who will listen, and working as a mental health care professional. Follow her on Twitter @meghanrhale for some fun theories and live reactions to all things entertainment.
Leave a comment