Why Are So Many "Big" Movies Box Office Failures in 2019?
2019 has been an exciting year for cinema. It's seen records like the highest-grossing movie of all time with Avengers: Endgame and the highest-grossing R-rated film for Joker. But it's not just big superhero movies that are making money. Jordan Peele's unique nightmarish tale Us was a success. John Wick: Chapter 3 – Parabellum defied expectations. So, in a year where all sorts of stories can make so much money, how are so many failing? Let's take a look at the failure of high-budget movies like Charlie's Angels and Terminator: Dark Fate and see where it all went wrong. So, why did so many movies come out as box office failures throughout 2019?
But First – Let's Talk About Charlie's Angels and Terminator: Dark Fate
Terminator: Dark Fate
Terminator: Dark Fate is the sixth installment in the Terminator franchise. That's quite a few movies about these terminators. Back in 1984, The Terminator became a pretty big success. On a relatively small budget of $6.4 million, the film came out with $78.3 million at the box office. Whether you've seen the movie or not, you have to know the iconic "I'll Be Back" line. The newest movie focuses on an "augmented human" teaming up with Sarah Conner to stop an advanced Terminator from hunting down a girl who is pretty important.
Dark Fate reunited Linda Hamilton and Arnold Schwarzenegger, actors from the original films. This alone should have brought exciting fans to see the film. However, the numbers aren't showing it. The high budget of at least $185 million paired with a high marketing budget, the film would have to make more than $450 million just to break even. So, studios Paramount and Skydance are estimating a pretty big loss. Director Tim Miller, who was also responsible for the massively successful Deadpool, isn't the only one to blame, though, as we'll explore further.
Image via Paramount Pictures
Charlie's Angels
Charlie's Angels has been a pretty popular franchise over the years. It all started with a 1976 TV series, created by Ivan Goff and Ben Roberts. Then, in 2000, the films started, continuing on what TV started. Charlie's Angels (2000) and Charlie's Angels: Full Throttle did a decent job at the box office. The former ended up being the 12th highest-grossing film from 2000 (if you're curious, Mission: Impossible 2 topped the list that year). Full Throttle underperformed but did make a profit with decent international box office numbers. Despite not being a smashing success, stars Cameron Diaz, Drew Barrymore, and Lucy Liu rocked the screen and, I must say, I was a pretty big fan.
The 2019 film remains in the same universe as the previous installments, with a gaggle of new Angels. The film was written and directed by Elizabeth Banks, who has had mild success in her production and direction work. This film doesn't do anything dramatically different than the rest. Some bad-ass women try to defeat some not-so-good technology developers. A decent cast and great soundtrack were some of the biggest draws to seeing this installment.
Is Movie Fatigue A Thing That Causes Box Office Failures In 2019? Terminator: Dark Fate review
If you look up "movie fatigue" on any search engine, you'll find plenty of articles about superhero movies. Even RollingStone speaks up about our "burnout" from superhero films. But these superhero films aren't often failing, so any fatigue there clearly isn't the answer to box office failures. Upon review, both Terminator: Dark Fate and Charlie's Angels are sequels/reboots. So, are we just tired of sequels? It's easy to pinpoint this as a reason for these movies failing so badly. But out of all of the top-grossing films of 2019, Us is the only one that's not a part of a massive franchise or is a sequel. People like going to see sequels to their favorite movies.
Plenty of movie-goers don't necessarily blame these films for being sequels, but for being unnecessary. They don't exactly add any new stories to the cinema. After all, we've seen Angels use their unique, feminist bad-ass appeal to take down bad guys. And we've watched plenty of Terminators kill. However, all of the other sequels on the list brought something new to the story world that they exist in. (Or, at least most of them did). Captain Marvel may also be another story of a cool, powerful woman. But that movie did well because people were excited to see women being represented in a franchise dominated by male heroes.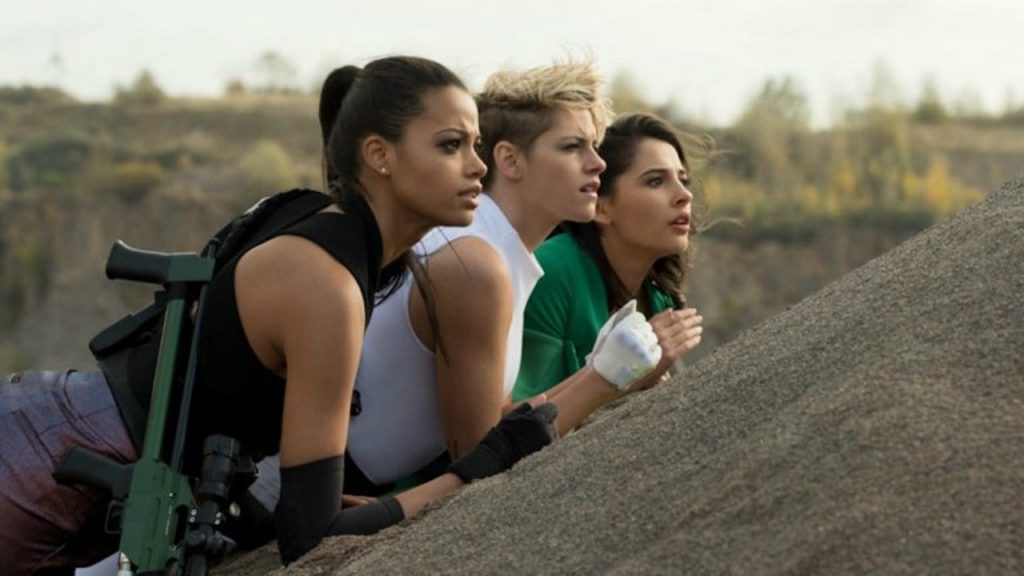 Image via Sony.
Bad Movie Marketing Leads To Bad Box Office Numbers
Elizabeth Banks blames poor marketing for the failure of her film. It isn't the only reason for such low turnouts, but she isn't entirely wrong. The musical collaboration of Lana Del Rey, Ariana Grande, and Miley Cyrus seems to have received more attention than the film that the song ("Don't Call Me Angel") was made for. But all of the marketing, including posters, has relied on movie-goers knowing the brand. But does the young female demographic remember the original films and TV series, or is it just a few years too old?
Dark Fate had a big marketing budget, but where did all of that money go? One of the film's biggest failures may be due to its lack of overseas success. The previous franchise installment, Terminator: Genisys, didn't do too bad internationally, thanks to a big boost by China. Unfortunately, it doesn't look like Dark Fate will have the same fate. Perhaps their marketing budget didn't bother to dedicate a big enough chunk to international markets. Or maybe China has got far more successful films to see right now.
Other Box Office Failures Of 2019
Image via 20th Century Fox
Dark Fate and Charlie's Angels are certainly not the only bombs of the year. Dark Pheonix lost millions earlier this year thanks to some not-so-great reviews and overall poor marketing. Hellboy failed to excite any potential viewers, failing to come close to the overall quality of the original films. The Goldfinch, a beautiful story that won a Pulitzer Prize in 2013 even failed to bring anyone out to see it, having a bland retelling of some complex stuff. So no, it's not just Charlie's Angels and Dark Fate. But their big budgets and seemingly "big" releases make it worth talking about.
Readers, we'd love to hear your take. Why do you think movies are failing so hard right now? Do you think that it all boils down to how good the story is? Or is it a mixture of things like marketing, bad reviews, and overall poor release strategies? Let us know what you think. And let us know if you saw any of these movies that were box office failures in 2019, and if you liked them or not!
Meghan Hale is the kind of movie lover that has a "must watch" that is a mile long... and growing. When she isn't talking about the latest film and television news she is writing one of her many in-process novels, screaming film trivia at anybody who will listen, and working as a mental health care professional. Follow her on Twitter @meghanrhale for some fun theories and live reactions to all things entertainment.
Leave a comment