The Lego Star Wars Holiday Special On Disney+ Is A Delightful Family Story For The Holidays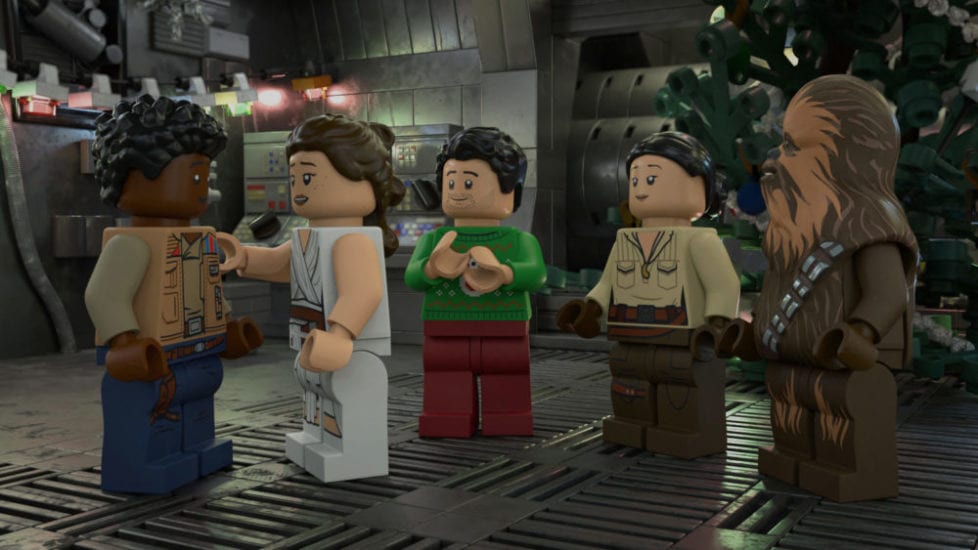 By any metric, 2020 has been a rough year for people. With the COVID19 pandemic surging again across the globe, we need to seize upon joy wherever we can find it. Luckily, The Lego Star Wars Holiday Special on Disney+ is 40-ish minutes of pure joy. In the silly and irreverent style of all of the Lego Star Wars projects, the new holiday special on Disney+ brings the entire Skywalker family together…in a way. Thanks to some sci-fi magic, Rey and BB-8 are able to travel to various moments throughout the Star Wars saga all while pushing the sort of message these stories are known for. Full of in-jokes and cartoonish silliness, the Lego Star Wars Holiday Special has enough in it for every Star Wars fan.
Perhaps the most interesting thing about the special is the frame in which the time-traveling adventure story is set. Rey is having a hard time teaching Finn how to be a Jedi. In last year's Star Wars: The Rise of Skywalker the storytellers made a very strange choice to simply imply that Finn has active Force talent. He almost confesses this to Rey, but ultimately does not. It seems, at least in Lego Star Wars world, Finn and Rey finally had that conversation. So, while nothing the Lego Star Wars team done is ever canon, one could call it 'canon-adjacent.' So, it's possible that when we see post-Rise of Skywalker content from Lucasfilm, Finn will be on the path of the Jedi.
Beyond that, all the Lego Star Wars Special on Disney+ really does is give fans a fun hour or so of Star Wars "what if?" comedy.
We'll be getting into spoilers below, so be warned!

The Best Moments From the Lego Star Wars Holiday Special
The first thing that we feel we have to mention is that much of the Emperor and Vader relationship here feels directly cribbed from the Robot Chicken Star Wars Special. The voice actor even seems to be doing less an impression of Palpatine and more an impression of Seth MacFarlane as Palpatine. In fact, the final joke about Sheev having a change of heart as he falls down the shaft is a direct lift.
Otherwise, the special was remarkably sweet with plenty of jokes an entire family of Star Wars fans can enjoy. For example, kids and parents alike will probably enjoy how the earliest iteration of Luke Skywalker continuously drinks from a carton of blue milk. Tom Kane returns as Yoda, and, as always, he gets the best lines in the show. In fact, the ultimate message of the special seems to complement The Last Jedi, in that it focuses on the importance and inevitability of failure. While it's important to give kids stories about heroes who can't let them down, it's equally important to let them know that failing is not the end of the world. Do or do not, either result can teach us something important.
What did you think of the Lego Star Wars Holiday Special on Disney+? Share your reactions, thoughts, and reviews of your own in the comments.
Featured image via Disney+.
Joshua M. Patton is a father, veteran, and writer living in Pittsburgh, PA. The first books he read on his own were comics, and he's loved the medium ever since. He is the greatest star-pilot in the galaxy, a cunning warrior, and a good friend. His book of superhero short stories, Tales of Adventure & Fantasy: Book One is available as an ebook or paperback from Amazon.
Leave a comment