The Iron Claw Has Zac Efron Looking Unrecognizable
Some recent photos have leaked from the set of the new wrestling film The Iron Claw. In the film, Zac Efron plays the role of the real wrestler, Kevin Von Erich. He looks completely different in these photos! In the film, Efron is more jacked up than usual, and his skin is tanned. He's also wearing a typical 80s-style bowl wig that looks exactly like Von Erich's real hair. Additionally, the photos show him wearing nothing more than a towel and flip-flops. You can check these photos out below.In real life, the Von Erichs were a family of wrestlers known for being this sport's champions. However, outside of the ring, they also faced numerous challenges and heartbreaks. Fritz von Erich, who was the family's father, is famous for his time in the National Wrestling Alliance, or NWA. He later appeared in the World Class Championship Wrestling, or WCCW. When he appeared in the NWA, he had a famous wrestling move called the "Iron Claw." Naturally, this is where the biopic gets its name from.
The Von Erich Family
Image: Dallas Morning News
However, it's not all plain sailing for the Von Erichs or The Iron Claw film. Although Fritz succeeded in the WCCW along with his sons, they also met plenty of heartbreak. Jack Adkisson Junior, who was Fritz's first son, sadly died when he was six years old. He was accidentally electrocuted and drowned. Following this, David von Erich, another son, died when he was 25 years old. He suffered from acute enteritis during a tour as part of All Japan Pro Wrestling.
Following this, Mike, another son, took his life when he was 23. His brother, Chris, followed suit just a few years later. The most famous brother was Kerry. In 1984, he won the NWA title after beating Ric Flair in a match. He also appeared in the WWF as the Texas Tornado. Later, this wrestling group became known as WWE. During this time, Kerry won the Intercontinental title after beating Mr Perfect. Sadly, Kerry had a motorcycle accident which forced him to end his time in the ring. In 1993, Kerry also took his life; four years later, Fritz died from cancer. By this time, five of Fritz's six sons had died. All of these tragedies will likely appear in The Iron Claw.
The only remaining son was Kevin, who Zac Efron will play in The Iron Claw film. In 2019, Kevin told his family's tragic story during an episode of the show Dark Side of the Ring. Naturally, this episode was titled The Last of the Von Erichs.
The Iron Claw Cast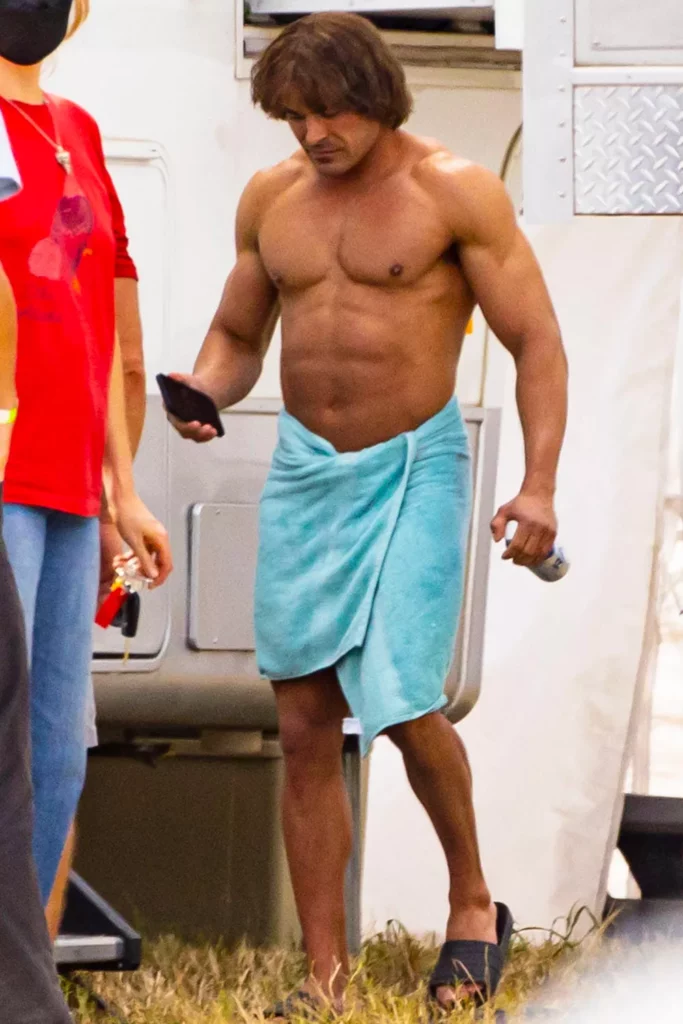 Image: Mega
Plenty of other stars are joining Efron for The Iron Claw film. Jeremy Allen White appears as Kerry, while Harris Dickinson plays David von Erich. Additionally, Maura Tiernay plays Doris, the family's mother, and Lily James appears in an unknown role. Holt McCallany plays Fritz, Stanley Simons plays Mike, and Cazzey Louis Cereghino is Bruiser Body.
Since A24 is the studio behind The Iron Claw, you can definitely expect it to be good, as they've got plenty of recent successes under their belt. These include X, Everything Everywhere All at Once, Pearl, and plenty of others. Also, Sean Durkin is both the director and writer of the movie. Previously, Durkin worked on Martha Marcy May Marlene and its sequel Mary Last Seen. Additionally, Durkin directed the TV show Southcliffe and the film The Nest. 
When A24 first announced the film, Durkin stated that he was "very excited about this one. It's another family portrait about a wrestling family who revolutionized the sport and then suffered tragedy."
Currently, there's no word on when A24 will release The Iron Claw film. However, since it's still in filming, we expect it no earlier than 2024.
Hi! I'm Arvyn, and I'm an English teacher from the UK. I've been teaching English online for over 4 years to students from all across the world and all ages. Outside of work, I'm a huge fan of reading, video games, and playing with my adorable kitties. See ya!
Leave a comment