Tachyon Humble Book Bundle Features An Incredible Collection
A good portion of my e-book library comes from Humble Book Bundles. It's kind of the best of both worlds. If you're a fan of a good deal, then you can get a ton of great reads for a great price. Additionally, the bundles support charities, non-profits, and the efforts of Humble Bundle if you so choose. The newest bundle features a supermassive collection of sci-fi, fantasy, and horror books. In the Tachyon Humble Book Bundle that is now live, you can grab up to $441 worth of incredible e-books. Some titles might even be collecting dust on your book backlog too.
Sci-Fi, Fantasy, and Horror Fans Rejoice: The Tachyon Humble Book Bundle is Here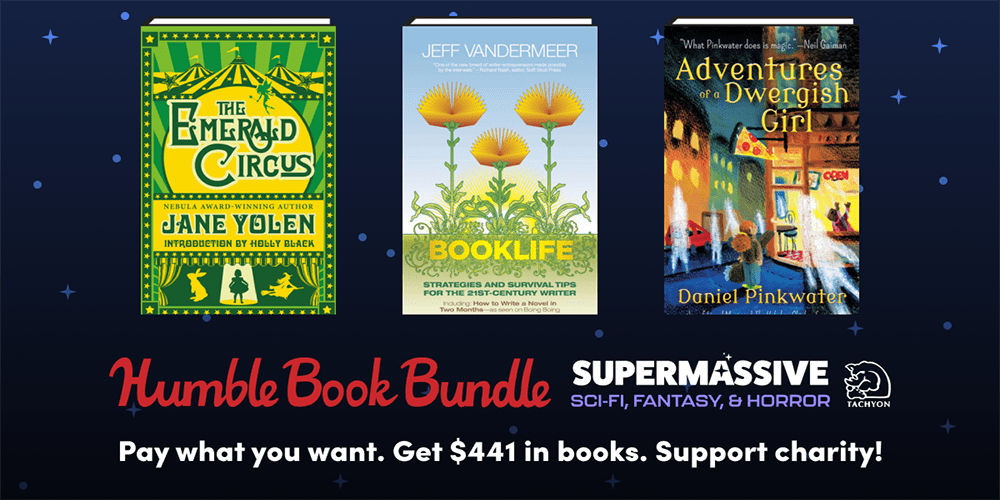 Image Credit: Humble Bundle
The latest Humble Bundle featuring incredible Tachyon books will run through March 24. If you're not familiar with the bundles, then let's briefly overview how this works. Firstly, each bundle has tiers that start at a certain dollar amount you're willing to pay. If you choose a tier, then every title in that group is yours DRM-free. These are hand-chosen bundles by the Humble Bundle team. The lowest tier is always $1, so you can pay what you want above that for each tiered collection.
Each bundle goes towards a charity or a couple organizations. The Tachyon Humble Book Bundle is supporting two this time around. Those charities are the Electronic Frontier Foundation, who defend civil liberties in the digital world and champion user privacy, free expression, and innovation through impact litigation, policy analysis, grassroots activism, and technology development, and the Carl Brandon Society, whose mission is to increase racial and ethnic diversity in the production of and the audience for speculative fiction.
Some of the most noteworthy books in this collection include authors you might be familiar with. For starters, Beyond Frankenstein by Mary Shelley is a great collection of stories that go beyond her seminal monster work. These stories really bring to light Shelley's keen insights on gender, society, and modern life. Adventures of a Dwergish Girl by Daniel Pinkwater is another great read from the author. This middle-grade adventure is great for all ages. If you pay for the highest tier, then dozens of great Tachyon books can be yours. Curious about a full list of works? We've got you covered.
Pay-What-You-Want Tiers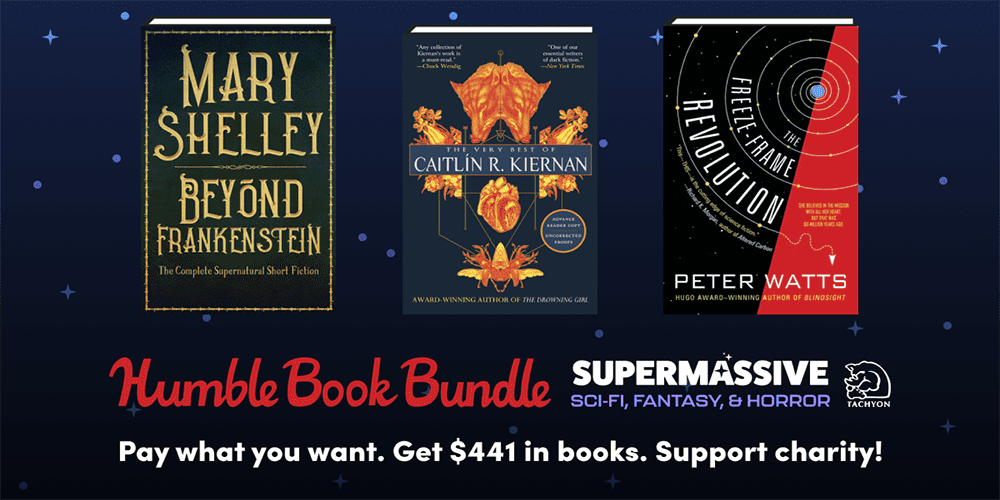 Image Credit: Humble Bundle
If you enjoyed my The High Republic: A Test of Courage review, then you can definitely expect me to write up a few more about the books in this bundle. Below you'll find each tier and what titles come with the price point.
Pay $1 to Unlock!
Bigfoot and the Bodhisattva
Sea Change
She Walks in Darkness
The Violent Century
Pay $10 or more to Unlock!
Nucleation
Peter Watts is an Angry Sentient Tumor
The Fate of Mice
The Four Profound Weaves
The Hotel Under the Sand
The New Voices of Science Fiction,
The Oddling Prince
The Secret City
Pay $18 or more to Unlock!
Adventures of a Dwergish Girl 
Booklife
Dreams of Distant Shores
Driftwood
Kitty's Mix-Tape
The Bible Repairman
The Emerald Circus 
The Freeze-Frame Revolution
The Immortal Conquistador
The Midnight Circus
The Stress of Her Regard
Pay $28 or more to Unlock!
Ancient Rockets
Apocalypse Nyx
Beyond Frankenstein 
How to Fracture a Fairy Tale
Ivory Apples
Meet Me in the Future
Pirate Utopia
Rewired: The Post-Cyberpunk Anthology
Slipping
Stable Strategies and Others
Starlings
Steampunk III: Steampunk Revolution
The Apes of Wrath
The Asylum of Dr. Caligari
The Best of Michael Moorcock
The Forgotten Beasts of Eld
The Last Tsar's Dragons
The Monstrous
The People's Republic of Everything
The Sword & Sorcery Anthology
The Very Best of Caitlín R. Kiernan
The Wall of America
Unholy Land
We Are All Completely Fine
Overall, the $28 or more tier is the biggest bargain. Additionally, whatever you can pay goes directly to the charities or Humble Bundle – you choose! The Humble community has contributed over $193,000,000 to charity since 2010, making an amazing difference to causes all over the world. If these books peak your interest, then consider joining them!
Featured Image Credit: Humble Bundle
Taylor is the Gaming Editor of Comic Years and a lifelong fan of video games. He holds two degrees in Political Communication and wrote a Master's Thesis on resistance movements, race, and the exploitation of college athletes. His wife and two Toy Australian Sheppards keep him sane.
Leave a comment