Sesame Street Debuts First Asian American Muppet Named Ji-Young
As the longest running children's educational TV series, Sesame Street has been (and still continues to be) an integral part of many people's childhoods. Using live-action, sketch comedy, animation and puppetry, Sesame Street starred "Muppet Man" Jim Henson's creations as a way to engage with kids and educate them in a way that was fun and creative. The show has earned a reputation for being able to broach difficult topics with children, such as divorce and dealing with death. In light of the 2020 protests against police brutality, Sesame Street introduced a Black muppet named Wes and his father, Elijah, as a way to talk about what was happening. A few years earlier, they had introduced Lily, the first homeless muppet. While there's a broad range of diversity in the muppet characters, there's never been an Asian American muppet…until now! Sesame Workshop announced Sesame Street first Asian American muppet named Ji-Young and I am thrilled!
Who Is Sesame Street's First Asian American Muppet?
Ji-Young is Korean American and she enjoys rocking out on her electric guitar (she's a fan of the punk rock band, the Linda Lindas), skateboarding, and cooking dishes like tteokbokki (chewy rice cakes) with her halmoni (grandmother). In an interview with the new muppet, Ji-Young said, "So, in Korean traditionally the two syllables they each mean something different and Ji means, like, smart or wise. And Young means, like, brave or courageous and strong. But we were looking it up and guess what? Ji also means sesame." How appropriate right? According to Ji-Young's puppeteer, Kathleen Kim, it was important the new muppet not be "generically pan-Asian." Kim said:
"Because that's something that all Asian Americans have experienced. They kind of want to lump us into this monolithic 'Asian,' So it was very important that she was specifically Korean American, not just like, generically Korean, but she was born here."
Like other muppets before her, Ji-Young is going to show kids how to be an "upstander." Kay Wilson Stallings, executive vice-president of Creative and Production for Sesame Workshop, explained what an "upstander" is below:
"Being an upstander means you point out things that are wrong or something that someone does or says that is based on their negative attitude towards the person because of the color of their skin or the language they speak or where they're from. We want our audience to understand they can be upstanders."
See the first image of Ji-Young below:
"Sesame Street" is welcoming its first ever Asian American muppet. Ji-Young is 7, Korean American and loves to rock out on her guitar. The hope is that she will be a positive force against a rise in anti-Asian hate. https://t.co/k6Qwu2F9Nt

— The Associated Press (@AP) November 15, 2021
Ji-Young is going to make her first appearance in a special premiering on Thanksgiving Day called "See Us Coming Together." In the special, Sesame Street is preparing for Neighbor Day where all the characters will gather together and share food, music, or dance from their culture. During the preparations, someone off screen tells Ji-Young "to go back home," which greatly upsets her; however, she feels empowered after Sesame Street's other Asian American residents, guest stars (Simu Liu, Padma Lakshmi, and Naomi Osaka, just to name a few), and friends assure her that she belongs just as much as anyone else.
See the promotional image for "See Us Coming Together: A Sesame Street Special" below: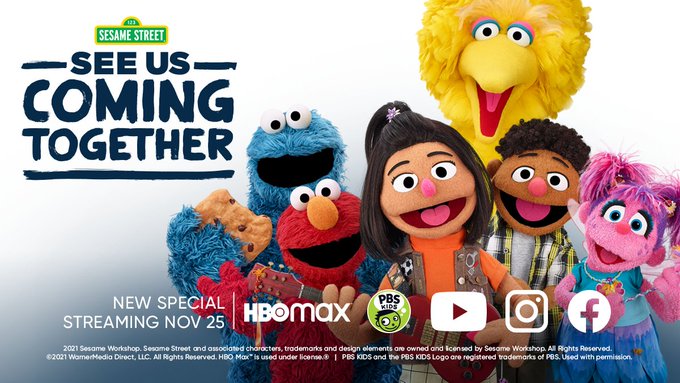 Image via Sesame Street
Thankfully Ji-Young will make several appearances next year during Sesame Street's 53rd season and not just as a one-off character to talk about racial justice. As I've talked about before, representation matters and having Ji-Young as the first Asian American muppet is a big step for the Sesame Workshop organization.
Meet Ji-Young in the Sesame Street special "See Us Coming Together," which premieres on Thanksgiving, November 25, on HBO Max, Sesame Street social media platforms, and on local PBS stations.
Are you excited to meet Sesame Street first Asian American muppet? Let us know in the comments below!
Featured image via Wikimedia Commons/Walter Lim from Singapore
Keilin Huang is a freelance writer that likes the Oxford comma, reading from her neverending pile of books from the library, and Reeses peanut butter cups. She thanks her Dad for introducing her to his Superman comics and probably majored in Journalism because of Lois Lane. Contact her at [email protected]
2021 Game Releases
Diversity
ji-young
Sesame Street
Leave a comment