Selena Gomez and Jennifer Stone reunite in Tik Tok Video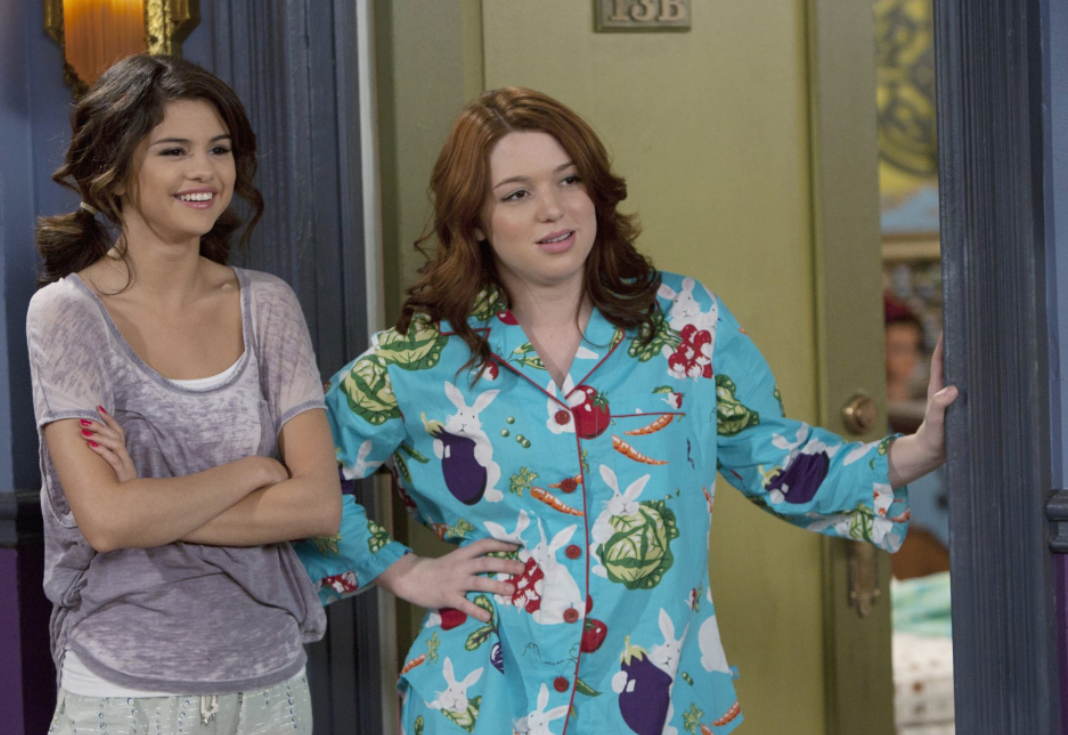 The Return of Alex and Harper! Disney Stars Selena Gomez and Jennifer Stone reunite in Tik Tok Video
It is the reunion we didn't know we needed; The return of Alex and Harper! It was a very nostalgic moment for Disney channel fans when Wizards of Waverly Place stars Selena Gomez and Jennifer stone reunited for a light-hearted Tik Tok video on Saturday, April 23rd where they recreated their famous "Funky Hat" song. The actress starred in the live-action series as Alex Russo and Harper Finkle from 2007 to 2012.
LOS ANGELES, CA – JUNE 28: Actresses Jennifer Stone (L) and Selena Gomez arrive at the Raise Hope for the Congo event at Janes House on June 28, 2009 in Los Angeles, California. (Photo by Charley Gallay/Getty Images)
In the video posted to Selena's TikTok account, with the on-screen caption "We had to", the pair were seen doing the famous choreography while lip-syncing to the song lyrics.
 "What's that? A hat? Crazy, funky, junky hat, overslept, hair unsightly. Trying to look like Keira Knightley. We've been there, we've done that. We see right through your funky hat."
The duo, looking casual showed off their dance moves, drink in hand, and giggled as they ended the video.
Fans React to TikTok Video of Selena Gomez and Jennifer Stone. 
It was a full-circle moment for big fans of the show who watched the 20-second clip as it quickly racked up numbers on the video-sharing site. The video has since gained over 22 million views, 5.4 million likes, and 55,000 comments. Celebrities and fans of the show reacted to the video almost immediately.
Maria Canals-Barrera, who played Selena's mom on the show commented, "LOVE this. Love you two! 💕❤️♥️".
Pop Star and dancer Jojo Siwa also commented "I gotta go this is too iconic"
Fans of the show couldn't get enough of the wholesome video. One fan said, "Triggered my childhood memories in 20-sec video, you gals are amazing." 
Stone also posted the video to her TikTok account, with the caption: "Reunited and it feels so good. #funkyjunky #wizardsofwaverly #harper #alex #yesteryear #nostalgia #whatsthatahat."
Jennifer Stone and Selena Gomez's life after Disney
 Following the show's finale, Selena Gomez and Jennifer stone have led really successful lives in their respective fields. Stone went on to be a registered nurse and was even one of the front-line responders at the peak of the Covid-19 pandemic. In an interview with Deadline in 2020, the WOWP actress said "It is a double life in a way, because what sane person does these two things that are so encompassing?. I definitely have people coming out of the woodwork being like, 'Hey, can you feel my leg? I have this weird thing,' or, 'I have a headache. Does that mean I have COVID?' I'm like, 'No, ……"
She also stated, "As far as balancing everything, it takes a lot of time management and especially having diabetes, I have to be on top of diet, exercise and sleep,". 
Explaining further, she said "As long as I'm really organized with my time, I'm able to balance it all. That's key. Otherwise, it's too much if you let everything get haywire but thankfully I've mastered keeping all the plates spinning in the air, so to speak."
Selena continued to bag movie roles such as Spring Breakers, Hotel Transylvania, and A rainy Day in New York. The multifaceted artist also thrived in her music career, releasing over 5 studio albums and multiple EPs. She was also one of the creators and producers of 13 Reasons Why. She recently launched her cosmetics line Rare Beauty. The pair have remained good friends since being on the Disney show, despite their extremely opposite lives. 
Leave a comment