Rocky Actor Is Battling Cancer, Dolph Lundgren Confesses To An 8-Year Battle
Dolph Lundgren, the actor who played Ivan Draco in Rocky IV, is battling cancer since 2015. The actor indicated that he was initially told that he would live for at most two years and that he should spend time with his family.
However, the actor's positive attitude and desire to continue living paid off. He later visited another doctor for a second opinion, which helped him improve his health. Dolph Lundgren narrated the whole experience. He talked from the time he was diagnosed with initial cancer, to the development of the disease, up to the latest events.
Rocky Actor Confesses is Battling Cancer
Rocky actor Dolph Lundgren confessed in a YouTube video from the channel In Depth With Graham Bensinger that he is battling cancer since 2015. He indicated that that year the doctors diagnosed him with a kidney tumor, which was removed almost immediately. He also commented on the constant checkup he had to have, which would last for five years.
In the initial tests, he would find that he was clean. In fact, six months after the doctors removed the tumor, he had his first scan, and it showed nothing. This went on year after year until 2020, when he thought everything was ready and he would be cancer-free. However, he had stomach discomfort, such as reflux and decided to have another check-up, and they found more tumors in the abdominal area. About this process, Lundgren said:
"Then I did scans every six months, then you do it every year, and it was fine, you know, for five years, in 2020. I was back in Sweden and had some kind of acid reflux or… I didn't know what it was. So I did an MRI, and they found a few more tumors around the area."
The actor revealed that at the time, they discovered six tumors. One, in particular, was of such a size that it could not be removed. Lundgren underwent systemic therapy to shrink the tumors and make them operable. However, in 2021, he went to film his scenes for Aquaman and the Lost Kingdom and a sequel to The Expendables 4. At that time, he was found to have more malformations on his body.
Dolph Lundgren
's Recovery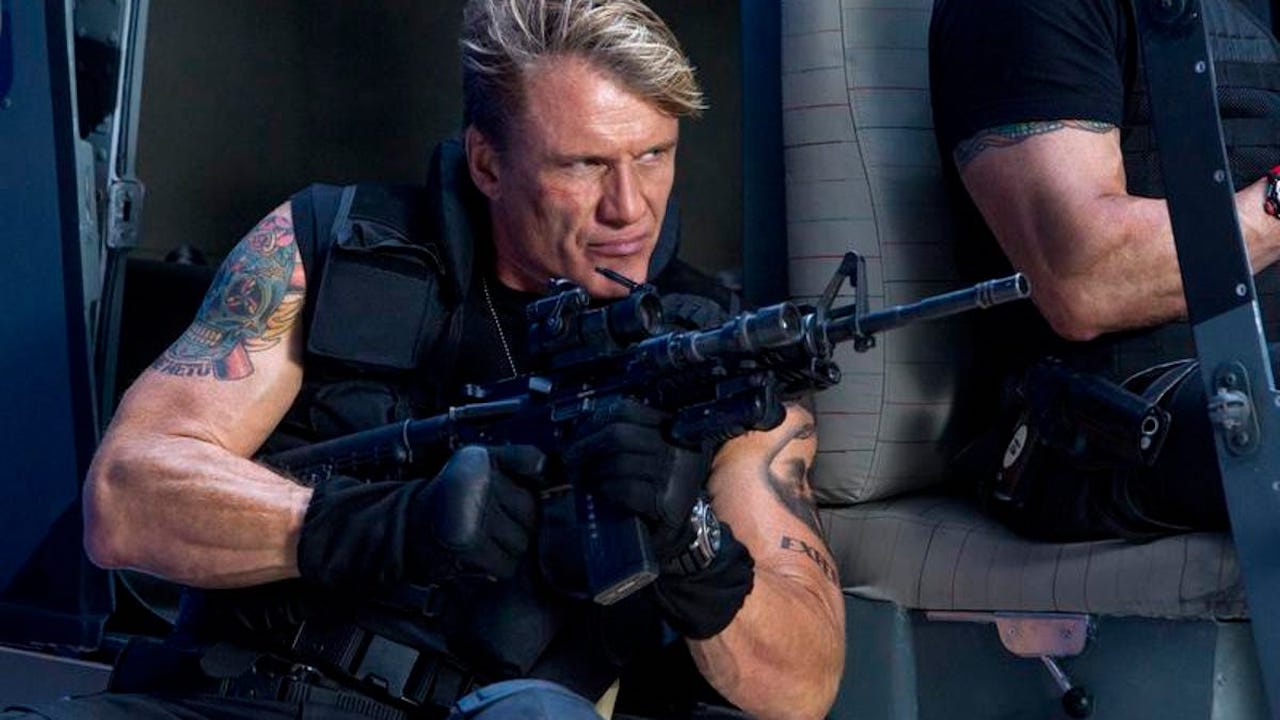 Image: Lionsgate
Despite the initial diagnosis, Lundgren didn't lose hope and went for a second opinion. This doctor told him the kidney cancer was mutating and had similar behavior to lung cancer. He therefore changed the treatment for this type of lymphoma and the results were satisfactory, said the actor.
Lundgren stated that he met with his doctor, who told him the situation was worse than they thought. The specialist told him, " started talking about all these different tumors, like, in the lung and the stomach and the spine, outside the kidneys. He started saying these things like, 'You should probably take a break and spend more time with your family,' and so forth. I asked him, 'How long do you think I've left?' I think he said two or three years, but I could tell in his voice that he probably thought it was less."
In the first 3 months, the tumors had a 20% reduction in size. He also commented that by 2022, only vestiges or remnants of the cancerous masses remained. By that time he had improved with a 90% reduction, thanks to the new treatment. The actor indicated that the only thing left was to remove these tissues and his disease would be cured.
In 2023, Rocky actor is still battling cancer but is much better. Dolph Lundgren is back filming Aquaman 2 and The Expendables 4. In the first one, he will play King Nereus, while in the second one, he will play the role of Gunner Jensen.   
Featured Image Via Graham Bensinger YouTube 
Leave a comment