New Spider-Verse Logos Hint At What We Can Expect in the 2022 Sequel
In the first Into the Spider-Verse movie, we met a handful of other Spider-people. Two Peter Parkers, one a specimen of humankind…the other a doughy sad sack. We met Spider-Gwen, Pennie Parker and her robotic spider, Spider-Man Noir, and Peter…Porker. Thank god for John Mullaney finding a way to make that one work. In the post-credit scene, we also met Spider-Man 2099. So, we can expect to see 2099 in the sequel, but the new Spider-Verse logos, featured as new "fleets" on their Twitter page, hint at many—MANY—more.
How Many Spider-Verse logos are There for the New Movie?
Seriously, it's a lot. It's like we're going to get an army of Spider-Men, Women, and others. There are 20 or so logos, maybe 15 of them are new to the Spider-Verse, and we can assume some of them for established characters. But some of them are just crazy—and anyone's guess could be right. So we made some of our own guesses. Isn't that what they want? To have us all speculating until 2022? Well, you won, Sony! You won.
New Spider-Verse Logos We Are 100% Totally Absolutely Kind of Certain On
Some of the new Spider-Verse logos scream fan-favorite characters. In fact, if these Spider-characters aren't included, it would be a shame. So, let's take a look.
Zombie Spider-Man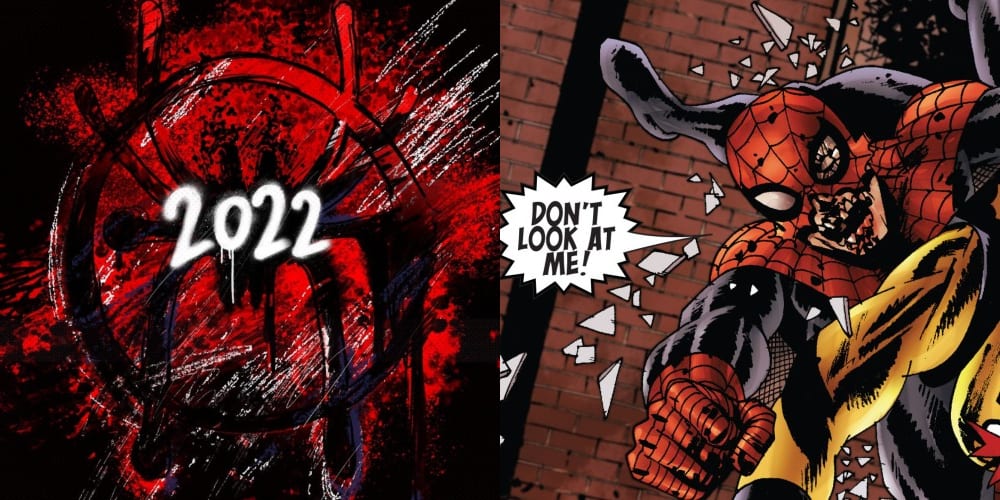 This is a lot less ridiculous than Spider-Ham…every version of Spider-Man is a lot less ridiculous than Spider-Ham. (Images: Sony Entertainment/Marvel Comics)
Come on, if this new Spider-Verse image from the logos isn't for a Zombie Spider-Man, then they're missing out. A Zombie Spider-Man would be a hilarious addition to the Spider-Verse. Instead of scaring children, think about the possibilities of a hero Zombie Spider-Man. Spider-Ham constantly having to get him to stop trying to eat brains. He'd be like the pet of the group. Like Pluto to Mickey…if Pluto had a problem with trying to eat someone's brains instead of humping their leg.
Anarchic Spider-Man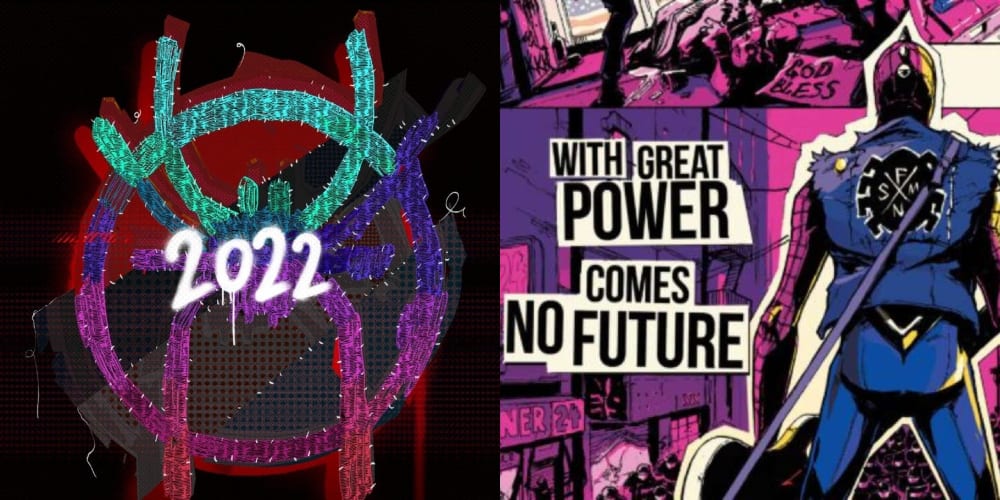 Just a Spider with low self-esteem. (Images: Sony Entertainment/Marvel Comics)
We got Spider-Man Noir; why not the Punk Rock Spider-Man. And of all the logos for the new Spider-Verse characters, this one seems the most obvious. Spider-Punk could also be a badass on the team. Shredding guitar and enemies all at once! And the possibilities for voice actors. Maybe Dexter Holland from the Offspring or Billie Joe Armstrong from Green Day. Maybe Jon Fratelli—get a British punk accent in there.
Captain Universe Spider-Man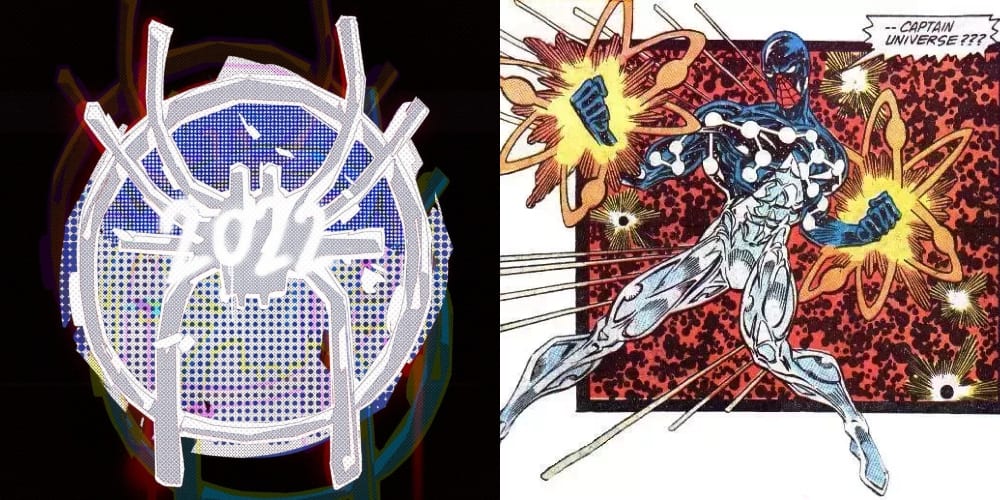 Spider-Man, Spider-Man, does anything a Universe can! (Images: Sony Entertainment/Marvel Comics)
Firstly, this has to be Captain Universe Spider-Man. Just look at this image! This also seems like an obvious choice from the new Spider-Verse logos. And we could really get an amazing few scenes with a Captain Universe Spider-Man. Remember what turned the tide in the final battle of Avengers: Endgame? Captain Marvel blasting through Thanos's ships. Captain Universe Spider-Man can be the Spider-Verse's Captain Marvel. And it would be glorious.
Spider-Man 2099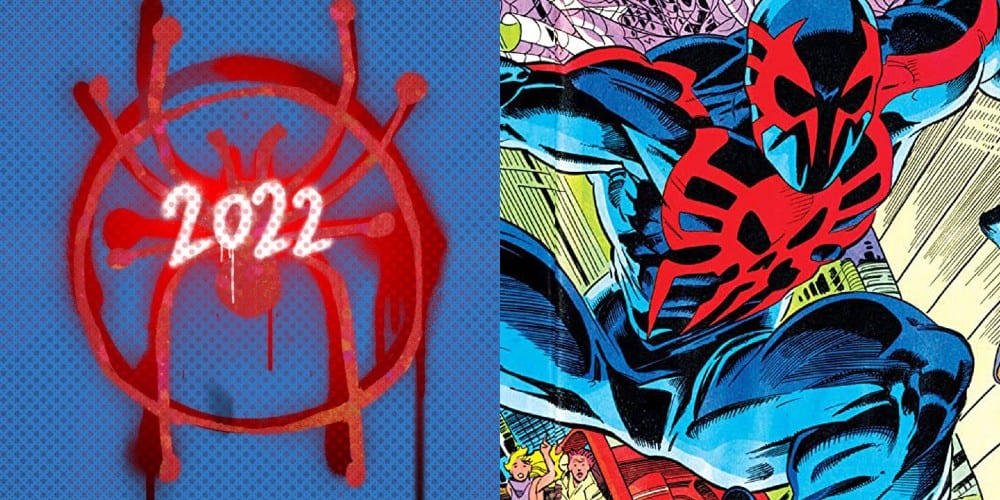 Web Facts: In 2099, it'll actually still be 2020. (Images: Sony Entertainment/Marvel Comics
Well, we already know that Spider-Man 2099 is going to be in the sequel, so this was more swiping through the new Spider-Verse logos until finding the one that screamed "Hi! I'm 2099!" And this one does that the most. Of all the alternate reality Spider-Men, Spider-Man 2099 is by far the most popular. In fact, he's really the only successful character coming out of the 2099 comics. When we finally see him as part of the team, it will be a moment many fans have waited over 20 years for.
Ones We're Less Than 50% Sure About…But Pretty Sure
These next four logos for the new Spider-Verse characters are wild guesses, but might be possible. Or maybe just wishful thinking. There are dozens of alternate Spider-Men characters, but these four feel the most likely to be in the sequel too. Then again, who thought they'd actually include Spider-Ham in the first movie (again, thank Madame Web for John Mullaney).
Spider-Carnage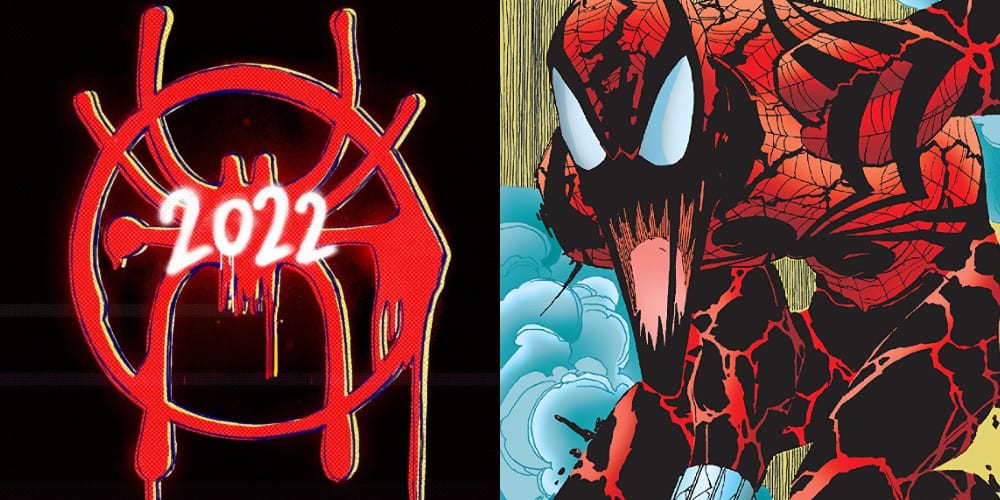 Since we'll see the real carnage in the next Venom movie, how about something to frighten the webs out of kids? (Images: Sony Entertainment/Marvel Comics)
In almost every reality, Spider-Man had to deal with the alien symbiotes. Most of the time, it was different versions of Venom (there's actually an entire Venom-verse too. Can someone say Spider-Man: Into the Venom-verse for part three?). But in a few realities, Peter becomes Carnage instead. What better villain for the sequel than a psychotic Spider-Carnage running rampant through each reality?
Spider-Man 1602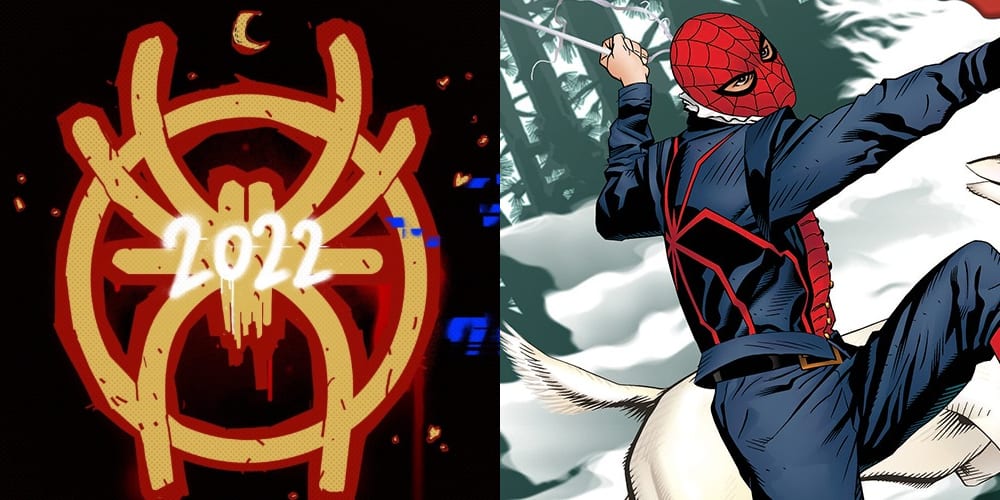 Where art thou Spider-Man? (Images: Sony Entertainment/Marvel Comics)
Spider-Man Noir worked so well in Miles Morales's world not just because Nicholas Cage was the perfect voice actor, but because he was the only one interacting with the future as well as an alternate reality. It could be this or one of the other new Spider-verse logos, but something about the crescent moon in this image says medieval magic. But we're only 16.02% sure.
Spider-Kid
Little Annie Parker would fit right into the Spider-Verse movies. (Images: Sony Entertainment/Marvel Comics)
Annie Parker, AKA Spider-Kid, comes from a reality where Peter Parker and Mary Jane stayed married and had a child—Annie. If they include Annie, she could be the emotional beat of the movie. It would also be great to see another character learning how to use their powers, even giving Miles a mentorship role.
Spider-Monkey
New York is a jungle, after all. (Images: Sony Entertainment/Marvel Comics)
…please?
What do you think? Which versions of Spider-Man do you hope to see?
Roman Colombo finished his MFA in 2010 and now teaches writing and graphic novel literature at various Philadelphia colleges. His first novel, Trading Saints for Sinners, was published in 2014. He's currently working on his next novel and hoping to find an agent soon.
Leave a comment