Natalie Portman Used CGI For Thor: Love And Thunder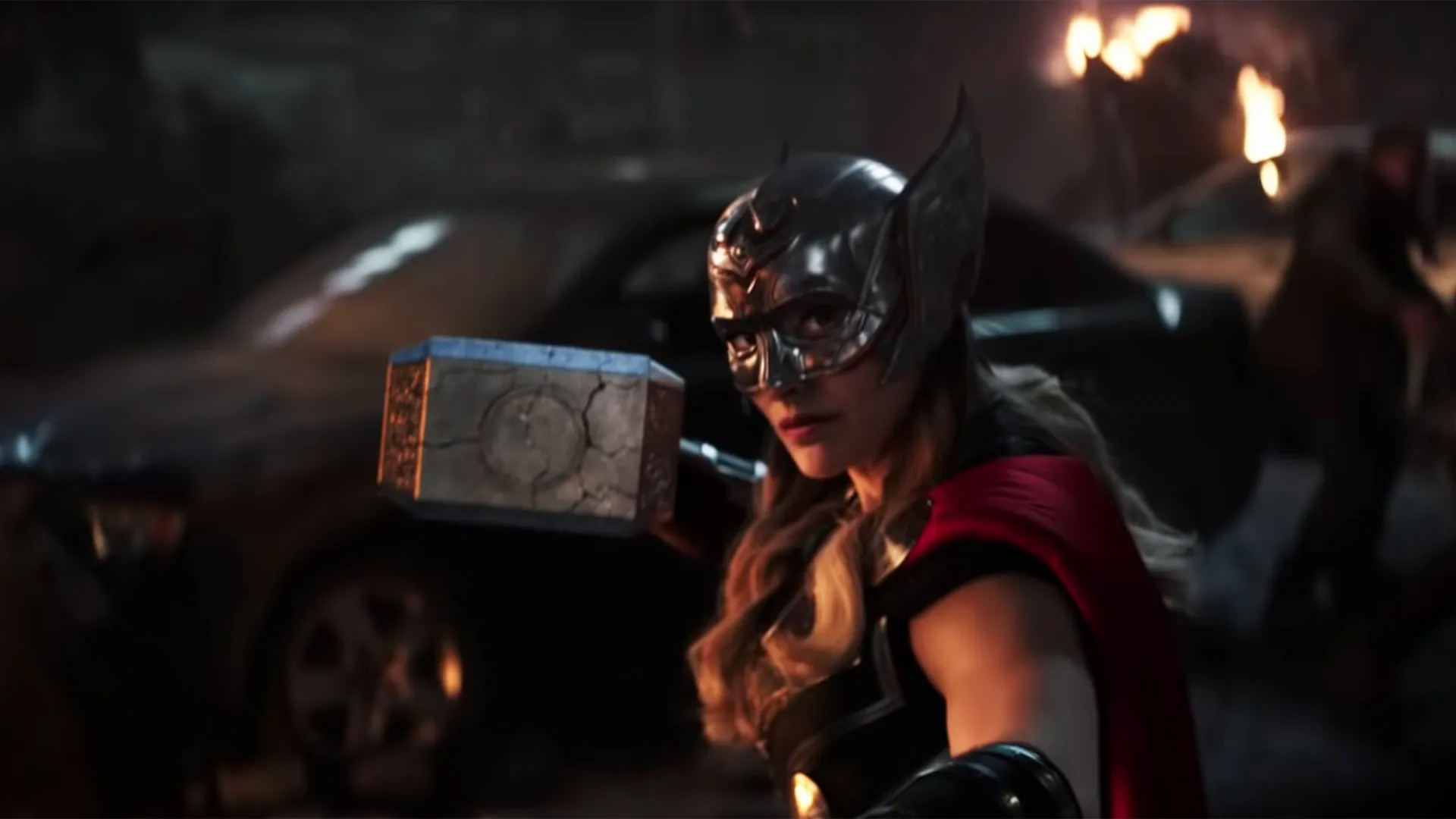 Rumor is that Marvel used CGI on Natalie Portman to make her arms look bigger on Thor: Love And Thunder.
The new Thor sequel, Thor: Love and Thunder, is nearing release, and we've already seen several posters and trailers for the film. One noticeable aspect of these images is Natalie Portman's physical features in her role as Jane Foster. The physical structure of the actress looked more robust and corpulent.
Portman will represent the female version of the Norse thunder god in this movie. Marvel had initially detailed that the actress had to undergo a rather heavy exercise regimen to obtain this build. Although recently, a few rumors surfaced after Portman's statements, including the implementation of CGI to retouch her build. These arose after a photo showed CGI markers on the actress' arms. The images went viral, and for many, they prove that the muscles we saw in the pictures are digitally enhanced.
Weirdos on the internet: LMAO NATALIE PORTMAN'S MUSCLES ARE CGI
Natalie Portman: pic.twitter.com/xHnA4XostH

— Nitro-Spidey: The Deadpool Enjoyer (@NitroSpidey) June 22, 2022
Did Marvel Used CGI On Natalie Portman?
One aspect that caught the eye in the Thor: Love and Thunder photos was Jane Foster's arms when she was Mighty Thor. Some people might suggest that Marvel used CGI to create that effect, but they are wrong. The truth is that it is a product of training and a diet that the actress did to look like a more corpulent person.
Natalie Portman subjected her body to a challenging workout for ten months that involved several weight training routines and a high protein intake. The actress was under the observation of trainer Naomi Pendergast for four months, who supervised her muscle growth and development during the filming of this movie.
Image via Gage Skidmore
The reasons for this training are to cope with the physical differences she has with Chris Hemsworth. If we consider the weight between them, there was a difference of 80 lbs, with Chris weighing 200 lbs and Natalie 110 lbs. Regarding the pectoral area, the actor has 47 inches against Portman's 36 inches.
As for the height, there is a notable difference between the two, with Portman measuring 5'2″ against Hemsworth's 6'2″. This difference is quite noticeable and caused some problems in the filming. The director wanted more parity in both muscular and height between the two actors.
The actress stated in this regard that it is not the first time she had to do such an intense drill for a movie. In Black Swan, she had to perform a similar routine. She also said that it was thanks to sheer willpower and that, at the moment, it makes her laugh when people ask how she got those arms for the movie.
Kevin Feige Denies Using CGI
As the rumor that Marvel used CGI effects to retouch Portman's muscles went viral, Kevin Feige, president of Marvel, made a statement on the matter. He said that the muscles in the images and videos were authentic and not retouched.
Yes Natalie Portman has CGI enhancements to her muscles for the movie (you can see her wearing things to assist the special effects teams)

but honestly I dont really care. She's channeling god powers. they went with this story so no use trying to fist fight the ocean. pic.twitter.com/htpP8Cjshy

— 🏴‍☠️Nasdorachi🏴‍☠️ (@Nasdorachi) June 21, 2022
He stressed that the markers on Portman's arms were for CGI effects but not to add muscles. Although her muscle mass increased, the height disparity was still a problem. Chris is 11 inches taller than Natalie, which was a problem for the production.
In a statement Feige made to Total Film, he said the following:
"The only thing we helped was to make Mighty Thor a little taller. That was the only digital magic we used on his body. Everything else was natural to her."
Taika Waititi used CGI effects to solve this problem, make Portman look taller, and bring her to a similar height to the actor. And this was not the only mechanism to deal with this problem. The actress stated that she had to use multiple ramps to stay the same height as the actor during the filming.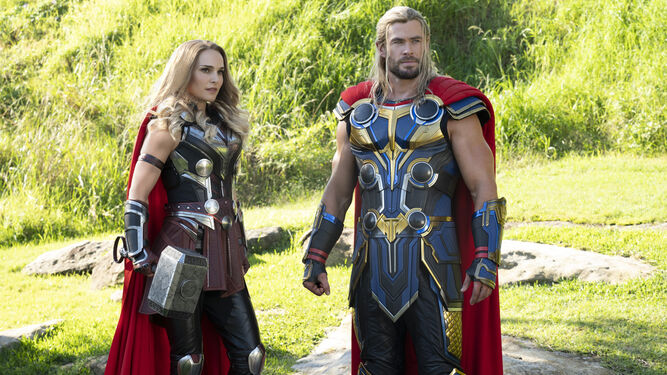 Image: Marvel/Disney
Natalie Portman remarked that every time she was going to walk, a platform would appear, and she would step on it. She used this tool throughout the film in different parts of the production set.
The premiere of Thor: Thunder and Love is scheduled for release on July 8, 2022. The closer it gets, the more positive reviews about the film appear. For example, Erik Davis from Fandango stated that it is what he expected from a Thor movie. Good animations, fights, romances, and good actors highlight the cast's performance. 
Are you excited to see Natalie Portman in Thor: Love and Thunder? Tell us in the comments!
Featured Image via Disney
Leave a comment