Minecraft Dungeons Review – A Fun Intro To Dungeon Crawlers
There's no denying the cultural power of Minecraft. For a game that's been around for years, it's still wildly popular. A new take on the world of Minecraft is out now for PlayStation 4, Xbox One, Nintendo Switch, and PC. Does it hold up to the intense love fans feel for the original? Honestly, it's as perfect of a spin-off you can have. While the game's default difficulty is certainly geared towards a more casual experience, the harder settings give you a great challenge. Not to mention, the graphics look like Minecraft, but in a more fitting way for the genre in which it exists. No, this isn't Diablo, but it's perfect for a few hours of action and an intro to dungeon-crawlers. Let's talk creepers, TNT, and loot with this Minecraft Dungeons review.
Is Minecraft Dungeons Fun? – Breaking Down this Diablo-Lite Dungeon Crawler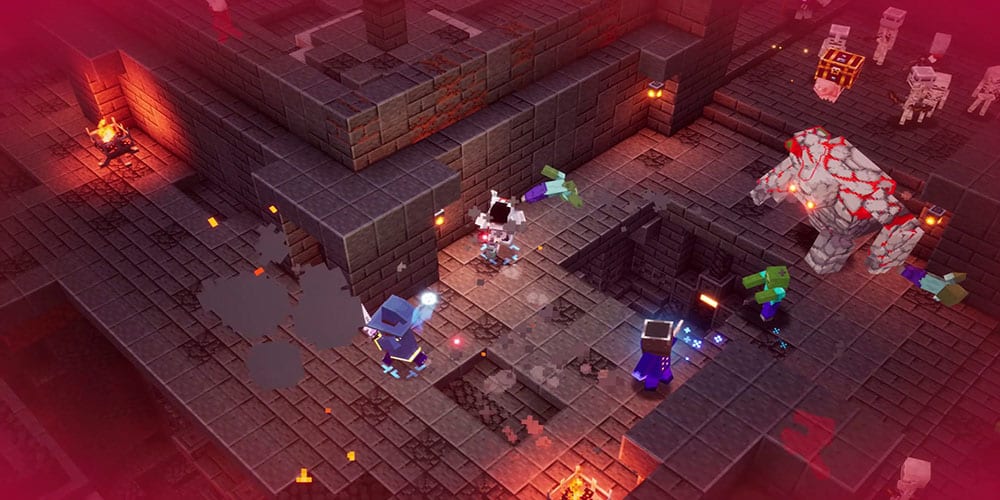 Image Credit: Xbox Games Studio
By no means are you going to pick up Minecraft Dungeons and mistake for whom the game exists. This title is aimed at the core Minecraft audience, which just so happens to be a little younger. With that said, the game isn't some baby romp where you can finish quests with your eyes closed. In Minecraft Dungeons, you choose a skin for a character who sets out to stop the Arch-Illager. This evil villain is bringing hordes of "mobs" into your world, causing chaos and destruction. You start with a wooden sword and a bow, finding new abilities and weapons along the way. Sound familiar? Wait until you see it. The isometric, aerial view is literally out of the Diablo playbook but still feels true to Minecraft.
I'm not a purist when it comes to the difficulty or challenge I find in games. I don't mind something a bit under my skillset. So, when I breezed through the first few levels, I still enjoyed my experience. I was then thrilled to find a difficulty slider. The higher difficulty settings in Minecraft Dungeons are no joke. When you find yourself surrounded by 10-15 enemies, you can't just button-mash your way out of things. Elements like the infinitely respawning HP potion suddenly don't feel so easily accessible. Given the fact that Minecraft sales and player count is only growing, and the game itself reached 2 million copies sold, there has to be room for a wide audience to enjoy this game. The difficulty spread nails this better than most games I've played.
Making a Minimalist World Beautiful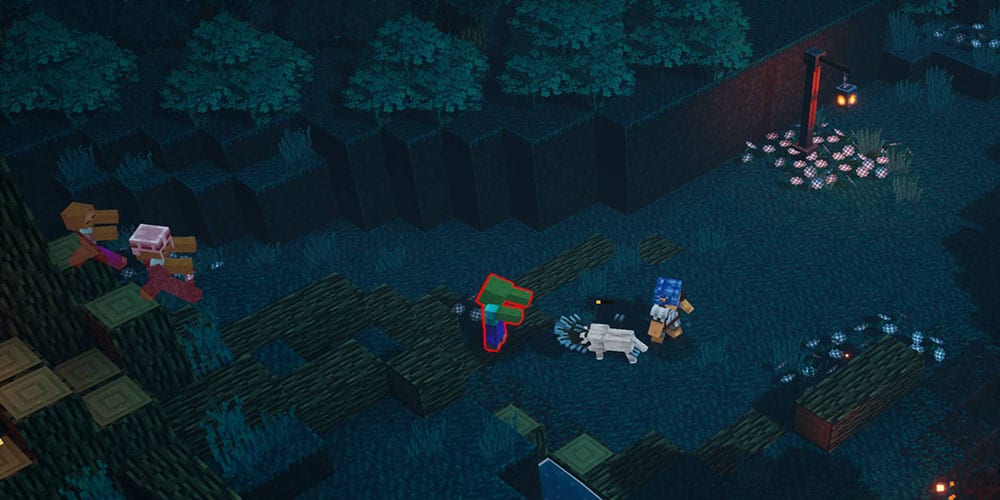 Image Credit: Xbox Games Studio
The Minecraft series is no joke when it comes to visuals. Sure, things are all made in a cube-centric manner, but why can't that look good too? Minecraft Dungeons is a gorgeous example of working with your art style to make things visually pleasing no matter what. It's the same reason why some pixel-art games like Celeste still look incredible. I don't need 4K textures and insane draw distancing to enjoy my game's visuals. The art style satisfies Minecraft players through its use of familiar landscapes and environments. Not to mention, the choice of picking that classic Minecraft Steve skin for your character.
If you don't love Minecraft, then you might not take to the graphics right away. There's something inherently childish about the simplicity of the block-world presentation. Then, as you play the game more, you stop noticing the LEGO-like environments and enjoy the game for what it is. Dungeons looks gorgeous and while things like forests are bleakly uninspiring, characters and enemies look wonderful in combat. Unfortunately, the art style and use of Minecraft in the name of this game will turn people away from giving it a go. That's unfortunate because this really is a wonderful game for no reason more than the controls and combat.
Minecraft Dungeons – Reviewing Gameplay and Combat
Image Credit: Xbox Games Studio
Nothing shocked me more during my Minecraft Dungeons review than the controls. This game is so tight in terms of movement and combat. The feel of this game is as top-tier as you can get when it comes to a dungeon-crawler. Movements are responsive to the touch and combat is a blast. The ability to power roll your way to parts of the map you couldn't reach also keeps that Minecraft humor alive. The game might be a dungeon-crawler, but it doesn't take itself too seriously either. It's a charming balance of light-heartedness and actual fun gameplay.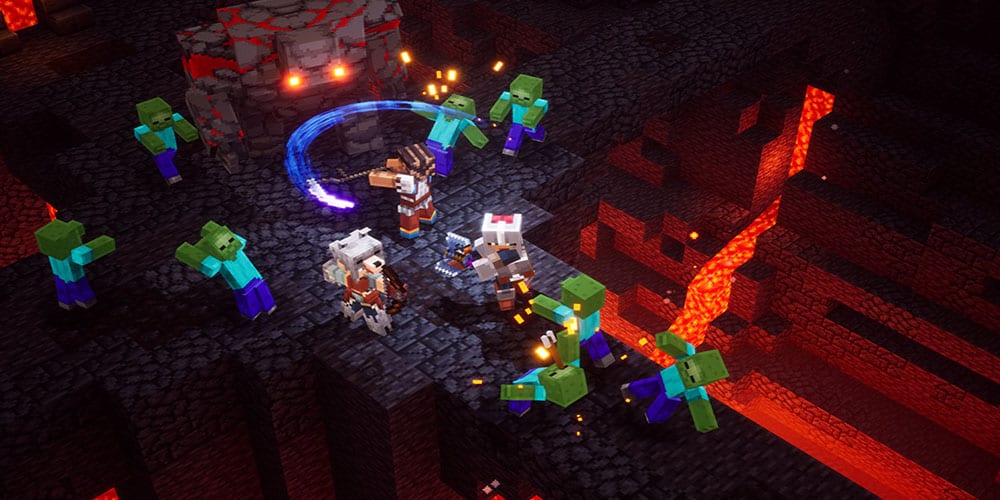 Image Credit: Xbox Games Studio
Enemies look great and bosses are a blast as well. The fun factor for Minecraft Dungeons is high for me, and I'm neither a dungeon-crawler fiend or a die-hard Minecraft fan. While I enjoy both, I don't necessarily spend much time with either in my personal gaming habits. So, I was ecstatic to find that both elements paired so nicely together. It's unfortunate that you only have about 6-8 hours of levels available right now, but they are randomly generated so you can replay them. There will be a $10 DLC bundle in the future for extra levels, which sits well for me given the game's $20 base cost.
Minecraft Dungeons Review Score
Image Credit: Xbox Games Studio
I rate my games on a scale of 1-10; Minecraft Dungeons is a light 9. I don't think Minecraft haters will be swayed with this title. The heart and soul of the game is still very alive in this new take on its world. Not to mention, the limited levels and quick story mode might not be someone's cup of tea if they don't plan on replaying levels for 100% completion. Other than that, I was surprised with how much I enjoyed this game. I think the look and feel of the game pair nicely with this simplified take on Diablo-style dungeon-crawlers.
If you played Minecraft Dungeons, then we want to hear your thoughts in the comments! Thanks for reading Comic Years for all things gaming, comics, and pop culture.
Taylor is the Gaming Editor of Comic Years and a lifelong fan of video games. He holds two degrees in Political Communication and wrote a Master's Thesis on resistance movements, race, and the exploitation of college athletes. His wife and two Toy Australian Sheppards keep him sane.
Leave a comment