Met Gala 2022—Twitter Reacts To The 'Gilded Glamour' Event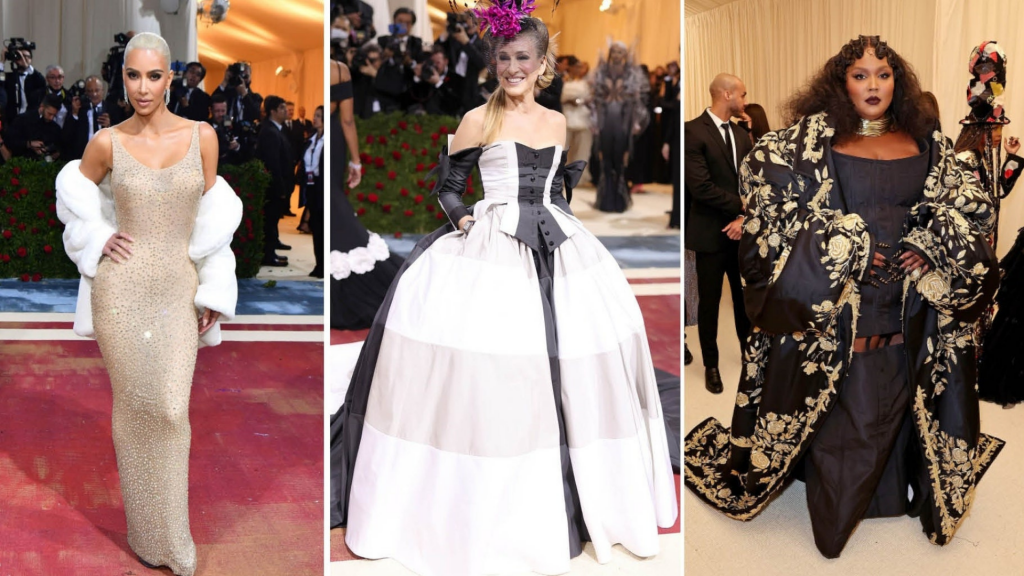 Vogue
Met Gala 2022 happened today, and it was fabulous! It is the time of the year where A-list stars gather and unite for a cause.
But you might be thinking, what is the purpose behind this glamorous event? The Met Gala, formerly known as Costume Institute Benefit, is an annual fundraising gala. Its primary beneficiary is the Metropolitan of Art's Costume Institute in New York City.
The Costume Institute houses over thirty-three thousand pieces of dresses and accessories. These fashion pieces represent what has been fashionable in the past seven centuries.
The Met Gala is the primary source of funding for the institute. Different prominent personalities from various fields like fashion, television, film, social media, sports, and politics are invited. And Vogue's editor-in-chief, Anna Wintour, spearheads the said event. Sources say that for last year's Met Gala, they raised over $16.4 million through its $30,000 tickets and $200,000 tables.
This amount of money was the main tea for last year's event. In case everyone forgot, U.S. Representative Alexandria Ocasio-Cortez brought out this issue hot with the help of her famous "Tax the Rich" dress. Whether that helped her case or not is entirely up for debate.
Met Gala 2022: Gilded Glamour
For Met Gala 2022, the theme was 'gilded glamour.' According to Vogue, they asked their attendees "to embody the grandeur—and perhaps the dichotomy—of Gilded Age of New York."
The Gilded Age of New York was a prosperous era for financial wealth and architecture in the latter part of the 19th century. In the sense of fashion, that era was famous for having lots of fabric and frills, with laces and bows.
Let's jump into how the Twitterverse responded to Met Gala 2022. Some of these are straight-up savage!
Lady Blake Lively's Dress, Lizzo's Flute Playing
Starting with Hollywood's most loved couple, Blake Lively and Ryan Reynolds. We all know that Blake Lively is a crowd favorite for Met Galas. And she didn't disappoint us in Met Gala 2022 either!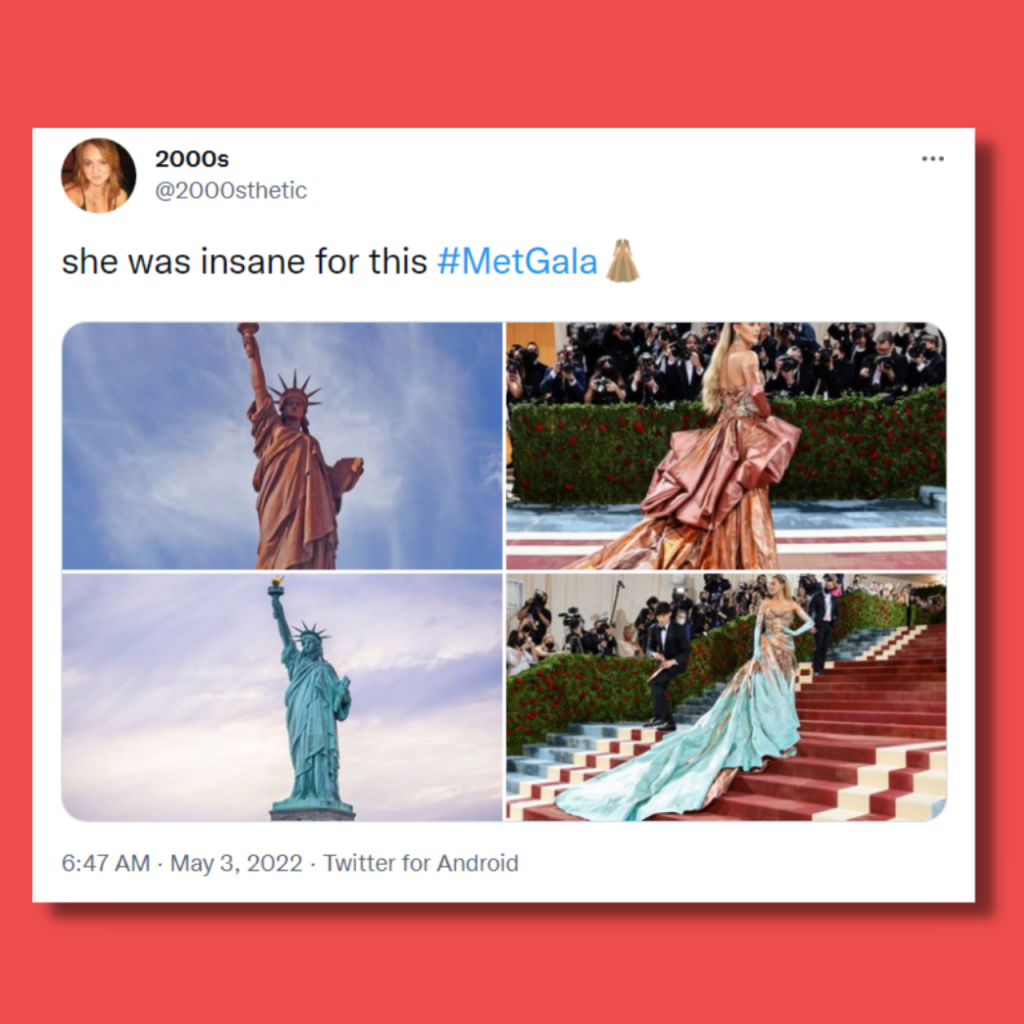 Twitter
Wearing a copper-colored dress from Atelier Versace, Blake Lively ramped on the red carpet with her husband beside her. Of course, Ryan was equally dressed in his Ralph Lauren suit.
Her dress later on transformed into an oxidized copper tone. And yes, you got that right because that's Lady Liberty right there.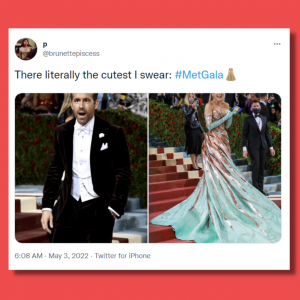 Twitter
Another beauty of Met Gala 2022 was Lizzo. Her black dress, embroidered by gold threads, reportedly took 22,000 hours to create. But, what made our wigs fly was her impromptu flute performance on the red carpet. That was good as hell!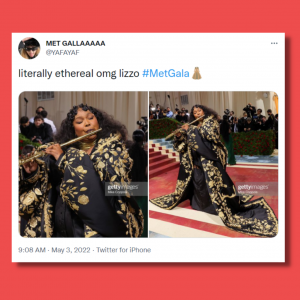 Twitter
Emma Stone's Cruel-la Moment, Sebastian Stan In Pink
Now moving on with those who didn't quite understand the assignment. Up for the list is Emma Stone. She starred in Disney's evil fashion icon as Cruella, but it looks like what she wore at that gala was the real evil.
Some Twitter users shared their funny thoughts about the star's fashion choice at Met Gala 2022.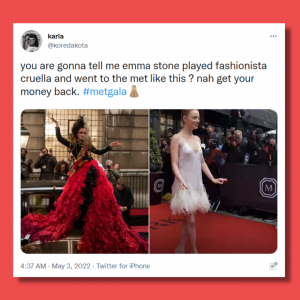 Twitter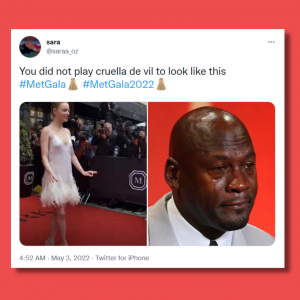 Twitter
While men are still notorious for wearing black suits, one man stood out. With his bold choice of color, he dazzled. Sebastian Stan threw out the Winter Soldier aesthetic and chose a head-to-toe hot pink ensemble. The Marvel star surprised us at the Met Gala 2022, and the internet is here for it!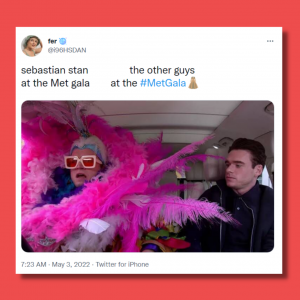 Twitter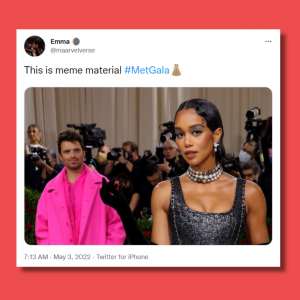 Twitter
The Cinderella Moment
One person caught everyone's attention at Met Gala 2022. With all the stars gathered that night. Génesis Suero, a reporter for Telemundo that night, was a real showstopper. The former Miss New York USA covered the gala with her Disney princess-looking gold beaded gown. She was the moment!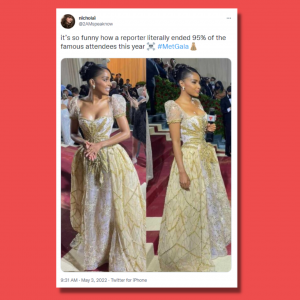 Twitter
And there you go! Those are some of the viral reactions we've scoured through the Twitterverse. Surely, there are more to these. Share with us your fashion takes on Met Gala 2022. Who do you think was the best dressed? And who do you think can do a lot better? Let us know!
Paul is many things. He's a fan of anime, superheroes, and everything in between. He dedicates his downtime to annoying the heck out of his cats and dog.
Leave a comment