Matt Stone and Trey Parker of South Park Fame Score Huge $900m Deal With ViacomCBS
"Are they still making new episodes of South Park?" As a longstanding fan of the crude comedy series, I hear this question a lot. The answer is a definite yes. Not only are they making new episodes (after 24 years), but they're making more money, too, which is clear after reading about the new deal that the show's creators just signed. Matt Stone and Trey Parker, the creators of South Park, have signed a $900 million deal with ViacomCBS. And you'll be amazed to hear just how many films are coming out of this.
Matt Stone and Trey Parker Know That South Park Will Last Forever, And So Does ViacomCBS
The little series that could all started back in 1992 with the release of Jesus vs. Frosty. Jesus vs. Santa followed the animated holiday special in 1995, and the duo became known as The Spirit of Christmas. These simply animated shorts made by Trey Parker and Matt Stone quickly picked up fame on the still-budding internet, but networks deemed the concept too crude. Eventually, it was picked up on Comedy Central. Its premiere episode, Cartman Gets an Anal Probe, debuted on August 13th, 1997.
South Park started by showing the exploits and adventures of its four main characters, Elementary school-aged Stan, Kyle, Kenny, and the infamous Eric Cartman. It was beloved for its ability to be comical and boundary-pushing while also talking about some pretty serious topics like censorship, the dark sides of religion, and homophobia.
South Park: Bigger, Longer & Uncut, the series' first attempt at launching a film, dropped in 1999. It was praised by many critics and earned a decent $83.1 million at the box office. But, most importantly, it gave us this video of Robin Williams singing Blame Canada at the Oscars.
So, What Comes Next For South Park?
People have tried and failed to get South Park off of the air. There have been numerous threats made against the studio and the creators, but it has only caused them to push the envelope even further and refuse to hide certain storylines- for better and for worse.
Despite all of the past and ongoing controversies, people still love the show. Some are casual viewers, tuning in for their weekly dose of Eric Cartman or Randy Marsh. Others write fanfiction and pretend like every episode has some deeper meaning than fart jokes and vulgarity.
What comes next for South Park, Matt Stone, and Trey Parker is a huge deal with ViacomCBS. The deal, going through MTV Entertainment Studios, is valued at around $900 million. It will renew the series up to its 30th season, going to 2027. Additionally, there will be 14 movies to premiere on Paramount+.
This seems like an awful lot of money for some comedy content about a group of kids. But if Stone and Parker have proven anything, it's that they know how to market comedy.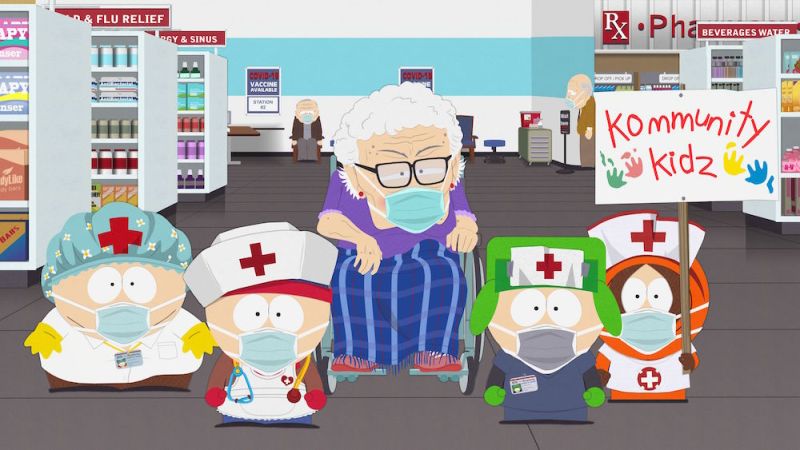 Image via Comedy Central.
Beyond The Success of Just South Park
In addition to the series, the co-creators are known for creating the musical The Book of Mormon, along with fellow creator Robert Lopez. The musical, which began in 2011, is a satire focusing on The Church of Jesus Christ of Latter-day Saints. It is uplifting, hilarious, and filled with tunes that are still stuck in my head nearly a decade after watching it on broadway. The musical earned over $545 million and won 9 Tony Awards and a Grammy Award.
Matt Stone and Trey Parker have put almost all of their focus on the musical and the series. Certainly, there's no shortage of steam because the new deal is about to make their lives a lot busier (and way richer.)
What Will Come Out Of The ViacomCBS Deal With Matt Stone, Trey Parker, And South Park
The most recent content to come from South Park includes the Pandemic Special and the Vaccination Special, which served as a commentary on the public's response to the coronavirus. We'll be getting the next season, the 25th, in 2022. Additionally, the 14 films set to come from the deal will begin with 2 this calendar year. Afterward, there will be two every year until the pact is finished. There will also be some new content from Stone and Parker that exists outside of the world of South Park, Colorado, but little is known.
Readers, this is a pretty massive deal between Matt Stone, Trey Parker, and ViacomCBS for South Park. Do you still think the show is worth this much attention? And are you excited for future specials and seasons? Drop all of your thoughts in the comments!
Featured image via Comedy Central.
Meghan Hale is the kind of movie lover that has a "must watch" that is a mile long... and growing. When she isn't talking about the latest film and television news she is writing one of her many in-process novels, screaming film trivia at anybody who will listen, and working as a mental health care professional. Follow her on Twitter @meghanrhale for some fun theories and live reactions to all things entertainment.
Leave a comment