Marvel Games Are Celebrating Pride Too
Whether it has always meant to or not, Marvel has been coming out with characters and stories that have resonated with the LGBTQ community for years. In recent years, Marvel has definitely taken a step toward the deliberate and has more and more canonically queer characters, and they aren't even the B team. Kitty Pryde is a mainstay of X-Men stories, and she's openly bisexual. Also her name is Pryde, which feels pleasantly on the nose. 41 years after John Byrne and Chris Claremont put her into the comics, we get to also see Marvel Games celebrating Pride. 
What're They Doing? 
Pride month is an opportunity for Marvel and creative teams like them to give a little focus on LGBT characters and stories. Marvel games are celebrating pride by bringing out some of comics' most beloved gay characters and featuring them in special events. Iceman will be making an appearance and getting a new costume, and honestly he deserves it. He suffered through his movie parents saying "have you tried not being a mutant" in the second X-Men movie, so a new costume is the least of the reparations he's owed. Unrelated, but that is also the scene where he makes a fantastic cup of iced tea. 

Image via 20th Century Fox
Iceman isn't the only character getting some special attention. Other notable characters who will be appearing are America Chavez Blitz, Mystique Moondragon, and Negasonic Teenage Warhead with more besides. You can also get a wallpaper featuring a few LGBTQ heroes, specifically Hercules, Angela America Chavez, and Iceman. Beyond that, there are some unique Pride-related quests that will feature more gay characters like Wiccan, Valkyrie, Black Cat, Valkyrie, Karolina Dean, and even Valkyrie.
Superficial Representation Can Still Be Nice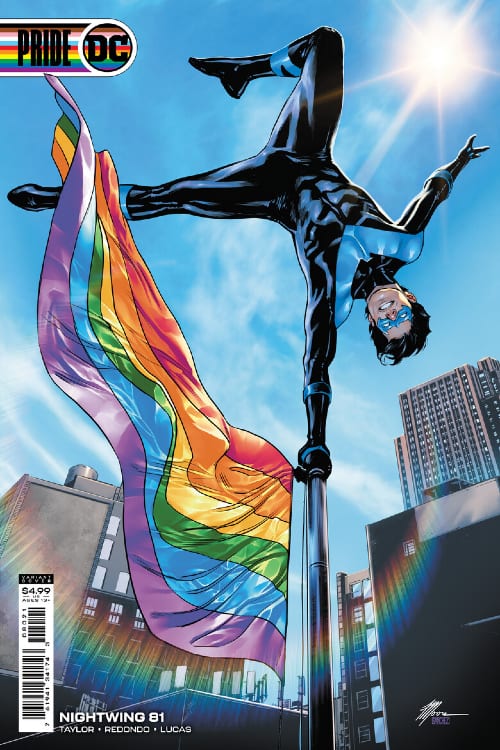 (Image: Nightwing #81, Pride Variant, DC Comics)
Not all representation is going to make deeper statements about the genre and the LGBTQ people who love it. Sometimes it's nice to just have a time that celebrates our favorite queer characters without too much else besides saying "Hey, gay! Neat, right?" Not every movie has to be deep and not all representation has to be intense to be good. Good representation is a gradient with different shades being Bobby Drake and his new costume and hopefully a steady boyfriend, the revelation that Loki is gender-fluid and of course, Valkyrie.
How do you feel about Iceman's new costume? What would you like to see from Marvel during Pride? Talk to us about it in the comments below!
Featured image: Marvel's Voices Pride # 1 Coipel Variant
Jessica Kanzler is a freelance writer and editor who lives with her wife and cats. Jessica has bad taste in tv and an MA in Rhetoric, Writing, and Digital Media studies. Talk to her about Frasier on Twitter @Jessicaakanzler
Leave a comment