Kathleen Kennedy Critics Really Quiet As Rogue Squadron Gets Back On Track
Star Wars fans got some good news this week. No, not more footage than Disney+ Day teaser for Obi-Wan Kenobi (that really didn't show us anything). The much-anticipated Patty Jenkins Star Wars film about X-Wing pilots, Rogue Squadron, is no longer delayed. It turns out that it really was a scheduling conflict preventing the film's progress, specifically Jenkins' movie about Cleopatra starring Gal Gadot. And it appears that the solution came, sort of, in-house at Disney. Kari Skogland, who directed The Falcon and the Winter Soldier will step in to direct, while Jenkins stays on as producer. Still, before this was settled, that didn't stop critics from (as per usual) blaming Kathleen Kennedy for screwing up another Star Wars movie. Fledgling subscription site Puck.News reported Kennedy, George Lucas' hand-picked successor at Lucasfilm, signed a three-year deal to continue helming Star Wars, Indiana Jones, and other Lucasfilm properties.
Yet, in that report, former THR.com writer Matthew Belloni precedes the news with a screed arguing Kennedy should be removed from Lucasfilm because her tenure has, in his eyes, been a failure. While Belloni does give Kennedy (whom he calls "Kathy" in his piece because "everyone" else does) more credit than most of her detractors, the arguments made are tired and, sorry to say, steeped in (possibly unconscious) misogyny. He reluctantly admits that if we're going to criticize Kennedy for Star Wars' perceived box office 'failures,' we also have to give credit for the Star Wars people love like The Clone Wars and The Mandalorian.
So, why do I say this criticism feels tempered by misogyny? Because I cannot fathom anyone saying a $3.76 billion profit at the box office is a failure of any kind for a male executive in the same position.
Critics Are Wrong, Kathleen Kennedy Deserves to Lead Lucasfilm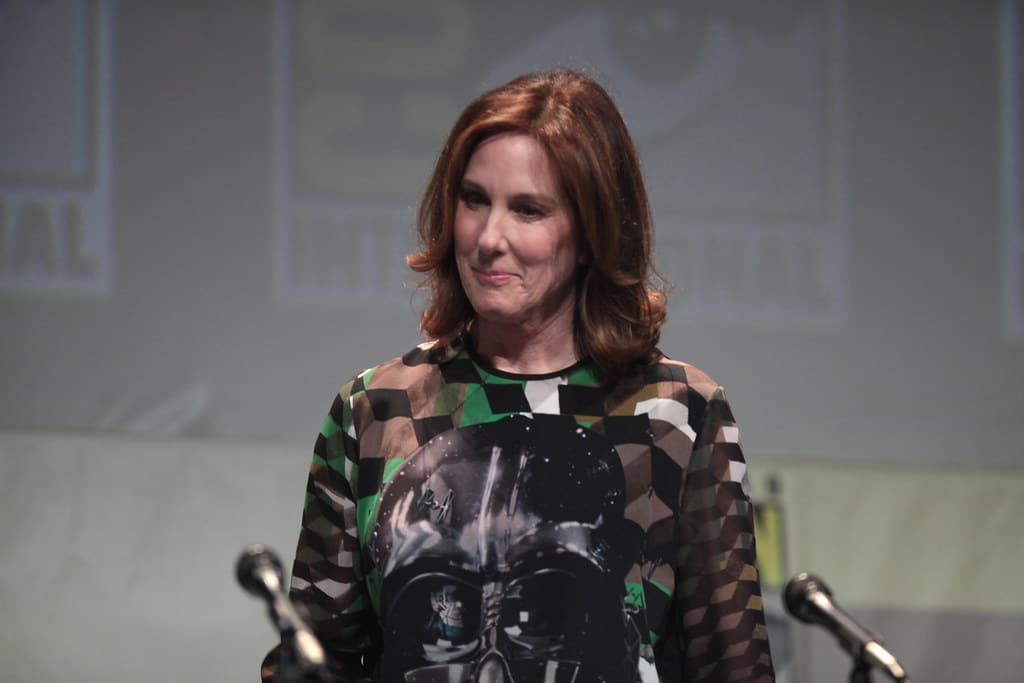 Image via Gage Skidmore.
Before we go on, I am not saying it is impossible to criticize Kennedy without being sexist. Yet, criticizing her without mentioning sexism is a dereliction of journalistic duty. A man with 40 years of producing credits would not face this kind of criticism. Before taking control of Lucasfilm, Kennedy had countless classics on her résumé from E.T. to Back to the Future to The Sixth Sense and so on. Even Belloni knows he can't step to her CV, so he just glosses over it, like 80-odd successful films is irrelevant. And while I do buy that he has genuine sources inside Disney or Lucasfilm, his breakdown of "baffling creative choices" seems like it was pulled from some toxic fandom YouTube outrage grifter.
So, since her performance as an executive at a for-profit company looking to create value for its shareholders can't be assailed. The only argument left is the one consistently made by consistently disappointed Star Wars fans: She just doesn't get the universe. Where Marvel's Kevin Feige is painted as a fierce protector of his brand, when Kathleen Kennedy does the same thing, her critics say that she's either too tough on creators or simply incompetent when it comes to this franchise. Simply put, she doesn't get this universe.
"Star Wars is tough because fans feel such personal ownership over the characters and mythology. Everything is scrutinized. But Kennedy's management of those expectations seemed to shift film-to-film. Force Awakens, after a rocky development, was considered a well-executed mix of fan service and fresh characters. But after allowing Johnson to kill off Luke Skywalker and the villain Snoke in Last Jedi, Kennedy and Co. freaked when superfans didn't like some of the creative deviations from the Star Wars canon. So rather than defend or extrapolate on his ideas for Episode IX, Lucasfilm just minimized or ignored them."
We've already covered how The Rise of Skywalker perfectly complements The Last Jedi, but to suggest as he does that "nothing matters" to Kennedy and company just feels wrong. I mean, we can never know what's truly in a person's heart, but I think we can at least safely assume that Kennedy is a savvy enough producer to "care" about the universe of stories and characters—created by a longtime friend—that continues to pay her exorbitant (but probably not as exorbitant as her male peers') salary.
And if she's a failure, so is George Lucas because the prequel trilogy divided the fanbase in a very toxic way. (We just didn't have Twitter and YouTube then.) Hell, they made a whole documentary about how much George Lucas let down fans and 'destroyed' the franchise. Back then, the clarion call from the perpetually disappointed Star Wars fan was to let anyone other than Lucas control the franchise. It's why he sold Lucasfilm to Disney in the first place.
So, I'd wager that Kennedy both gets and cares a great deal about Star Wars.
Kathleen Kennedy's Biggest 'Problem' Is a Feature, Not a Bug
Kevin Feige is the architect of the Marvel Cinematic Universe. Every filmmaker involved with Marvel Studios says he and his fellow executives are actively involved in the creative process. Edgar Wright and Scott Derrickson are high-profile directors who parted ways with Marvel Studios. Yet, instead of being painted as someone who has no idea how to produce a movie, Feige is a 'defender of the Marvel brand of storytelling.' As intriguing as Lord and Miller's Solo or Colin Trevorrow's Episode IX seemed, it's equally easy to argue their visions didn't fit with Star Wars. Whether it's themes of redemption or the need to take very silly story details very seriously, these things are part of its DNA.
Belloni and others assumed Jenkins' scheduling conflict was a face-saving lie. Yet, the idea that creators don't have freedom in the universe is equally fallacious. John Favreau and Dave Filoni proved this with The Mandalorian. No one understands what makes Star Wars what it is better than Lucas' own padawan learner. If Kennedy does give them a longer leash than the feature directors, it's because she trusts Filoni will get it right. Directors like Lord and Miller, however, have their own styles that may or may not blend well with the tone of Star Wars. It's not a one-size-fits-all approach, but rather know what is and isn't "Star Wars."
If she is more hands-on with other creators who've not previously worked with Lucasfilm, then that signals to me she may care a bit too much about protecting this universe. So, if there has been any new Star Wars content you've liked since 2014, from Rebels to Star Wars: Visions, there's reason to be optimistic.
Critics Should Start Giving Kathleen Kennedy the Benefit of the Doubt
Image via LucasFilm/Disney.
In the interest of full disclosure, I always look for the best in Star Wars stories. Perhaps it makes me an apologist, but I don't care. These stories bring me joy. It is, of course, okay for people to not like these movies or be disappointed with what we get. But, if she's earned anything in her unmatched career, Kathleen Kennedy, at least, deserves for her critics to put some respect on her name. Unsurprisingly, being an angry fan is a very lucrative media business model at the moment. Raging entitlement with a soupçon of right-wing political jargon usually does the trick. But like any story you need heroes and villains. The two dudes are beloved, and the woman executive is reviled. If you find yourself thinking this way, you should at least consider that it might be misogyny, conscious or not.
It is a great time to be a Star Wars fan, even if you were disappointed by The Rise of Skywalker. There are a number of live-action series coming starring fan-favorite legacy characters like Obi-Wan Kenobi and Ahsoka. (Also, Hayden Christensen back for another bite at the Sith apple.) The new animated series The Bad Batch is a very compelling story about the rise of the Empire and the fate of the Clones. In books and comics, storytellers are exploring new eras like The High Republic, with more to come. If a franchise you like gives you a dozen stories and there isn't one you like, that's not Kathleen Kennedy's fault.
"I know it's unfair to compare Lucasfilm to Marvel, a unicorn hit factory that is blessed with thousands of characters from decades of comics. But Lucas' Star Wars galaxy isn't exactly bereft of stories, as Jon Favreau and Dave Filoni have proven with the Mandalorian spinoffs like the upcoming Book of Boba Fett and Ahsoka series. (And yes, if I'm criticizing Kennedy for the Star Wars film output, I need to also give her credit for what Favreau and Filoni have accomplished, which is pretty stunning.)"
Despite the regrettable phrasing, insofar as Kennedy is responsible for the Star Wars things you have not liked, she's equally responsible for what you do. Generally, I don't care much about the executives behind the storytellers. But since it's still pretty rare for a woman to be in this kind of position, we really should be more considerate of how and, more importantly, why we criticize this one.
What makes the comments from Belloni and other critics of Kathleen Kennedy so egregious is that it truly was a scheduling conflict. Not only that, less than a month after the delay hit the press, everything is back on track. And color me (not) surprised, there are no articles out here reporting this and eating their fair share of crow for suggesting this was 'another Kennedy screw-up.' Under her leadership, Disney has already made back the $4 billion they spent on Lucasfilm, nearly at the box office alone. Over the next three years at Lucasfilm, I suspect Kathleen Kennedy will try to improve on her performance thus far. It's my hope that we in the entertainment and fan press spaces also try to do better when it comes to covering her and Lucasfilm.
All critics of Kathleen Kennedy aren't misogynists, but a lot of the criticism around her is steeped in at least unconscious misogyny. So, before we write the next screed about why 'Kathy' is a big ol' failure, perhaps we should stop and honestly ask ourselves if we'd still feel the same way about the executive if it was Kevin Feige.
Featured image via Lucasfilm
Joshua M. Patton is a father, veteran, and writer living in Pittsburgh, PA. The first books he read on his own were comics, and he's loved the medium ever since. He is the greatest star-pilot in the galaxy, a cunning warrior, and a good friend. His book of superhero short stories, Tales of Adventure & Fantasy: Book One is available as an ebook or paperback from Amazon.
Leave a comment