William Jackson Harper Wants To Play Image Comics ShadowHawk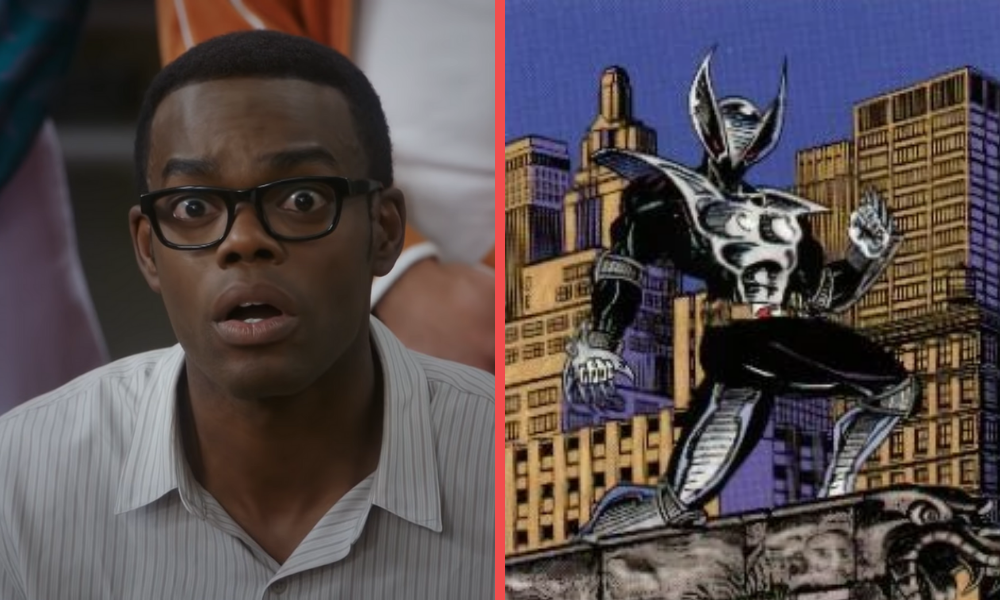 The Good Place star William Jackson Harper shared his interest in playing a superhero character. However, the character he chose was Image Comics ShadowHawk.
After a solid four seasons of playing Chidi Anagonye in Michael Shur's The Good Place, William Jackson Harper shares his interest in joining the superhero world. But the actor strayed away from the usual Marvel/DC options as he chose a rather obscure antihero. Harper shares that he wants to play the "dark as hell" Image Comics' ShadowHawk. Image Comics is also where Amazon's Invincible comes from.
Speaking with ComicBook.com, the Good Place actor said:
"There was this comic I did read when I was, I want to say like early middle school, called ShadowHawk that I liked a lot, and it was dark as hell. And I really, really enjoyed it."
He continued by saying that while he's interested in dabbling in superhero projects, the decision is not up to him.
"Look, I'm down to get involved with any of those things, but it's like, that's up to those people making those decisions. It's certainly not the internet. But yeah, I think ShadowHawk would probably be the one that I'm really into."
Recently, Marvel Studios' Sarah Finn casting director gave her thoughts about how fan castings play a part in the overall Marvel process. The talk about fan castings broke on the internet when Kevin Feige revealed that Johh Krasinski's appearance in Doctor Strange in Multiverse of Madness was because of the fans. Now, we're seeing a lot of clamor from the fans pushing Ryan Gosling, Bryce Dallas Howard, and Taron Egerton to be part of Marvel.
But who knows? Maybe Harper's words manifest in the future, and he'll become Image Comics' ShadowHawk. Now, let's get to know more about the dark superhero.
YouTube | The Good Place
Who is Image Comics' ShadowHawk?
ShadowHawk is an antihero character from Image Comics created by Jim Valentino, the same man behind Guardians of the Galaxy. The antihero debuted in Rob Liefeld's Youngblood series in 1987. While Image Comics ShadowHawk now has a new person behind the cape, the original bearer of the name is groundbreaking and controversial. 
Paul Johnstone was the original person behind Image Comics' ShadowHawk. Paul grew up as a troubled youth in Harlem, New York, but thanks to his stepfather Richard Woodroe, he managed to avoid living a life of crime.
Eventually, Paul became a lawyer and, later on, a district attorney. In his line of work, he met various criminals, but one group of mobsters significantly impacted his life. The mobsters pressured him to follow their demands, but Paul stood his ground and refused. His decision angered the mobsters, leading them to assault Paul and inject him with HIV-infected blood.
After the encounter, Paul wasn't sure if he got infected, but the attack became a public spectacle, and word of his possible infection spread fast. His apparent condition made his workplace a very inhospitable environment, leading to a fight between Paul and one of his workmates. The fight ultimately cost Paul his job, sending him to jail.
When he got out, Paul finally confirmed that he indeed got infected. The news of being HIV positive made him fall into severe depression. During his stay in the hospital, he decided to use the remaining time he had left to punish criminals and serve justice to their victims. One of his friends revealed that she's been developing an exoskeleton suit to help him achieve his goal.
With the exoskeleton, Paul gave birth to his Image Comics ShadowHawk alter ego. Unlike other superheroes, the ways of Image Comics' ShadowHawk are brutal and merciless. His gruesome ways of dealing with crimes made him a target by criminals and the police.   
What do you think about Image Comics' ShadowHawk? Do you think William Jackson Harper would be able to pull off the infamous antihero? Share with us your thoughts!
Paul is many things. He's a fan of anime, superheroes, and everything in between. He dedicates his downtime to annoying the heck out of his cats and dog.
Leave a comment