Hellraiser Reboot Trailer Released – Jamie Clayton's Pinhead Looks Frightening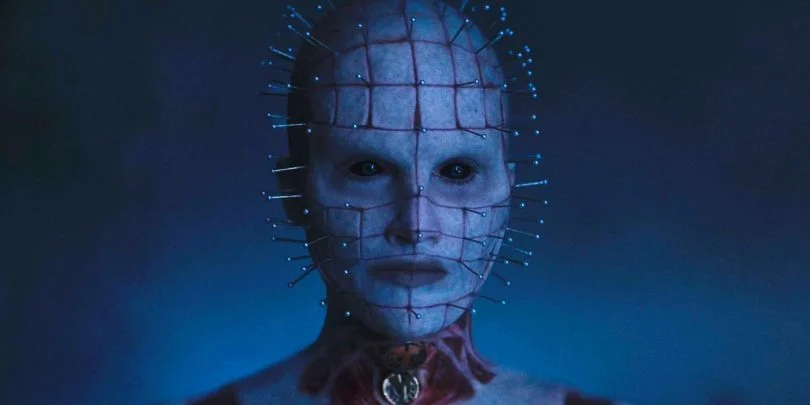 David Bruckner's reboot of Clive Barker's novel Hellraiser will premiere in October, and we already have the first trailer released. This trailer serves horror fans with all the questions to make them want to solve this puzzle box from Hulu.
There are many expectations placed on this Hellraiser reboot. This British film first premiered in the 80s, causing much glare at the time. Now it brings us a novelty; a woman will play Pinhead, who we could see in the first full trailer. With this franchise reboot, we will see how this footage looks for new unwilling victims as a mysterious puzzle box traps them.
Image via 20th Century Fox
Hulu Released First Hellraiser Reboot Trailer
The director of The Night House and The Ritual, David Bruckner, will have the honor of directing Hellraiser. Luke Piotrowski and Ben Collins co-wrote the script using Clive Barker's story as inspiration. The latter is the creator of the franchise.
The trailer 20th Century Fox posted on their official YouTube channel shows a young woman taking possession of the classic Hellraiser Macguffin. When she solves the puzzle, she will summon an order of evil dimensional beings who live only to torture. So, in case you were in doubt, the blood, the chains, and the suffering are back in this new reinvention.
Image via 20th Century Fox
While it is true that in 1987 we saw Doug Bradley's version of Pinhead, a Cenobite or pleasure demon, Pinhead is a woman in this new Hellraiser reboot. She holds Bruckner's puzzle box as an exhibit, front and center, inciting us to seek those forbidden pleasures. Also, she looks like a real badass.
We can see how the director will focus on the inner workings of this box called totem, which allows summoning the Cenobites into our world. A diary appears with a glimpse of notes scribbled out, explaining how to make the totem work. Odessa A'Zion is the actress who plays this reboot's heroine. Upon seeing the strange box, she becomes obsessed with its workings and the demons it summons.
Upon activating it, we see the new Cenobites emerge from the shadows in their most frightening designs. We get confirmation that Chatterer is back again when we hear his gnashing teeth, taunting the new generation of victims he is about to take. Then, Jamie Clayton's Pinhead declares, "It's time."
Details on the New Adaptation
This new adaptation of Clive Barker's The Hellbound Heart will not only have a woman interpreting Pinhead's role. It also comes with more gruesome details, updating the main character. So, the film's new direction and script should respect what Hellraiser has been during the last two decades. This new adaptation brings a plot that combines the previous story with new characters keeping those staple elements.
Ergo, we will see Pinhead as the leader of the Cenobites. She will continue to lead this group of sadistic supernatural beings summoned from another dimension who can't differentiate between pain and pleasure. The trailer shows us a Pinhead that maintains the calm and distinguished demeanor of the original. What doesn't remain inert is Pinhead's voice which is now growling and distorted.
Image via 20th Century Fox
Pinhead's this role has historically been represented by men dressed in leather suits. Now it will be a woman, with a bare neck and shoulders, wearing a hanging metal object that opens, showing the inner flesh. So they leave aside the typical necklace that covered Pinhead's neck. The new version shows parts of the flesh on the body, such as the chest and cut-out shoulders. That reveals the gory details we will see with this new look.
Expect a stellar performance from Jamie Clayton as the horror icon. It will also feature an all-star cast, including Goran Višnjić, Drew Starkey, Adam Faison, Aoife Hinds, Brandon Flynn, Yinka Olorunnife, Jason Liles, Zachary Hing, Selina Lo, Hiam Abbass, and Kit Clarke.
Hellraiser was filmed from September to October 2021 and should premiere on Hulu, streaming on October 7. Will you watch it? Tell us in the comments below.
Leave a comment