Harry Styles Reflects on His Journey to Getting Therapy
Harry Styles reflects on his journey to getting therapy
Harry Styles finally revealed that getting therapy has done so much good for his mental health even though he was initially reluctant to talk to a professional. The pop star started therapy five years ago after much hesitation and added he thought it meant "being broken".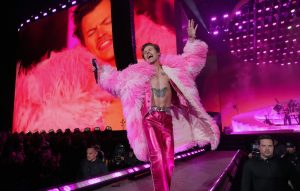 Source/Getty Images
He told Better Homes and Gardens "I felt it was just a music industry cliché to seek help and I wanted to be the one who could say I didn't need it".
But according to the music star, speaking to a professional allowed him to "open up rooms" in himself.
Now, he fully understands his emotions and no longer tends to coast emotionally unlike before.
He said "Accepting living, being happy, and hurting in the extremes is the most alive you can be. That is what I think. Losing it crying, losing it laughing, there's no way to feel alive more than that".
Harry also told BHG that some of his trauma also developed from his time in the One Direction band.
However, the lockdown afforded him the opportunity to properly reflect on the band's split which happened back in 2016. 
"I started processing a lot of stuff that happened during my time in the band when we were on lockdown. I felt free when I finally left the group in pursuit of a solo career" he said.
Harry Styles on more personal struggles
Styles shared on his obsession with pleasing people and struggled to keep the friendly persona he was known for in order to remain likable. But all this changed when he signed a contract in 2017 for his self-titled solo album. He only felt free in the aftermath of signing the deal and remembers bursting into tears on the day he signed the contract. He added that he is now at a place where he no longer cares much about commercial success but instead focuses on making "fun," music.
The former boy bander also opened up about the uncomfortable feeling of being regarded as a sex symbol. 
He said "For a long time, it felt like the only thing that truly belonged to me was my sex life and I was not proud of it one bit. l felt ashamed that people were aware I was even having sex, let alone who it was with"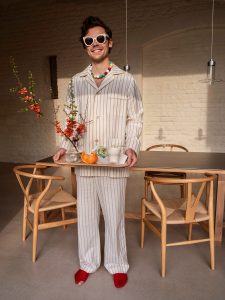 BHG/Tim Walker
Being in the public eye right from his teens brought many challenges, one of them being Harry's constant confusion about trusting people with intimate information about his life.
On his sexuality, Harry said "I'm always open with my friends concerning it but it is my personal experience. It is mine. The main thing is that everybody should be headed towards accepting people the way they are and being more open".
Harry Styles American Tour
The "As it was" crooner recently unveiled plans for a North American headline tour billed for this year.
He will be in New York City between August 28 and September 21 performing 10 nights at Madison Square garden. This will be in continuation of his global "Love Tour". After that, he will head to Los Angeles to play 10 shows. The venue is Kia Forum and it will run from October 15 to November 15.
The singer is expected to kick-start with two nights at Toronto's Scotiabank Arena(August 15 and 16) before proceeding to play 5 concerts in Austin and Chicago (September 25 to October 2 and October 6 to 14 respectively) as scheduled.
Leave a comment