Harry Potter Interactive Experience Opens In Chicago Macy's Store
Just like Voldemort, it seems that the Harry Potter franchise keeps surviving. Not only has there been a stage play, but there are also three prequel films. In addition, a few Harry Potter interactive experiences around the world are sure to entertain all Potterheads. Now, Warner Bros has opened a new interactive experience at a Macy's store in Chicago. This is a joint venture between Warner Bros and Original X Productions. It follows on from a few other experiences set in the Wizarding World and "The Friends Experience" in New York City. The Chicago-based attraction is set to open from November 11th until May 2023, when it will move to a new location.
Speaking of this new Harry Potter interactive experience, the co-president of Original X Productions had a lot to share. Stacy Moscatelli revealed some of the plans they had for the new interactive experience. She has said that it's designed for kids and adults alike.
"The generation that grew up with Harry Potter, they're parents now, and you never grow out of Harry Potter. So it's an opportunity for them to introduce the franchise to their kids on a level where they're prepared for it — even if they're not familiar with the stories, which a lot of 6-year-olds probably aren't. But we didn't want to alienate the older audiences — we wanted fans of all ages, which is hard. There were a lot of conversations trying to figure out how do we make this space activate in a way that's appropriate for both groups."
As part of this Harry Potter interactive experience, fans can engage in key moments from the series. This includes the Hogwarts Classrooms, the Great Hall, the Triwizard Maze, and Forbidden Forest. They even see the Whomping Willow!
Harry Potter Interactive Experience
Image: Variety
In addition, fans can also participate in other exciting moments. For example, they can have the Sorting House put them into their house and have a go at Quidditch. They can mix potion ingredients, complete with the smells of real ingredients! If that wasn't enough, the Lego Company is also part of this collaboration at the Harry Potter interactive experience. As such, fans can make their own Lego Wizards. The venue features high-quality projections and backgrounds for the perfect Potter picture.
In total, the whole attraction took approximately 500 members of staff to create. Warner Bros officially commissioned the project in May 2021. However, some might wonder what's different between this Harry Potter interactive experience and places like the Wizarding World of Harry Potter at Universal Studios. The Making of Harry Potter Studio Tour is also in Leavesden, England. Why is this any different?
Well, Kathleen Wallis, the vice president of global entertainment at Warner Bros, clarified the differences.
"The parks are the films come to life. You can step into those stories and those scenes. These other experiences bring something different to the table. When we were concepting what this experience would be, one of the things we looked at was, 'How do we bring this franchise and make it more accessible to younger kids? We really don't have anything out there that is specifically geared to younger kids.'"
Clearly, this Harry Potter interactive experience is designed for a slightly different audience. Harry Potter: Magic at Play is one of four Harry Potter interactive experiences. The others include The Forbidden Forest Experience in Westchester, New York, at Harry Potter: The Exhibition in Atlanta. There's also Harry Potter: A Yule Ball Celebration in Houston, Texas.
JK Rowling Controversy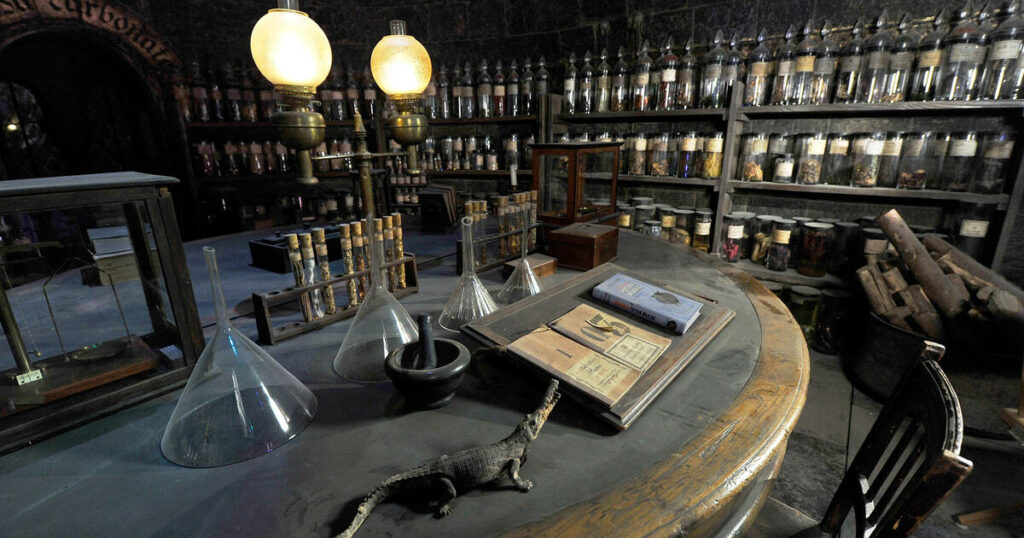 Image: Thrillist
However, this new Harry Potter interactive experience comes after controversies surrounding the author, JK Rowling. Recently, she made several tweets and public statements that some perceived as transphobic. Many cast members from the films spoke out against these statements, including Daniel Radcliffe and Emma Watson.
If that wasn't bad enough, the fourth entry for the prequel series, Fantastic Beasts, is currently in limbo. The third film opened to mixed reviews and poor box office sales. Originally, Warner Bros commissioned five films, but they haven't said anything about the fourth film.
Even so, David Zaslav, the CEO of Warner Bros. Discovery, stated that they wanted to do "something going forward" for the franchise. He specified that he wanted Rowling to be a part of this, although it's unclear what it might be.
You can visit the Harry Potter interactive experience in Chicago from November 11th until May 2023, when it will move to a different city. Currently, it's unclear what the new place will be.
Hi! I'm Arvyn, and I'm an English teacher from the UK. I've been teaching English online for over 4 years to students from all across the world and all ages. Outside of work, I'm a huge fan of reading, video games, and playing with my adorable kitties. See ya!
Leave a comment